Nationwide Quarantine Needed Now To 'Get A Grip' On Coronavirus Pandemic, Says Director Of Harvard Global Health Institute
The director of the Harvard Global Health Institute has called for a nationwide quarantine in a bid to "get a grip" on the coronavirus pandemic.
Dr. Ashish Jha has warned that if the U.S. government doesn't impose stricter measures across the country for 14 days now, it will be forced to do so later for much longer and "many more people will die."
"Our hospitals and emergency rooms are not ready. We have two choices. Basically we can either have a national quarantine now, two weeks, get a grip on where things are, then reassess," Dr. Jha said during an appearance on MSNBC's Morning Joe on Tuesday.
"Or we can not, wait another week and when things look really terrible, be forced into it and that's going to last much longer, many more people will die. So those are really our two choices—get ahead of it or wait until we're even further behind."
Dr. Jha said the U.S. needs to implement similar measures as in Italy—the hardest hit county in Europe, where there are almost 28,000 confirmed cases as of Tuesday and more than 2,150 people have died.
And while Dr. Jha conceded that a quarantine across the entire country would be "really hard," the alternative is even worse.
"It's going to look like Italy. Essential businesses will stay open—grocery stores and pharmacies. But nonessential stuff, people have to stay at home, no public gatherings, certainly no bars and restaurants," he said.
"It's going to be really hard and economically very tough but the alternative is economically even more devastating," he said. "I think we're between a rock and a hard place. We've got to make the right call."
He reiterated the urgency for a nationwide quarantine in a tweet, writing: "Here's the bottom line: We are seeing great leadership from cities and states. Testing is starting to get moving. We are still behind. And everyone needs to take this extremely seriously. We need national quarantine." Dr. Jha has been contacted for additional comment.
Measures imposed to curb the spread of the new coronavirus have varied dramatically in different parts of the U.S., despite more urgent warnings from the Trump administration on Monday.
CNN reported that almost seven million people in California's San Francisco Bay Area are all but confined to their homes after officials issued a "shelter-in-place" order in the most drastic measure taken to curb the spread of the coronavirus in the U.S.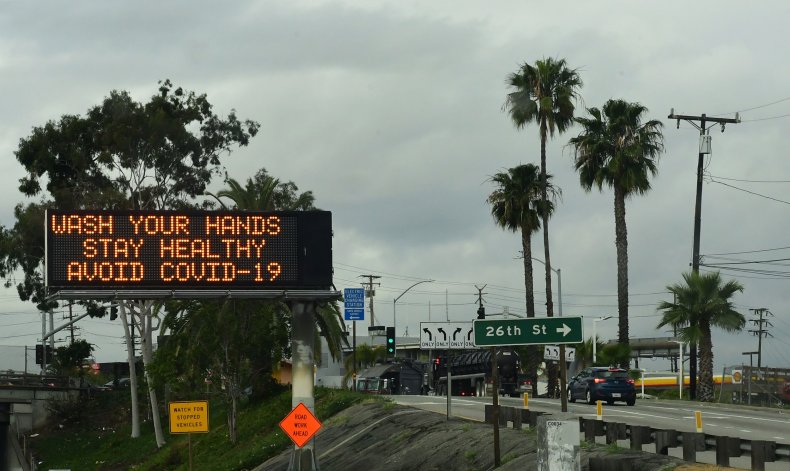 Governors in 37 states have shut down schools, while New York, New Jersey and Connecticut have banned gatherings of more than 50 people and agreed to close casinos, gyms and movie theaters. Restaurants and bars in New York City, Los Angeles and vast swaths of the country have been restricted to only offering take out or delivery services.
Meanwhile, Arizona, Florida and Illinois went ahead with their presidential primaries on Tuesday, but Ohio called their contest off just hours before the polls were due to open. And thousands were still flocking to Florida's beaches, ignoring calls to distance themselves from others to help control the outbreak.
There are more than 4,660 cases of COVID-19 in the U.S. and the death toll climbed to 85 on Tuesday, according to a count kept by Johns Hopkins University. Seventeen people have recovered.
Globally, the new coronavirus has sickened more than 185,000 people and killed more than 7,330. More than 80,000 people have recovered.
The graphic below, provided by Statista, shows the number of confirmed cases of COVID-19 around the world as of March 17.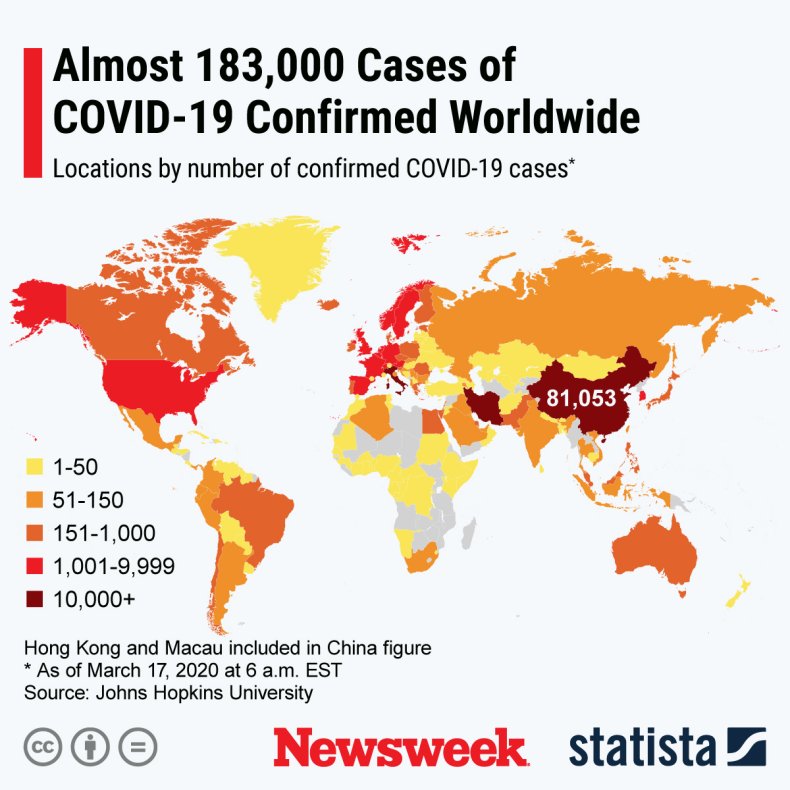 World Health Organization advice for avoiding spread of COVID-19
Hygiene advice
Clean hands frequently with soap and water, or alcohol-based hand rub.
Wash hands after coughing or sneezing;
When caring for the sick; before; during and after food preparation; before eating; after using the toilet; when hands are visibly dirty; and after handling animals or waste.
Maintain at least 1 meter (3 feet) distance from anyone who is coughing or sneezing.
Avoid touching your hands, nose and mouth. Do not spit in public.
Cover your mouth and nose with a tissue or bent elbow when coughing or sneezing. Discard the tissue immediately and clean your hands.
Medical advice
If you feel unwell seek medical care early and call local health authorities in advance.
Stay up to date on COVID-19 developments issued by health authorities, follow guidance.
Mask usage
Healthy individuals only need to wear a mask if taking care of a sick person.
Wear a mask if you are coughing or sneezing.
Masks are effective when used in combination with frequent hand cleaning.
Do not touch the mask while wearing it. Clean hands if you touch the mask.
Learn how to properly put on, remove and dispose of masks.
Clean hands after disposing of mask, do not reuse single-use masks.