Harvard Silent as Backlash Grows Over Giving Fellowship to Ex-Gov. Rick Snyder After Flint Water Crisis
Update: 1:39 p.m. EDT—On Wednesday, former Michigan Governor Rick Snyder posted on Twitter that he turned down Harvard University's offer to be a senior research fellow. He wrote that it would have been "exciting" to share both his positive and negative experiences, but the current political climate and lack of civility "make this too disruptive."
Original story:
Harvard University's Kennedy School has drawn heavy criticism for appointing former Michigan Governor Rick Snyder to a fellowship. While officials from the university have remained silent, a petition advocating for his fellowship to be rescinded continued to gather signatures.
While Snyder was in office, the water sources for Flint, Michigan, were switched to the Flint River, causing toxic lead contamination among more than 100,000 residents. Twelve people have died of Legionnaires' Disease since 2014 as a result of insufficient water treatment. Snyder was never charged in relation to the water crisis, although many hold him personally responsible.
In June, Environmental Protection Agency Director Andrew Wheeler declared the water safe to drink, but Flint Mayor Karen Weaver said she would wait to make that judgment until the medical and scientific communities were in agreement. Many residents also remain skeptical about the quality of the water.
As of the Wednesday morning, representatives from Harvard had not publicly commented on the calls to rescind Snyder's fellowship or the backlash. Newsweek reached out to Harvard but did not receive a response in time for publication.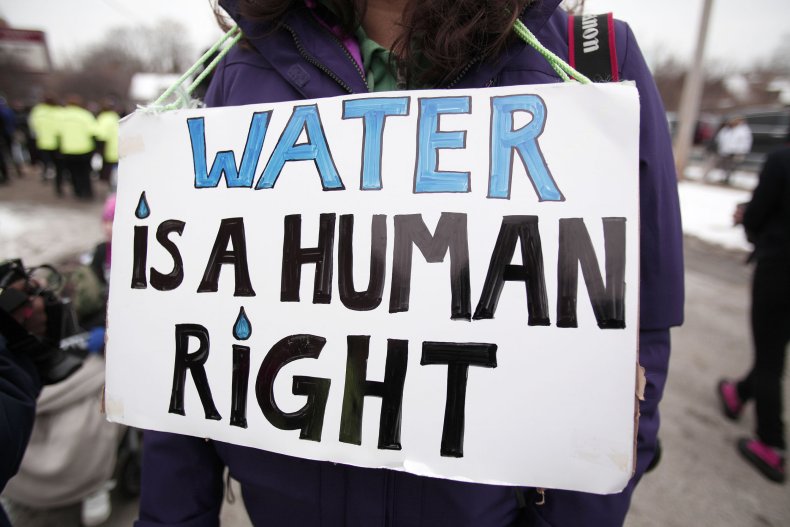 Harvard's decision to remain silent did little to lessen people's desire to speak out on the matter. A Change.org petition has gathered more than 6,400 signatures in just two days.
Tiffani Bell, the founder of The Human Utility, an organization that pays water bills for people in Michigan, was a fellow at the Harvard Kennedy School Ash Center for Democratic Governance and Innovation in 2017. She created the petition on Monday.
"Thanks to Snyder's 'leadership,' people died, countless children were poisoned, and Flint residents still cannot trust the water coming out of their faucets," Bell wrote.
Bell added that Snyder permitted the state of Michigan to stop providing free water bottles to residents and said Harvard can find "better governance talent than this."
People also voiced their opinions about Snyder's fellowship on Twitter, utilizing the hashtag "NoSnyderFellowship." People speaking out included both those who were directly affected by the contaminated water and those who weren't.
The Harvard College Democrats issued a statement Monday advocating for Jeffrey Liebman, Malcolm Wiener Professor of Public Policy and director of the Taubman Center for State and Local Government, to rescind Snyder's fellowship. Newsweek also reached out to Liebman but did not receive a response in time for publication.
Harvard College Democrats said Snyder's appointment betrayed the Ivy League institution's values and mission, adding that it was deeply hurtful to those who suffered from the toxic water.
"By appointing Governor Snyder as a fellow, Harvard Kennedy School is telling its students and community members that disregard of communities of color is acceptable, that harm caused to communities of color is inconsequential, and that a legacy of racism is synonymous with a legacy of service," the student organization said.
The announcement of Snyder's appointment made no mention of the water crisis that occurred in Flint, instead focusing on his contributions to Michigan's workforce training, STEM education and infrastructure. It also noted that he helped lead Detroit through its bankruptcy, a financial hardship that prompted officials to seek an alternative water supplier to save money, ultimately drawing water from the Flint River.
Liebman credited Snyder with the ability to bring "significant expertise in management, public policy and promoting civility" to Harvard.
Water from the Flint River caused corrosion in pipes, which contaminated the water with lead. During the period of time when Flint was getting its water from the Flint River, there were 91 cases of Legionnaires' disease, according to the Michigan Department of Health and Human Services. Twelve people died from the disease, PBS reported.
In April, U.S. District Judge Judith E. Levy reversed a previous decision and reinstated Snyder as a defendant in a class action lawsuit. Levy wrote in her order that Snyder "covered it up" by publicly denying the water posed a risk, despite private apprehensions.
During his testimony before the House Oversight and Government Reform Committee, Snyder said officials failed the families of Flint and told members of Congress the tragedy weighed on his mind, daily.