Harvard Removes Rep. Elise Stefanik From Advisory Board Over Her Claims of Voter Fraud
Harvard's Institute of Politics has removed GOP Representative Elise Stefanik from its Senior Advisory Committee after she made claims of voter fraud in the 2020 presidential election that it considers "incorrect" and without "basis in evidence."
In a statement released Tuesday, Dean Doug Elmendorf of the Harvard Kennedy School of Politics announced Stefanik's removal.
"My request was not about political parties, political ideology, or her choice of candidate for president. Rather, in my assessment, Elise has made public assertions about voter fraud in November's presidential election that have no basis in evidence, and she has made public statements about court actions related to the election that are incorrect," Elmendorf said.
"Moreover, these assertions and statements do not reflect policy disagreements but bear on the foundations of the electoral process through which this country's leaders are chosen," he added.
Elmendorf said that he asked Stefanik to resign from her position on the committee but she refused. In response, Elmendorf wrote that he would "therefore remove her from the IOP's Senior Advisory Committee at this time."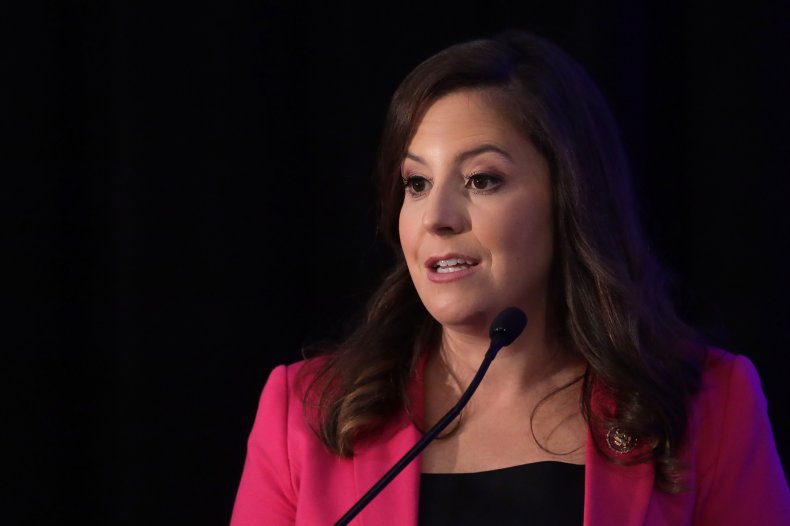 Stefanik, a representative from upstate New York and a supporter of President Donald Trump, was among the 147 Republicans who voted in a joint session of Congress to oppose Joe Biden's election certification after a violent mob attacked the U.S. Capitol.
The congresswoman has since faced calls for resignation from voters and organizations across the state. On January 9, she told radio station WCAX she had no intention of stepping down.
"I just went through an election in November," she said. "I earned the highest number of votes of any congressional candidate in the history of the North Country. I'm going to continue to work my very hardest."
On Tuesday, Stefanik issued a scathing response to Harvard's decision to remove her from the advisory committee, accusing the university of "bowing to the Far-left." She graduated from Harvard in 2006.
"The decision by Harvard's administration to cower and cave to the woke Left will continue to erode diversity of thought, public discourse, and ultimately the student experience," she wrote.
"The Ivory Tower's march toward a monoculture of like-minded, intolerant liberal views demonstrates the sneering disdain for everyday Americans and will instill a culture of fear for students who will understand that a conservative viewpoint will not be tolerated and will be silenced," she continued.
"I relish the opportunity to stand up for freedom of speech and freedom of thought on college campuses across America. Congratulations Harvard, the entire Board of the Institute of Politics now consists only of Joe Biden voters—how reflective of America," she wrote.
Stefanik told WCAX that she will continue to stand by Trump in his final days in office. She has vehemently opposed House Democrats' decision to introduce an article of impeachment charging the president with "incitement of insurrection."
Newsweek reached out to both Stefanik and Harvard for further comment, but neither commented beyond their official statements.