Betsy DeVos Called a 'White Supremacist' During Harvard University Speech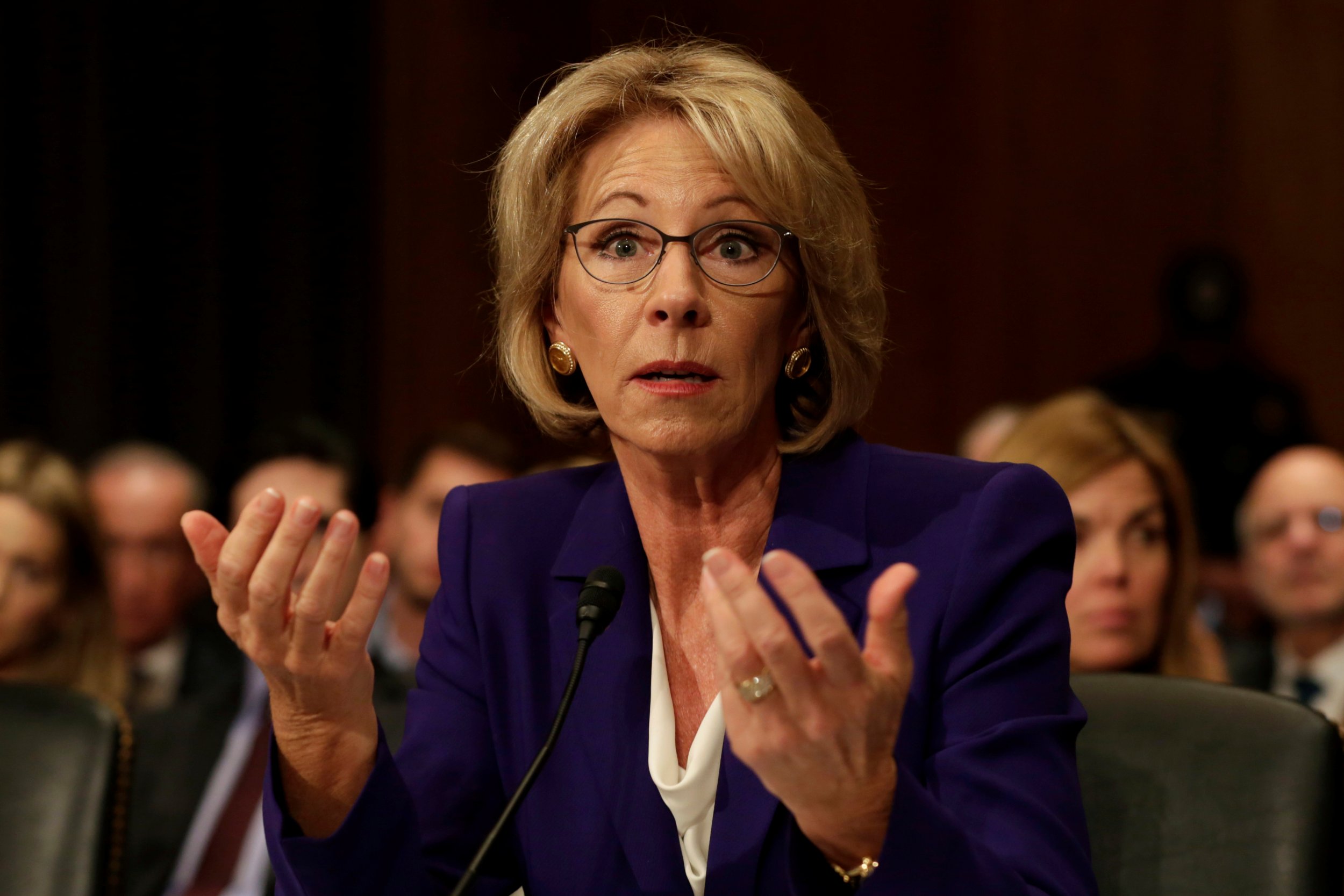 Controversial Education Secretary Betsy DeVos is a "white supremacist" who wants to protect on-campus rapists, several Harvard University protesters argued during her speech on the Cambridge campus Thursday.
DeVos stuck to her script about expanding charter and private school choice during the silent protest, even as students unfurled banners protesting her policies, with one sign calling her a "white supremacist" and another demanding that DeVos "protect survivors' rights," a reference to her decision to scrap Obama-era guidelines on sexual assault in favor of rules that she believes will better allow accused campus rapists to defend themselves.
In a Q&A session after the speech, DeVos credited the Obama administration for addressing campus sexual assault, and said the Trump administration would not sweep it under the rug.
"One sexual assault is one too many," she said. "By the same token, one student that is denied due process is one too many. We need to make sure that policy and that framework is fair to all students."
When asked about transgender bathroom guidelines, DeVos said the Office of Civil Rights continues to work with students who feel they have been discriminated against, despite Trump's decision to remove protections for transgender students to use the bathroom of their choice.
"Any student that feels unsafe or discriminated against, that is the last thing we want," she claimed.
DeVos also addressed her longtime support for allowing parents to send their children to charter, private or parochial schools with public money, comparing it to dining options that many working-class families do not enjoy.
"If you visit a food truck, do you hate restaurants?" she asked rhetorically. "You are simply making the right choice for you."
Hundreds of protestors also gathered outside the university's Kennedy School of Government, led by one who shouted, "Go back to D.C." Earlier in the day, DeVos was also met by protesters during a visit to George Washington University.
Harvard Professor Paul Reville was disappointed that DeVos said very little about her agenda as education secretary.
"I found it lacking on a number of counts," said Reville, the former Massachusetts secretary of education. "There was very little discussion on the ends of education and what we are trying to achieve for children. She didn't take a position on any form of choice."
DeVos's appearances came after her Department of Education announced Thursday that it would award $253 million in grants to fund the expansion of charter schools. Nine state education agencies, including those in Minnesota and Texas, were awarded the grants, DeVos's office said.