Harvard President Apologizes for Comparing Rich Donors to Freed Slaves in Alumni Meeting
Harvard University President Lawrence S. Bacow is being criticized as "tone deaf" for his Tuesday comparison between slavery and the school's fundraising efforts among alumni.
Bacow used an analogy which compared Harvard's relationship of owning wealthy donors to the 13th Amendment to the U.S. Constitution, which freed American slaves in 1865.
Speaking at an alumni affairs and development staff meeting in Sanders Theatre Tuesday, Bacow was addressing a donation imbalance among specific schools under the university's umbrella. He noted that individual schools with big donors such as Harvard Business School can no longer "own" their wealthy alumni to donate solely to them, the Boston Globe reported.
Bacow later apologized in an email to staff Saturday morning, in which he acknowledged the comments could be construed as offensive. One staff member told the Globe that hundreds of attendees were upset by his slavery comparison.
"I regret that these comments caused offense. That certainly was not my intent," Bacow wrote in an apologetic email to university staff. "I hoped to convey my belief that our collective job is to help our donors achieve their philanthropic objectives, which might include supporting activities in schools where they enjoyed no prior affiliation."
"People, appropriately, have high expectations for their leaders and their choice of language," Bacow continued. "In fact, you have high expectations for me as your president. I promise to learn from this experience. I do not want to disappoint you as I did some of you during our meeting."
Harvard's alumni affairs and development office manages fundraising and alumni engagement events for the university's twelve different schools.
Several members of Harvard's academic staff responded to Bacow's slavery-fundraising comparison on social media Saturday morning.
"As if Harvard doesn't have enough probs w/ influence peddling & monied interests from Jeffrey Epstein to legacy & donor admissions prefs to refusing to divest in fossil fuels and prisons, now Pres. Bacow compares alumni giving to freeing the enslaved," wrote Khalil G. Muhammad, Harvard Kennedy School professor of history, race and public policy.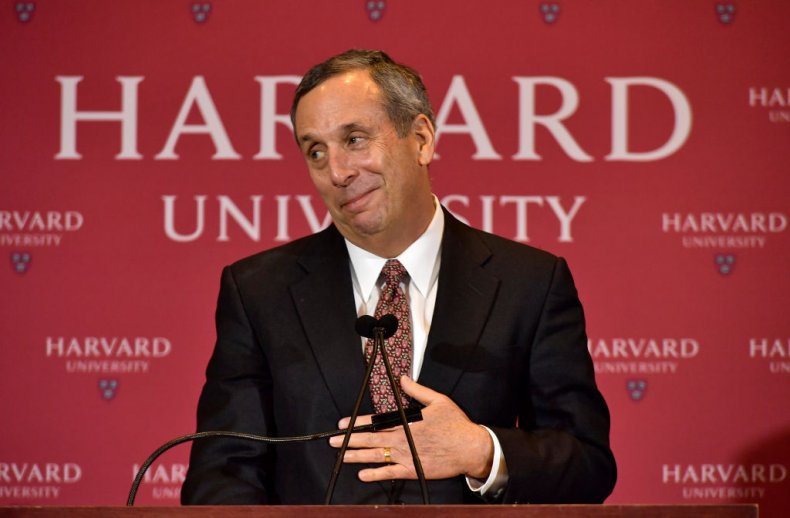 "People like President Bacow seem to view slavery as an institution of the past that serves solely to illuminate an intellectual framework, not an institutionalized system of brutality that reigns in the present. Unacceptable, but not unexpected," responded Maya Jenkins, vice president of the Harvard Kennedy School's Institute of Politics.
This is not Bacow's first brush with publicity over fundraising efforts. Earlier this month, Bacow announced that unspent donations from recently-deceased accused sex trafficker Jeffrey Epstein would be donated to organizations that support victims of sexual assault and trafficking. And in May, Bacow controversially suggested it was "inappropriate" to remove the opioid crisis-tied Sackler family name from campus buildings.
Harvard University has the largest endowment of any school in the country, with 2018 data showing an amassed fortune of $38.3 billion.