Harvard University Student From Lebanon Refused Entry to United States Days Before Classes Begin
Days before classes were set to begin, an incoming student at Harvard University was denied entry to the United States, potentially putting his semester at risk.
Ismail Ajjawi, an incoming first-year student, was admitted to the class of 2023. However, on Friday, he was detained, denied entry and had his visa canceled. The 17-year-old is a resident of Tyre, Lebanon, and, according to the Harvard Crimson, was subjected to hours of questioning at Boston Logan International Airport.
Last month, in a letter to Secretary of State Mike Pompeo and Acting Secretary of Homeland Security Kevin McAleenan, Harvard President Lawrence Bacow expressed concern over "growing uncertainty and anxiety" for issues involving international students.
Bacow wrote that he understood the fundamental role of their agencies in ensuring people entering the United States had "appropriate and honest intentions." However, he said, the uncertainty surrounding the systems in place caused fear and anxiety on campus and undermined the "impact of our critical work."
"Increasingly, visa delays are making these scholars' attendance and engagement in the university unpredictable and anxiety-ridden," Bacow stated. "Students report difficulties getting initial visas — from delays to denials."
Harvard's Associate Director of Media Relations and Communications Jason Newton confirmed to Newsweek that Ajjawi was refused entry to the United States. Currently, the university is working with Ajjawi's family and officials to resolve the issue, "so that he can join his classmates in the coming days." Classes at Harvard are set to begin on September 3.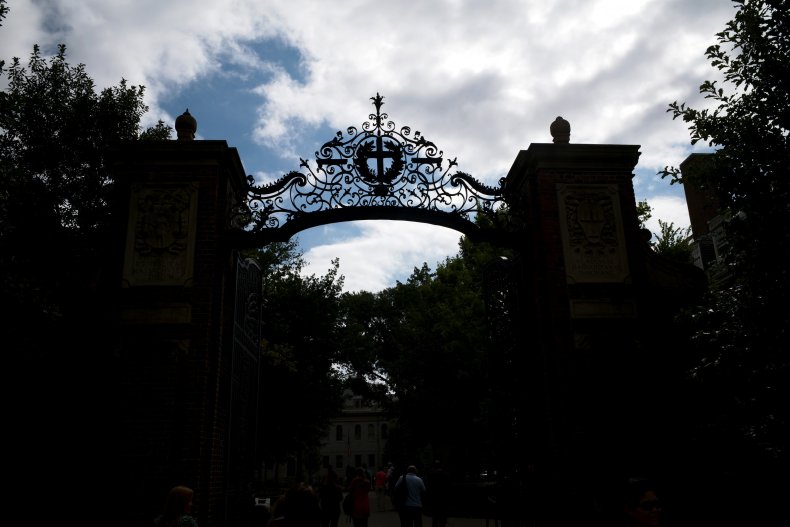 When he arrived in Boston, Ajjawi told the Harvard Crimson that immigration officials questioned he and several other international students. Among the questions allegedly asked were regarding his religion and religious practices.
At one point, the 17-year-old was reportedly asked to unlock his phone and computer, which immigration officers searched. An officer found people in his friend's list that posted political opinions that opposed the United States on social media.
"I responded that I have no business with such posts and that I didn't like, [s]hare or comment on them and told her that I shouldn't be held responsible for what others post," he told the Harvard Crimson. "I have no single post on my timeline discussing politics."
He claimed that his visa was then canceled and he was deported. Newsweek reached out to Ajjawi but did not receive a response in time for publication.
A State Department official told Newsweek they couldn't discuss the details of an individual case, as records are confidential. Generally speaking, though, the official said visa applicants are "continuously screened," both when they apply and afterward, to ensure they remain eligible to travel. The official referred Newsweek to the Department of Homeland Security, which did not respond in time for publication.
Summer Lopez, senior director of Free Expression Programs at PEN American Center, a nonprofit organization dedicated to global free expression, called the move "so grotesque as to defy explanation." Lopez said barring a person's entry because of someone else's critique of the U.S. showed an "astounding disregard for the principle of free speech."
"The idea that Ajjawi should be prevented from taking his place at Harvard because of his own political speech would be alarming; that he should be denied this opportunity based on the speech of others is downright lawless," Lopez said.
In June, the State Department announced that it updated the immigrant and nonimmigrant visa application forms to request additional information, including an applicant's social media accounts. The additional information, the State Department said, would strengthen the process for vetting applications.
Bacow's July letter labeled the visa and immigration process "increasingly unpredictable and uncertain" and said it posed risks to both individuals and the entirety of Harvard's academic enterprise.
In the class of 2023, of which Ajjawi is a member, Harvard has 1,650 enrolled students and 13 percent of those are international students.