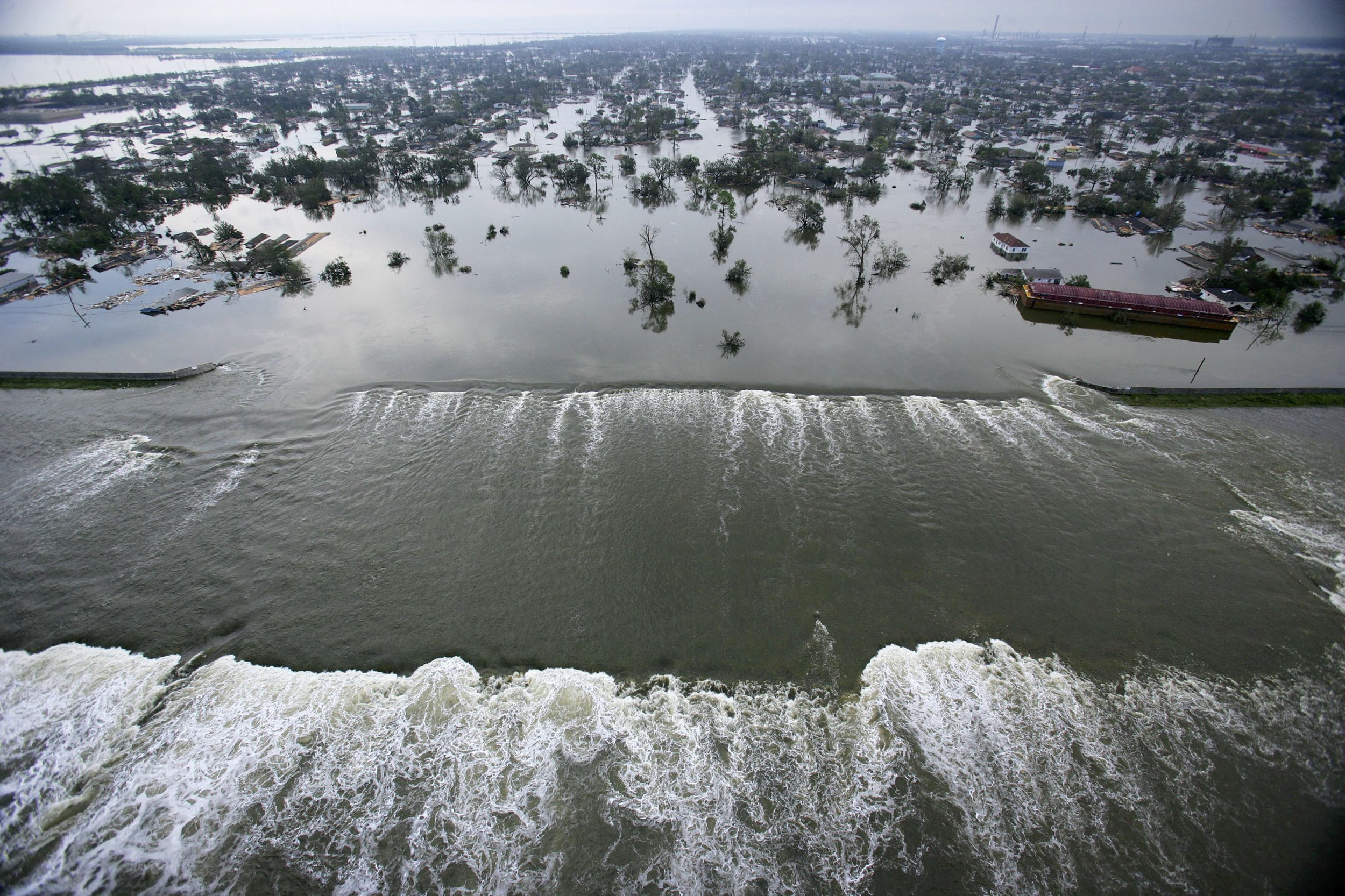 Hurricane Harvey is strengthening as it approaches the Texas coast, and the massive storm is underscoring another big disturbance on the way: the battle over President Donald Trump's proposed cuts to the National Weather Service.
Charged with providing weather forecasts and warnings, the National Weather Service also makes its data available to hundreds of companies that use it for everything from smartphone applications to agricultural equipment. Trump earlier this year proposed cutting its budget by 6 percent and that of its parent agency, the National Oceanographic and Atmospheric Administration (NOAA), by a mammoth 16 percent. It was an unprecedented proposal in the National Weather Service's storied history, which extends back to 1890, when it was founded as the U.S. Weather Bureau.
Trump also proposed huge subcuts for programs that engage in computer modeling of storms, as well as observation of storms and dissemination of data. Tsunami research and prediction would be cut, along with supercomputing investments and a program to extend more accurate modeling to 30 days from 16, which could have huge benefits for everything from the insurance to the transportation industries.
The Trump proposal "is opposite to the 'leave it better than you found it' philosophy. This is take the money while you can, and let someone else in the future put Humpty Dumpty (aka NOAA) together again," David Titley, director of the Center for Solutions to Weather and Climate Risk at Penn State and a retired Navy rear admiral, told Climate Central, a consortium.
Already, the U.S. is behind Europe in its forecast accuracy, and further cuts to research would likely leave the country farther behind in what's been called "climate intelligence." The National Weather Service's main forecasting model, the Global Forecasting System, has seen a major drop-off in accuracy. The White House's budget proposal would only make it worse. It seeks to cut 26 percent from NOAA's Office of Oceanic and Atmospheric Research, which supports data collection, climate and science, as well as research into more accurate weather forecasting models. The budget blueprint also would cut $513 million from NOAA's satellite division, the National Environmental Satellite, Data and Information Service, a 22 percent reduction.
Such cuts would cripple NOAA's ability to keep afloat its satellites and data-gathering activities. That would not only affect the military but any business that relies on data and governments that have to plan how to handle snowstorms and hurricanes.
Scientists and meteorologists have worried that the cuts, and much more devastating reductions in climate change programs at NASA and other agencies, would harm the agency's ability to forecast storms. In recent decades, the improvement in forecasting technologies has saved hundreds of lives, especially when it comes to tornadoes. The National Weather Service notes that hundreds used to die from pop up tornadoes like the ones that blew through Oklahoma in the mid-1970s, and that deaths are way down due to accurate predictions.
Harvey, which by the time it makes landfall in Texas this week is expected to be upgraded to a Category 3 hurricane, the first of that strength in more than 11 years, illustrates the point. The deadliest hurricane in U.S. history, which hit Galveston, Texas, in the year 1900, led to 6,000 to 12,000 deaths. By contrast, 72 deaths were associated with Superstorm Sandy in 2012 and fewer than 2,000 with Hurricane Katrina in 2005.
James Franklin, who headed the hurricane forecast team at the National Hurricane Center in Miami, a part of the National Weather Service, laments the budget cuts that are being proposed, including to the Hurricane Forecast Improvement Program that was launched in 2009. "It's hanging on really by a thread in terms of funding," said Franklin.
Trump has yet to nominate an administrator to lead NOAA. By contrast, President Barack Obama had named his pick before his 2009 swearing in. Speculation has centered on Barry Myers, the CEO of Accuweather—a weather business—but he is not a scientist.
A Senate panel passed smaller cuts to NOAA; the cuts by the House panel were significantly closer to President Trump's proposed reductions. By the time a new budget is due in October, the country will be deep into hurricane season—as well as the fiscal budget storm.