Harvey Weinstein Casting Couch Statue Surfaces by Oscars Venue
A bathrobe-wearing Harvey Weinstein statue appeared Thursday, within close proximity of the Dolby Theater in Los Angeles, where Sunday's Academy Awards ceremony is set to take place.
The statue, called "Casting Couch," is located on Hollywood Boulevard and La Brea Avenue. The work is a collaboration between street artists Joshua "Ginger" Monroe and Plastic Jesus, who is known for his annual Oscar season projects that mock or shed light on the darker side of the entertainment industry.
The piece features Weinstein sitting on a casting couch on a red carpet. The producer wears an open robe and slippers—his preferred outfit, according to his many female accusers, for sexual misconduct. He holds an Oscar statue at crotch level. In speaking with The Hollywood Reporter, Ginger said it was created as "a visual representation of the practices and methods that are still used in Hollywood by big, powerful men."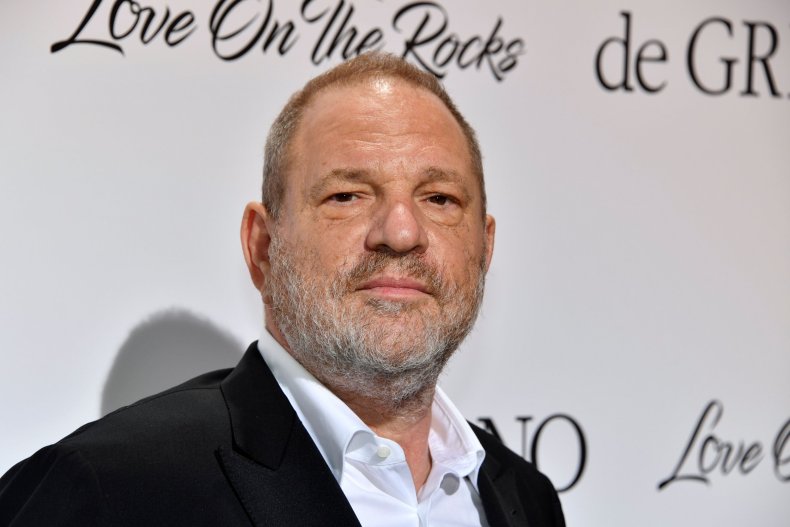 "Harvey Weinstein became an icon in the entertainment industry," Plastic Jesus wrote on Instagram. "His power and influence was almost without compare. However, whilst many thought the 'casting couch' was a thing of the past it was clearly still a part of the Hollywood culture."
He went on: "For many years the exploitation of many hopefuls and established names in the industry was brushed under the carpet with their complaints of harassment and sexual abuse...or worse. Hopefully now, in the light of recent allegations against many leading figures in Hollywood, the industry will clean up its act."
The life size sculpture took two months to create. Ginger made the head and upper body; Plastic Jesus took care of the rest. A friend with Weinstein's body type was the model.
This isn't the first Weinstein sculpture. In November, Englanders—a part of the Edenbridge Bonfire Society—created a 36-foot tall Weinstein effigy, which was burned.
Weinstein has been accused of engaging in sexual misconduct by more than 80 women, including Gwyneth Paltrow and Ashley Judd. The 65-year-old mogul, who reportedly sought treatment at a facility in Arizona, has profusely denied all allegations.
As for the statue, it's unlcear how long it will remain on Hollywood Boulevard.