Harvey Weinstein Convicted on Sex Abuse Charges; What Does This Mean for #MeToo?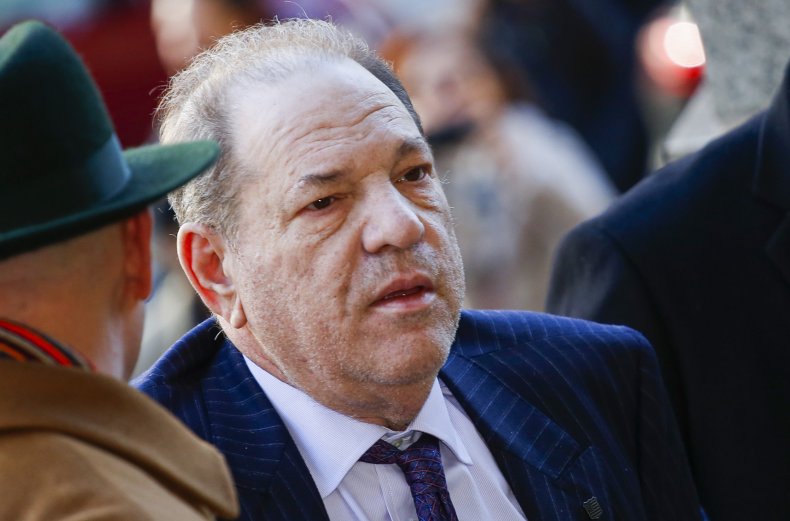 A Manhattan jury found disgraced movie mogul Harvey Weinstein guilty on two sex abuse charges while acquitting him on the most serious charges in the culmination of one of the first major prosecutions in the #MeToo era.
Weinstein, 67, had been charged with multiple offenses, including rape in the third degree and committing a criminal sexual act, both felonies for which the jury issued a verdict of guilty. He was also charged with two counts of predatory sexual assault and one count of rape in the first degree, on which the jury acquitted him.
The charges stemmed from accusations made by two women—Jessica Mann and Miriam Haley—that Weinstein preyed upon them while they were beginning careers in the film industry.
He faces up to 29 years in jail when sentenced on March 11. The predatory sexual assault charges would have carried a potential penalty of life in prison. He was taken into custody following the announcement of the verdict.
After the first four days of deliberations last week, the jury signaled that it might have been ready to convict Weinstein on some of the lesser charges while remaining divided on the most serious counts. Justice James M. Burke ordered the 12 members to continue their deliberations, as verdicts must be rendered unanimously for both findings of guilt and innocence to avoid a mistrial.
The jury's verdict on Monday, an early appraisal of the viability of #MeToo claims in court, should not be read as a definitive judgment of the entire movement, according to Deborah Tuerkheimer, who prosecuted domestic violence cases in the Manhattan District Attorney's office in the 1990s and early 2000s.
"This case is unusual in many ways. It's come to stand in for the #MeToo movement, but I think that we ought to resist generalizing the verdict," she said. "This was a really complicated case. The criminal justice system has generally not done very well in cases involving acquaintances, where there's not physical injury and where there's delayed reporting."
The weeks-long trial had been delayed for months as some charges were dropped and then re-added by prosecutors, who had initially decided to pursue a third accuser's case before questions arose about the reliability of that woman's testimony.
One of the lead attorneys for the defense, Donna Rotunno, helped to present a somewhat controversial case to the jury, including remarks from an expert witness whose testimony cast doubt on the ability to reliably recall alleged incidents from decades ago.
One witness, The Sopranos actress Annabella Sciorra, was grilled by Rotunno about her recollection of an encounter in 1993 or 1994 during which she says Weinstein raped her. While not a complaining witness, Sciorra's allegation was needed to substantiate two of the most serious charges, the counts of predatory sexual assault.
In a nod to gender-issues at play in the prosecution and the #MeToo movement more broadly, Manhattan District Attorney Cy Vance began a press conference reading aloud the names of trial victims, witnesses and the two prosecutors, all women.
He referred to them as "eight women who have changed the course of history in the fight against sexual violence."

"These are eight women who have pulled the justice system into the 21st century by declaring that rape is rape and sexual assault is sexual assault no matter what," he said, adding that the two convictions "shattered myths" about victimhood that "had been part of the criminal justice system for a long time."
Tuerkheimer said that the mixed verdict "will feel like a victory for the prosecution," especially given the complexities of the facts in this particular case. She believes that the jury's willingness to convict on two charges, one representing each victim, illustrates the evolving nature with which #MeToo claims are perceived by the public.
"I think it does send a message that jurors are able to be convinced by the testimony of victims who don't behave in conventionally understood ways," she explained. "And prosecutors are always thinking about the likelihood of conviction. When they are encouraged to bring cases involving imperfect victims, as all victims are, we will see more of these kinds of cases coming into the system."
The Time's Up Foundation hailed the verdict, casting it as a new era of hope for sexual assault survivors.
"This trial -- and the jury's decision today -- marks a new era of justice, not just for the Silence Breakers, who spoke out at great personal risk, but for all survivors of harassment, abuse, and assault at work," the group said in a statement.
During the course of the trial, Rotunno was harangued by Burke for her participation in multiple media interviews, which brushed up against the judge's restrictions on discussing the case in public.
Weinstein's lawyers had previously tried to move the case out of Manhattan, arguing that it would be impossible to receive a fair trial in that jurisdiction. Burke denied the initial request, which was appealed and subsequently denied once more.
Multiple attorneys have remarked over the course of the proceedings that it appears Rotunno and her colleagues may have been attempting to set firm grounds for appeal through their frequent objections to certain evidentiary and other issues.
"There could be an argument that the jury might have been swayed by the protesters outside the courthouse, for example," Julie Rendelman, a criminal defense attorney in New York, told Newsweek. "The response to that from the prosecution would be that the defense team went to the media to put their own spin on their defense of Harvey Weinstein."
Tuerkheimer added that Weinstein's team has "done a good job in this case of preserving the issues for appeal."
In the weeks leading up the trial, Los Angeles brought its own criminal charges against Weinstein related to accusations of sexual assault from two women. He is expected to answer for those in a California courtroom at a later date. Rotunno has called those charges "politically-motivated."
Weinstein's defense team did not respond to an immediate request for comment.
Harvey Weinstein Convicted on Sex Abuse Charges; What Does This Mean for #MeToo? | U.S.