Harvey Weinstein Secretly Subjected Women to Tests to Assess Their Vulnerability, Prosecutor Says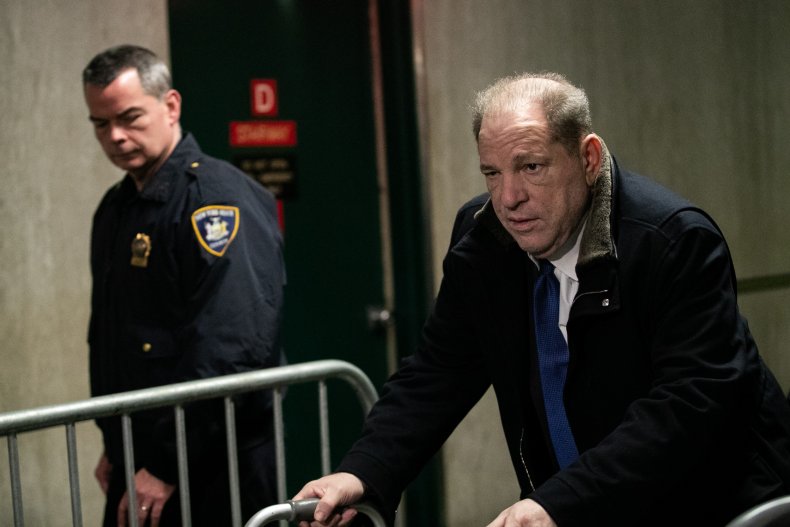 Harvey Weinstein subjected three women to secret tests in order to determine their susceptibility to sexual exploitation, New York State prosecutors said Wednesday in their opening remarks at the former Hollywood mogul's trial.
Manhattan Assistant District Attorney Meghan Hast accused Weinstein of preying on Annabella Sciorra, Mimi Haleyi and Jessica Mann—who was identified for the first time as one of Weinstein's accusers—by leveraging their relative inexperience in the film industry against his stature.
"It will be clear throughout this trial that the defendant knew he was preying on naïve and inexperienced [women]," Hast said, showing photographs of each of his three accusers on a television screen as she described their stories. "These were not mutual adult relations. These young women were pawns being pushed around by the defendant."
Weinstein is charged with five counts of sexual misconduct, including one count of rape in the first degree, one count of rape in the third degree, one count of committing a criminal sexual act and two counts of predatory sexual assault.
He has denied all of the charges. His defense team plans to use what they say are friendly messages between Weinstein and his accusers, exchanged after the incidents, to show that the women did not harbor ill will toward the producer, contrary to their assertions.
The charges stem from accusations made by Haleyi, a former production assistant, and Mann, an actress. Haleyi claims that Weinstein forcibly performed oral sex on her in 2006. Mann, who until Wednesday remained anonymous, said that Weinstein raped her in a hotel room in 2013.
Sciorra's allegation of rape against Weinstein is needed to substantiate the two charges of predatory sexual assault, which, under New York State law, require a prior bad act.
In a packed courtroom, a jury composed of seven men and five women listened as Hast recounted what she said was Weinstein's behavior towards Sciorra early on in her career. Weinstein is accused of sending her a gift basket shortly after meeting her that contained a few old movies, some popcorn and "a bottle of Valium."
"Annabella started using the Valium to help her sleep" and manage her demanding schedule, Hast claimed, adding that for Harvey, this meant the actress had "passed another test."
The beginning of the trial followed weeks of jury selection, during which prospective jurors who reported reading Catch and Kill—Ronan Farrow's behind-the-scenes look at his own investigation into the Weinstein allegations—were dismissed.
This week, Weinstein's lawyers lost a last-ditch effort from an appeals court to relocate the criminal proceedings to a different jurisdiction. They had tried to argue that in New York their client would not be able to receive a fair trial.
Hast described Weinstein as "the old lady in the gingerbread house, luring the kids in [with] the oven behind."
Prosecutors said that when Haleyi rejected an offer to engage in a massage with Weinstein, she was worried her relationship with a powerful man would be tarnished. When she subsequently accepted an offer to work on the set of Project Runway, Weinstein was allegedly delighted.
"For Harvey Weinstein, Miriam [Haleyi] had passed the first test," Hast said.
In her opening arguments, she also described how Mann's encounter with Weinstein, rubbing lotion on his back, served as another "test" for the producer to see if he could get her to follow orders.
Weinstein's defense team is expected to push back on these claims. They will offer up evidence that Mann maintained a lengthy relationship with the producer after he allegedly sexually assaulted her to cast doubt on her claims.
For example, Damon Cheronis, who delivered the opening statement on behalf of Weinstein's defense team, referred to a message Mann sent to Weinstein in February 2017, well after the incident during which Mann said he raped her.
"'I love you. I always do. But I hate feeling like a booty call,'" Cheronis read aloud from the message. "Members of the jury, that is not how you talk to your predator. That is not how you talk to your rapist. It is not."
After the incident at the DoubleTree hotel, Cheronis said, "there wasn't a single thing that was awry. There wasn't a tear, or anxiety. There was nothing."
He also went after the prosecutors, accusing them of creating a "narrative that was spun to explain things that are inexplicable."
"It's not easy for Mr. Weinstein to sit here and listen to that," he added.
After reporting on some of the allegations against him in October 2017 came to light, dozens of women began to come forward publicly with reports of encounters with Weinstein, spawning the wider #MeToo movement.
In 2018, prosecutors dropped one of the charges against Weinstein related to allegations made by former actress Lucia Evans, who said Weinstein forced her to perform oral sex on him in 2004. Questions were raised about inconsistent accounts she was said to have provided to prosecutors and another individual.
"It is for his complete lack of empathy that he must be held accountable," Hast concluded.
This article has been updated to correct a misspelling.