Harvey Weinstein Prenup: Wife Georgina Chapman Will Get a Nice Chunk of Producer's Wealth if They Divorce Today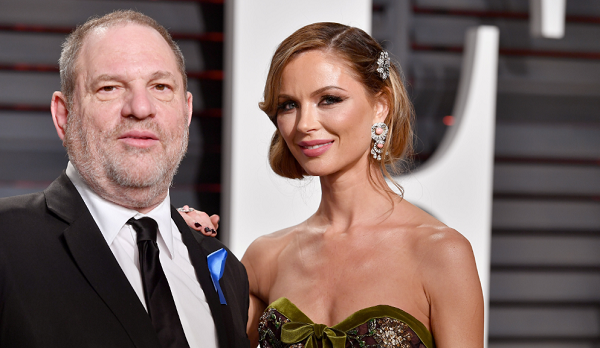 The Hollywood producer Harvey Weinstein, co-founder of The Weinstein Company, may have to fork over a bundle if wife Georgina Chapman decides to file for divorce. The bridal and couture designer stands to gain nearly $12 million in spousal support based on the estranged couple's prenuptial agreement, which was obtained and released by TMZ on Tuesday.
Under the agreement, which was signed by Weinstein and Chapman in December 2007, Chapman could be awarded $400,000 annually for every year of marriage after reaching their 10-year mark. The amount could increase to $1 million annually after 11 years of marriage. The couple had their 10-year anniversary on Friday.
Though not legally separated, the 41-year-old Chapman, co-founder of luxury label Marchesa, left Weinstein, 65, in October following the surfacing of multiple allegations of sexual harassment and assault. In a statement to People magazine released on October 10, she announced her plans to divorce the Hollywood mogul. "My heart breaks for all the women who have suffered tremendous pain because of these unforgivable actions. I have chosen to leave my husband," Chapman said. "Caring for my young children is my first priority and I ask the media for privacy at this time."
In addition to the annual lump sum, Chapman could receive more money in marital assets. According to the prenup, she would get $250,000 per year for the first five years of marriage, and $700,000 per year for years six through 10. The prenup also calls for Chapman to receive a housing allowance of $25,000 for every month of marriage, with a $3 million cutoff after 120 months. All told, Chapman could receive an approximate $11.75 million cash-out if she proceeds with divorcing Weinstein.
We will never know the precise details of their divoce because provisions in the prenup prevent Weinstein and Chapman from exposing their personal business or financial affairs in any published diaries, memoirs, stories, letters, photographs or interviews. They are also unable to share details of financial matters in any movie or TV deals.
Chapman and Weinstein have two children together, ages 7 and 4. The infamous filmmaker has three other children, from his first marriage to Eve Chilton, whom he divorced in 2004.
Chapman is already worth $20 million. TMZ lists Weinstein's net worth to be more than $250 million, though Time Money has his worth at more than $300 million.