Harvey Weinstein Sentencing Shows U.S. Justice System Is Starting to Understand Impacts of Rape, RAINN Chief Says
Convicted rapist Harvey Weinstein's sentencing on Wednesday suggests that the U.S. justice system and the public are gaining a better understanding of the true impacts of rape and sexual assault, the president of the Rape, Abuse & Incest National Network (RAINN) has said.
Once a celebrated film producer regarded as one of the most powerful people in Hollywood, Weinstein was handed a 23-year sentence on Wednesday for rape and sexual assault after he was found guilty in a trial in New York last month.
In an interview with Newsweek following Weinstein's sentencing, Scott Berkowitz, the president of RAINN, said Wednesday's outcome was what he and other advocates for survivors of sexual assault had been hoping for.
"We were certainly hoping for today's outcome. You never know how everything's going to turn out. We certainly thought that it was at the high end of the range we thought was appropriate, so we were pleased with the judge's decision today."
With the severity and number of crimes Weinstein has been accused of committing in his lifetime, in addition to those he has now been convicted and sentenced for, Berkowitz said Weinstein deserved "what's effectively a life sentence."
Since 2017, dozens of women have come forward with allegations of sexual misconduct against Weinstein, 67, with the now-convicted rapist still facing further criminal charges for rape and sexual assault in Los Angeles, where extradition proceedings have been initiated.
Weinstein's sentencing, Berkowitz told Newsweek, suggests that the U.S. justice system is starting to gain a better understanding of the impact of rape and sexual assault.
"I hope it reinforces the message that people received from the guilty verdict itself, which is that the system and juries have a better understanding of the nature of this crime than they did a few years ago," Berkowitz said.
While there may still be a long way to go, Berkowitz said the justice system appears to be gaining a better understanding of the fact that the impacts of rape and sexual assault are rarely ever isolated to any single incident.
"Our victim service programs help over 25,000 people every month and there's no question the rape is something that affects the rest of their life. It doesn't mean it destroys the rest of their lives. You're able to survive it in most cases, but it certainly changes you. It's a trauma that's never going to go away," Berkowitz said.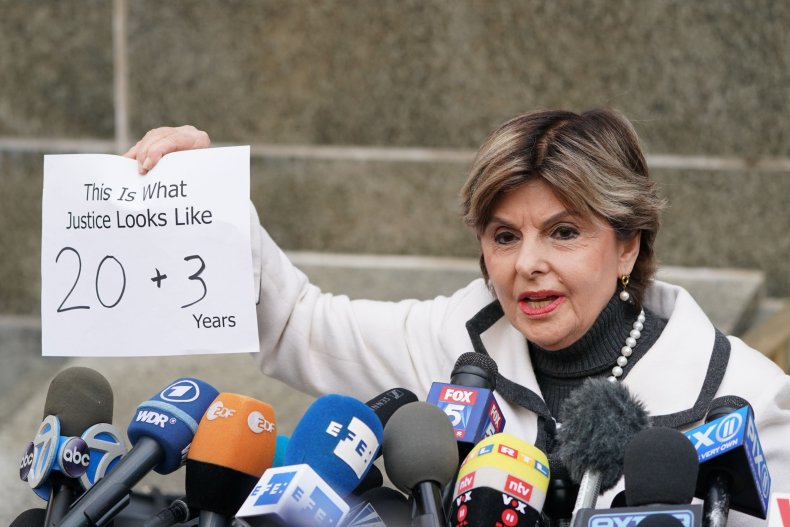 In a statement shared with the BBC, the Silence Breakers, a group speaking out against sexual assault and harassment that includes Weinstein accusers, said "Harvey Weinstein's legacy will always be that he's a convicted rapist."
Still, the group said, while "he is going to jail...no amount of jail time will repair the lives he ruined, the careers he destroyed, or the damage he has caused."
Speaking outside court on Wednesday, Gloria Allred, who has represented three of Weinstein's accusers, held up a sign saying "This is what justice looks like" as she warned, "If you are a sexual predator and you are confused, all you have to do is remember this: 20 plus three years."
"For all those who are still preying on women, who want to engage in the high risk-taking of harming women and thinking you'll get away with it, that gamble is likely not to pay off for you anymore," she said.
Following Weinstein's conviction, RAINN said it had seen a surge in calls to its national sexual assault hotline.
Berkowitz said he expected that the same thing could happen again in the days following Weinstein's sentencing, with more survivors potentially reaching out for help after seeing some justice served in the case against Weinstein.
"It's natural that stories about this crime are going to trigger memories and a desire to talk and process what happened," Berkowitz said. "So, we do encourage people to reach out if they do want to help."