Harvey Weinstein Lawyers Dismiss Rose McGowan's Lawsuit, Say She's Seeking Payout
An attorney for Harvey Weinstein says a lawsuit filed by Rose McGowan Wednesday is an attempt to receive a "payout" over rape and abuse allegations the former Hollywood film producer has faced in recent years.
McGowan alleges that Weinstein raped her at the 1997 Sundance Film Festival, and decades later his team of "fixers" attempted to cover it up. The lawsuit claims Weinstein and his co-defendants are guilty of multiple crimes, including fraud, racketeering, wire fraud, causing intentional emotional distress and invasion of privacy.
Weinstein denies the allegations, and his attorney Phyllis Kupferstein claims that McGowan is a "publicity seeker" looking for money. The Hollywood Reporter says that McGowan asked for $6 million to settle the lawsuit.
"From the moment she sought a multi-million dollar payout in return for not making these baseless allegations, which we rejected, we knew that she was waiting for an opportune time to begin this. We will demonstrate that this case has no legal merit," said Kupferstein in a statement sent to multiple press outlets.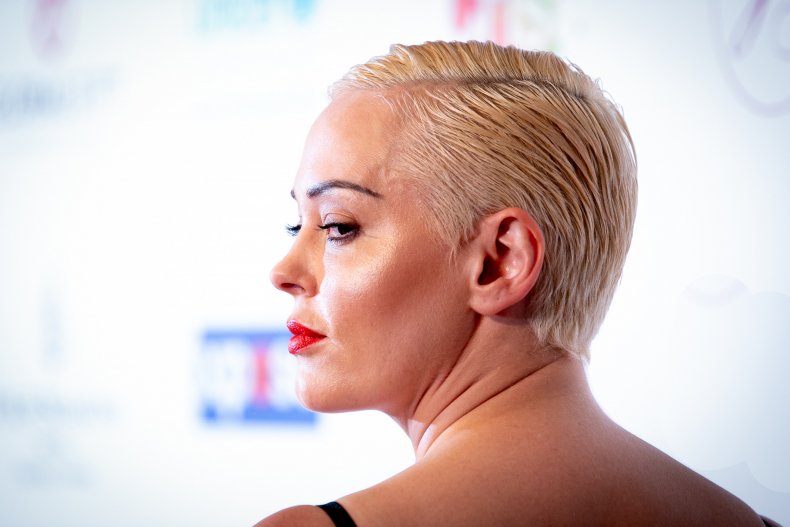 McGowan's lawsuit paints a very different picture, alleging that Weinstein committed sex crimes and then orchestrated a conspiracy to cover up the crimes using hired help.
"This case is about a diabolical and illegal effort by one of America's most powerful men and his representatives to silence sexual-assault victims. And it is about the courageous women and journalists who persisted to reveal the truth," the text of the suit says.
"Defendant Harvey Weinstein, the disgraced former movie mogul and Hollywood power broker, raped plaintiff Rose McGowan many years ago, when McGowan was a young, up-and-coming actress with lead roles in two Weinstein-produced films," claims the document. "Back then—as Weinstein had done with other women he assaulted or otherwise abused—Weinstein paid McGowan money as a settlement and expected her to go away and keep her mouth shut."
The suit then mentions that several other women have accused Weinstein of similar abuse, and makes additional conspiracy allegations against the complaint's other named parties.
Private spy agency Black Cube, along with Weinstein's ex-attorneys David Boies and Lisa Bloom are claimed to have acted as co-conspirators who attempted to protect Weinstein's reputation by trying to "suppress negative information about him, and silence and discredit his accusers." The co-defendants deny the allegations.
It's further claimed that when McGowan was in the planning stages for her book Brave, which detailed the rape allegation and was eventually published in 2018, Weinstein's team of "fixers" attempted to stop her by trying to steal the unpublished book and having people gather information from McGowan by posing as friendly figures.
When that failed, the document says, Weinstein's team tried to buy McGowan's silence and later discredit the actress in the media. McGowan says the alleged activities caused her emotional suffering and a loss of work, along with damaging sales of her book.
McGowan's rape allegation first became widely known in 2017, after the claims of her and other women were disclosed in an article in The New York Times, shortly followed by a Ronan Farrow article in The New Yorker.
Farrow's October 2019 book Catch and Kill details McGowan's Weinstein allegation, along with other claims of sexual assault, and the supposed attempts of powerful men to keep them from becoming publicly exposed.