Ann Coulter Thinks Sexual Harassment Allegations Against Harvey Weinstein Are a 'Lot of Fun'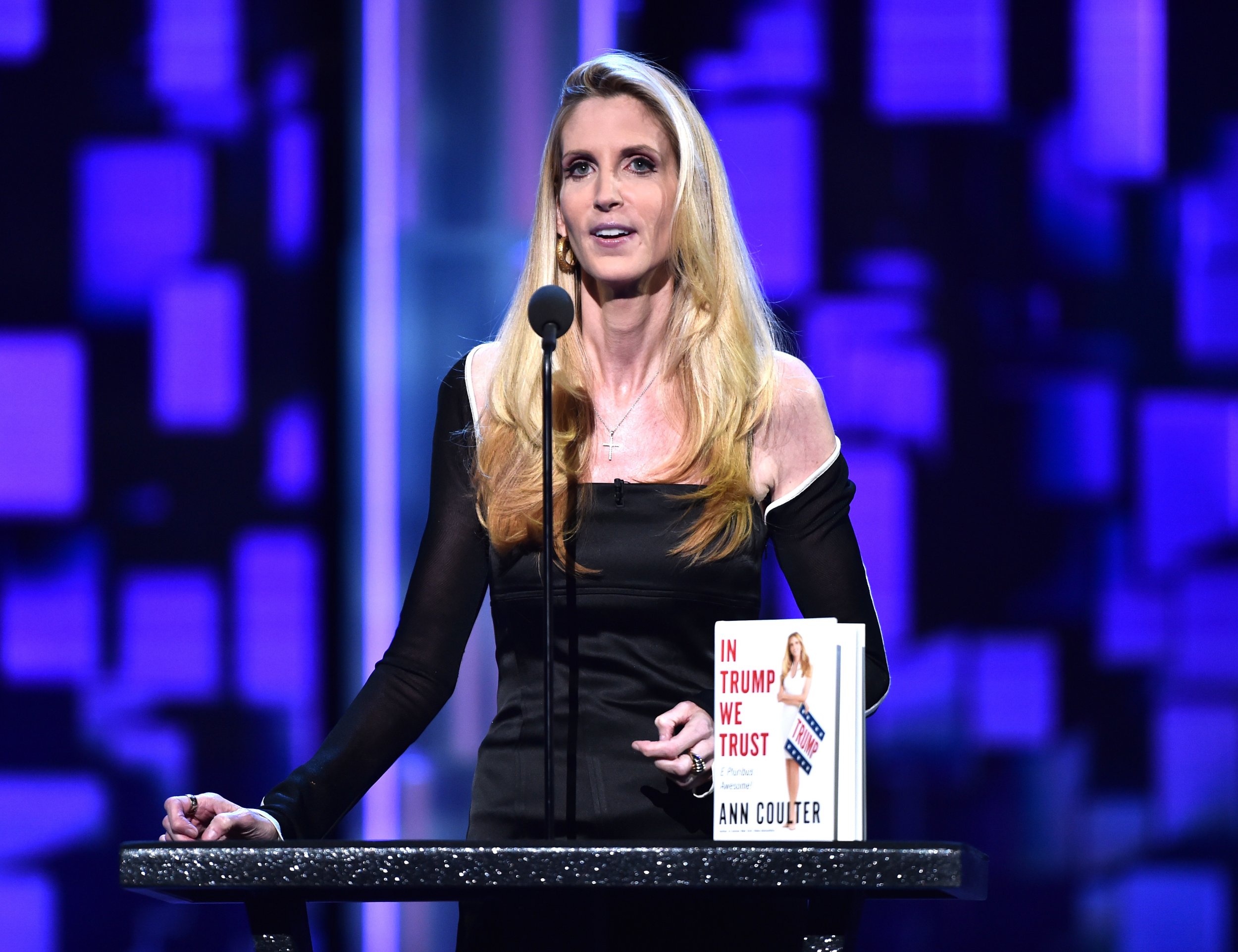 Right-wing commentator Ann Coulter is known for expressing controversial views, sometimes live on television. The author once said on Fox News program Hannity that Russian President Vladimir Putin has "time after time after time made [former President Barack] Obama a monkey," earning condemnation even from some of her like-minded commentators.
So it was perhaps unsurprising that Coulter managed to turn an interview on British television program Good Morning Britain on Monday—in which she was asked to comment on an allegation of sexual harassment against actor Kevin Spacey—into a source of outrage.
"I hope it's not true; I like him as an actor. On the other hand, I love all of the allegations coming out against all these big Hollywood types like Harvey Weinstein. That's been a lot of fun," said Coulter.
After The New York Times published allegations against movie producer Weinstein on October 5, dozens of women in the entertainment industry, including Angelina Jolie, Gwyneth Paltrow and Lupita Nyong'o, have said that Weinstein made inappropriate sexual advances toward them or sexually harassed them. Six women have accused Weinstein of rape, according to the BBC.
Read more: Who is Anthony Rapp? Actor says Kevin Spacey tried to seduce him when he was a boy
Weinstein apologized for his behavior in a statement to the Times but has denied allegations of nonconsensual sex and said that he never retaliated against women for rejecting his sexual advances. Weinstein was fired from The Weinstein Company, and criminal investigations into complaints from women against him are ongoing in the United States and the United Kingdom.
Many viewers reacted to Coulter's comments with outrage and disgust.
Coulter was a big supporter of Donald Trump during the 2016 U.S. presidential election but has grown increasingly frustrated with the president's failure to deliver on some of his promises, including building a Mexican-funded border wall. She recently suggested that she'd prefer "President Pence"—a reference to Trump's deputy, Vice President Mike Pence—if the border wall was not going to be built.
Coulter was brought on Good Morning Britain to talk about the allegation against Spacey. Actor Anthony Rapp told BuzzFeed that Spacey had made an unwanted sexual advance toward him in 1986, when Rapp was 14 years old and Spacey was 26.
Spacey posted a statement on Twitter responding to the allegation. The House of Cards actor said that he did not remember the encounter. "But if I did behave then as he describes, I owe him the sincerest apology for what would have been deeply inappropriate drunken behavior," said Spacey.