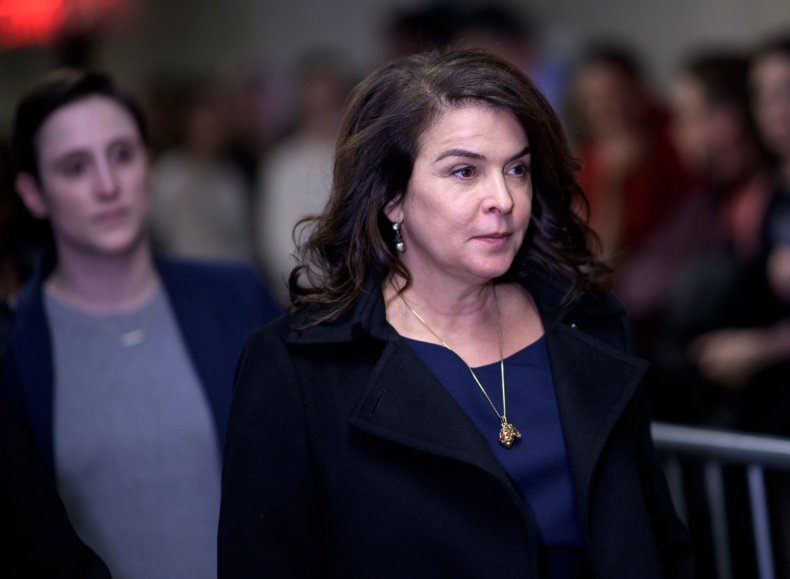 Actress Annabella Sciorra provided tearful recollections of her encounters with Harvey Weinstein, the former Hollywood producer whom she accused of raping her at her New York City apartment in the early 1990s.
Although Sciorra is not technically a complaining witness, her testimony is needed for Manhattan prosecutors to prove the charge of predatory sexual assault levied against Weinstein. A grand jury charged Weinstein with various counts of sexual misconduct related to two women: Mimi Haleyi, a former production assistant, and Jessica Mann, an actress.
Under New York State law, convicting a defendant of predatory sexual assault requires not only an underlying complaint of assault, but of a history of predation demonstrated through at least one other sex crime.
Prosecutors are hoping that Sciorra's allegation of rape will substantiate this charge beyond a reasonable doubt and lead the jury to issue a conviction. Predatory sexual assault carries a potential term of life imprisonment.
"I was trying to get him off of me," Sciorra said, recounting the night in either 1993 or 1994 when she alleged Weinstein raped her. "I was punching him, kicking him to get him away from me, and he took my hands and put them over my head and held them back. He got on top of me and he raped me."
Weinstein has denied all accusations of non-consensual sex. In addition to the two counts of this charge, he is defending himself against two counts of rape related to Mann's allegations and one count of committing a criminal sexual act related to Haleyi's allegations.
"The predatory sexual assault statute makes it a very serious felony to commit a top-level sex crime having already committed a top-level sex crime," Deborah Tuerkheimer, a former prosecutor with the Manhattan District Attorney's office, explained to Newsweek.
Tuerkheimer commented that while Sciorra is "often not discussed" as one of the two main alleged victims, "she's going to help establish, prosecutors hope, one of these very serious offenses."
Manhattan Assistant District Attorney Meghan Hast outlined the case her office plans to make against Weinstein on Wednesday. She described a nightgown purportedly stained with Weinstein's semen, one of multiple objects she invoked before the jury to draw a more concrete connection with events that are said to have occurred years, if not decades, ago.
Since the #MeToo movement gained steam in October and November 2017, dozens of women have come forward to share allegations of sexual misconduct or related improprieties about Weinstein, who once was one of the most powerful producers in Hollywood.
While he has admitted engaging in clumsy behavior, Weinstein has steadfastly denied the criminal allegations furnished against him.
Defense lawyers had initially objected to the inclusion of predatory sexual assault charges, noting that the alleged incident between Weinstein and Sciorra critical for a conviction occurred before New York enacted that statute.
However, this timeline was not compelling enough for the judge to dismiss the charges outright.
"The general principle is that the conduct was already unlawful at the time," Tuerkheimer explained. "So you can implement enhanced penalties for it."
But perhaps more than providing for some of the most serious penalties in the case, predatory sexual assault may offer prosecutors a strategic outlet to admit testimony that might otherwise have been restricted.
"It opens up the possibility of getting in this testimony that would perhaps come in" under rules that would limit how the jury can consider it, Tuerkheimer said.
"But when you vote out an indictment based on a particular incident, obviously Sciorra is going to be able to come into court and testify about it," she added.
The defense team unveiled its theory of the case during opening arguments, expressing its belief that Weinstein's accusers largely pursued voluntary relationships with the producer, and objecting to the prosecution's depiction of Weinstein as some sort of monster.
How Hast characterized Weinstein "is a preview to a movie you're not going to see," Damon Cheronis, who delivered opening remarks for Weinstein's team of lawyers, told the jurors on Wednesday. "What you heard in that opening statement you will find offensive in closing arguments."
Essential to their plan, Weinstein's lawyers will recount volumes of messages, emails and other contacts between Weinstein and his accusers that followed the alleged incidents. These messages will be used to argue that the relationships were reciprocal, and not something that Weinstein foisted onto anyone.
For example in 2013, the year Mann alleged Weinstein had raped her, she sent him a message indicating in part that she wanted to spend more time quietly with him, Cheronis said in court.
"Dozens and dozens and dozens of conversations," Cheronis explained about Mann's contacts. "This is how we are going to show you what this relationship was."
Tuerkheimer observed that the way victims in the wake of their assaults behave is often paradoxical, even though juries might perceive certain actions as deceptive or dishonest.
"We're coming to learn more about how the world actually works, how victims actually behave," she said. "Those more accurate understandings should inform better criminal justice outcomes."