Harvey Weinstein Trial Updates: Will Case Move Forward, Is He in Jail?
A New York judge ruled on Thursday that the sexual assault case against former Hollywood mogul Harvey Weinstein can move forward.
The ruling on Thursday from Judge James Burke came after Weinstein's legal team fought hard to have the charges dropped. His lawyer, Benjamin Brafman, argued that mistakes were made during the investigation, thereby irreparably tainting the case.
What Are the Accusations?
Accusations against Weinstein were brought to light on October 5, 2017, when The New York Times published a lengthy article outlining the sexual-assault accusations multiple women in Hollywood had made against Weinstein.
Ashley Judd claimed that when she was a young actress, she was invited to a breakfast meeting with Weinstein. But when she arrived, she was sent up to his hotel room, where he was in a bathrobe. He allegedly asked her if he could give her a massage or if she would watch him take a shower.
"Women have been talking about Harvey amongst ourselves for a long time, and it's simply beyond time to have the conversation publicly," Judd told The New York Times.
Along with those trying to break into the industry, women who worked at the Weinstein Company also accused the executive of sexual harassment and assault. Employees were allegedly made to sign agreements that prevented them from speaking poorly about the executive, thereby allowing the abuse to continue.
On October 10, 2017, The New Yorker published an article by Ronan Farrow detailing the years of alleged sexual abuse carried out by Weinstein. Among the allegations made against the Hollywood bigwig were that he held his power in the industry over vulnerable women's heads, promising to ruin or make their careers depending on their deference to his sexual advances.
Since the allegations came to light, women have continued to come forward with their own accusations, and to condemn the movie mogul and the overall atmosphere in Hollywood that allows similar behavior to take place.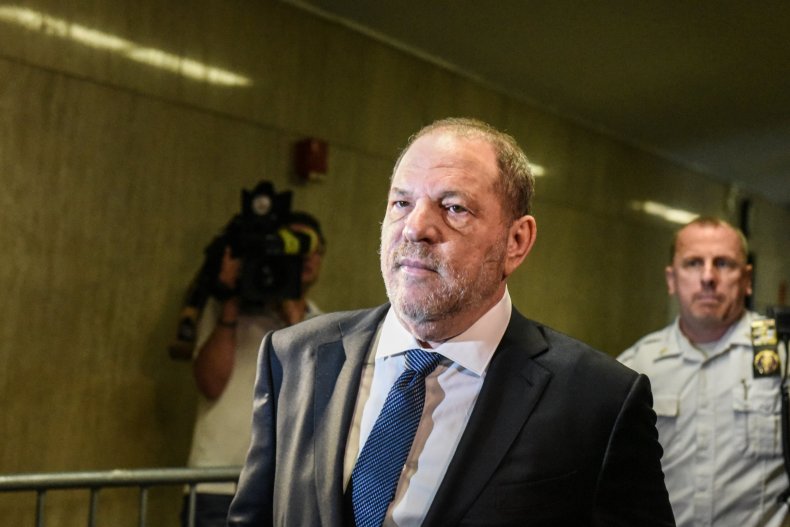 Which Charges Is Weinstein Facing?
Weinstein turned himself in to police in May and was charged with first- and third-degree rape and first-degree criminal sexual act. He was later charged with a second count of criminal sexual act in the first degree and two counts of predatory sexual assault.
In October, a judge dropped one charge of sexual assault against Weinstein that actress Lucia Evans alleged occurred in 2004. The ruling came after prosecutors acknowledged that the detective leading the case failed to tell them about a witness who had expressed doubts about the accuser.
Is Weinstein in Jail?
Following the charges brought against Weinstein and his plea of not guilty in May, Weinstein was released on $1 million bail and was forced to wear an ankle monitor. He is prohibited from traveling outside the confines of his homes in New York and Connecticut, according to USA Today.
What Did Weinstein's Lawyer Argue?
In November, Brafman filed the motion for the remaining charges to be dismissed. The lawyer said his legal team found additional evidence of alleged misconduct on behalf of the police and prosecutors that would taint the case, USA Today reported. Brafman added that they found friendly text messages between Weinstein and an accuser, claiming it undermined her case.
"This public, humiliating and highly political action, counsel submits, was intended to further and unfairly push the District Attorney's Office into prosecuting Mr. Weinstein without first appropriately and fully investigating the credibility of the claims being made by the alleged victims," Brafman wrote in the filing.
Brafman requested a dismissal of the "tainted case" because based on additional evidence the team gathered "no fair grand jury would ever again indict Mr. Weinstein for the crimes for which he is now wrongfully charged."
What Does the Judge's Ruling Mean?
Baker's ruling means that prosecutors could move forward with the case against Weinstein on the remaining five charges. Weinstein pleaded not guilty to the charges, and faces life in prison if found guilty.
A trial date has not been set, according to NBC News, but a pretrial hearing is scheduled for March 7.