Harvey Weinstein Victims Receive $18.9 Million Settlement For Abuse
The women who filed a class-action lawsuit against Hollywood movie producer Harvey Weinstein for sexual abuse, sexual harassment and rape in November 2017 have reportedly reached an $18.875 million settlement with him, The Weinstein Company Holdings and individuals formerly associated with the company who allegedly violated state and federal law by failing to stop Weinstein's actions.
The settlement would resolve both the women's 2017 case against Weinstein a February 2018 case filed by the New York State Office of the Attorney General against Weinstein and his company.
The 2018 lawsuit alleged that Weinstein and his company created a hostile work environment and violated state and city human rights laws by "repeatedly and persistently treated female employees less well than male employees through gender-based, hostile workplace harassment, quid pro quo harassment and discrimination."
If the settlement is approved by the U.S. District Court for the Southern District of New York, it will allow Weinstein to continue denying any wrongdoing. However, the women will be released from non-disclosure agreements that would've prevented them from publicly discussing their experiences with the film producer.
Additionally, the approved settlement would establish a victims' fund allowing all survivors of Weinstein's sexual misconduct to seek damages in a confidential, non-adversarial process under certain circumstances. Attorney's fees will also be paid out of the settlement amount.
A New York federal judge will now hold a fairness hearing to evaluate the settlement, according to The Hollywood Reporter.
Filed in November 2017, the class action lawsuit alleges that Harvey Weinstein was a serial sexual harasser and abuser, and the various companies with which he was affiliated, as well as certain respective current and former officers and directors.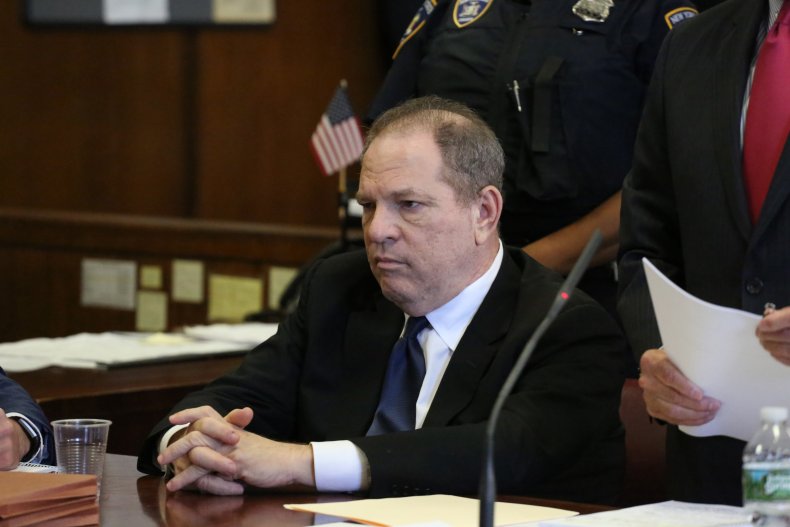 "This settlement is the culmination of several years of hard work by survivors who not only initiated the #MeToo movement around Weinstein, but also used their platforms to seek justice for all of those who were afraid to come forward for fear of retaliation in Hollywood," said Elizabeth Fegan, one of the lawyers leading the women's case.
Though Fegan called the settlement "a victory for all women in Hollywood," Douglas Wigdor and Kevin Mintzer, two attorneys representing six other women suing Weinstein separately, called the settlement "a complete sellout of the Weinstein survivors."
Wigdor and Mintzer claim the settlement allows Weinstein to accept no responsibility for his actions, won't take from his personal finances and will allow the directors of Weinstein's company to receive millions to reimburse their defense costs.
Weinstein is currently serving a 23-year sentence in the maximum security Wende Correctional Facility, a prison near Buffalo, New York prison. He was sentenced after being found guilty of the sexual assault of former Project Runway production assistant Miriam Haley and the third-degree rape of actress Jessica Mann.
The ongoing coronavirus epidemic has delayed Weinstein's trial in Los Angeles, where he faces up to 32 years in prison for five charges related to sexual misconduct.