#MeToo In Terms of Harvey Weinstein is 'Extremely Dangerous' Says Mogul's New Lawyer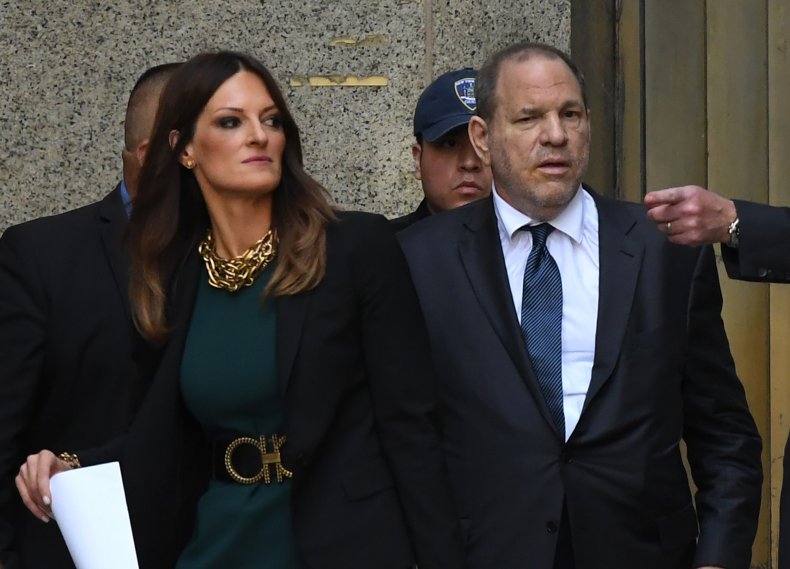 Harvey Weinstein's new lawyer in his Manhattan criminal prosecution clarified earlier comments she made about her client being "railroaded," telling Newsweek in a conversation on Thursday that she believes the emotional intensity of the #MeToo movement is to blame for Weinstein's predicament.
"It's not #MeToo that railroaded Harvey Weinstein," attorney Donna Rotunno, who joined the case Thursday morning alongside fellow defense attorney Damon Cheronis, told Newsweek. "It's the emotion that surrounds it."
"If we look at #MeToo only in the context of Harvey Weinstein, I find it to be extremely dangerous," she added. "If we're talking about the larger sense, I see positives to it. But I'm not a subscriber to it."
Weinstein is charged by New York State prosecutors in connection with two instances of alleged sexual assault. One, in 2013, involves an alleged instance of rape, and another, in 2006, involves the alleged performance of forcible sex act.
Weinstein has been accused by dozens of women of a slew of sexual misconduct allegations, ranging from harassment to rape. The New York Times and The New Yorker both won the Pulitzer Prize for public service journalism in 2018 for their reporting, in part, on allegations against Weinstein which helped spur the #MeToo movement.
"I'm not saying that there are not positive things that come from #MeToo, I'm talking about #MeToo in terms of Harvey Weinstein," Rotunno said. "#MeToo has done good things for women—there are a lot of positive things surrounding it and Harvey Weinstein would agree with me—but when you allow a movement or a cause to take over when you're standing in judgment of someone's life, that is where I have the problem."
A major issue Rotunno said she has with the movement is her claim that due process is being eroded as allegations filter into the public square.
"When you come forward and make an allegation and that allegation is deemed true, and we've seen many instances of that in our justice system, I think it's dangerous to say these women are so empowered and it's wonderful when there's a potential to ruin someone's life," she said.
Rotunno demurred when asked if she could identify any reporting in particular that she thought did a poor job of vetting allegations of sexual misconduct.
"I could point to many examples, but I'm not going to call people out right now," she said. "The attempt of the reporting is to add credibility. The reporting becomes dangerous if it doesn't look at both sides."
Rotunno insisted that her use of the word "railroaded" was simply a way to affirm a question from a reporter, who had asked her Thursday morning if Weinstein had been "railroaded" by #MeToo.
"I repeated the word as you would when someone asks you a question," she said.
Although she did "absolutely" concur with the premise of the question.
"I am who I am, and I believe what I believe," she told Newsweek. "I was honored to take on the case. When you do what I do for a living, you believe the cornerstone of our justice system is that everyone has the right to a defense."
When asked if she believed a conviction from a Manhattan jury would indicate justice was served, she responded: "I have to believe in the system that we appear in front of on a daily basis."