Has ABC's 'Whiskey Cavalier' Been Un-Canceled?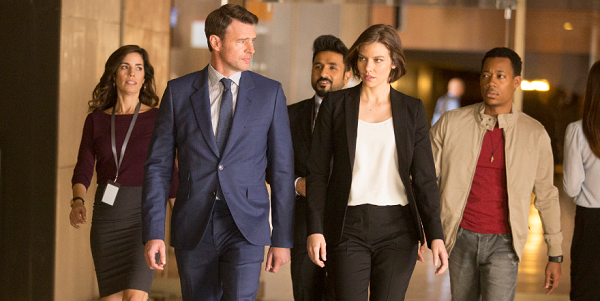 Whenever shows are culled during the annual May cancellations, there are always a few cancellations that cause a little confusion. This year, some TV pundits were surprised by ABC's decision to cancel freshman spy drama Whiskey Cavalier, which many had expected to be renewed due to its generally positive reviews.
Following Whiskey Cavalier's cancellation, Warner Brothers, who distributes and co-produces the show, promised to shop the series around to other networks. However, according to a recent report by TV Line, the studio may not have to look for a new home after all, as ABC is reportedly exploring the possibility of reversing its decision to axe the show, which co-stars Lauren Cohan of The Walking Dead and Felicity's Scott Foley as agents for the CIA and FBI, respectively, forced to work together.
Talks between ABC and Warner Bros. Television are currently happening behind closed doors, according to TV Line, which reports that insiders believe the show has a 50/50 chance at returning next season. The studio is reportedly checking in with streaming platforms as well.
In a comment made last week, ABC Entertainment President Karey Burke called Whiskey Cavalier's cancelation a "tough decision."
ABC gave Whiskey Cavalier's pilot episode an early premiere in February, showcasing the new series immediately after its Oscars broadcast. The show received generally positive feedback from critics, according to review aggregators Rotten Tomatoes and MetaCritic, and viewership was solid for the first few episodes. However, by the midpoint of the first season, ABC was regularly losing out on the Wednesday, 10 p.m. ET time slot to competition from CBS's SEAL Team and NBC's Chicago P.D.
"We thought we gave it a very strong launch in spring. But we lost audience," she explained. "We felt the biggest opportunity was to try something new. We looked for other time slots but did not see a real opportunity to grow."
Following its cancelation, fans of the show launched a #SaveTheShow social media campaign for Whiskey Cavalier. While such plaints are now common online, they rarely succeed. One notable exception: Two years ago, fans of NBC drama Timeless launched a similar campaign, prompting the network to renew the show for a second season mere days after its cancellation.
Whiskey Cavalier aired its season one finale on May 22. Before the episode began, the show's executive producer Bill Lawrence (Scrubs, Cougar Town, Spin City) asked fans on Twitter to tune in and "Make this a "season" finale and "not a series finale."
The show's first season concluded on a cliffhanger. Bill Lawrence later promised in a tweet that he and showrunner David Hemingson will detail what happened afterward if the series doesn't receive a second season.
If ABC doesn't renew the show, fans are pulling for a streaming platform like Netflix, which recently saved Lucifer and Designated Survivor, to pick up the spy drama.