Has Arab Spring Become Arab Hell?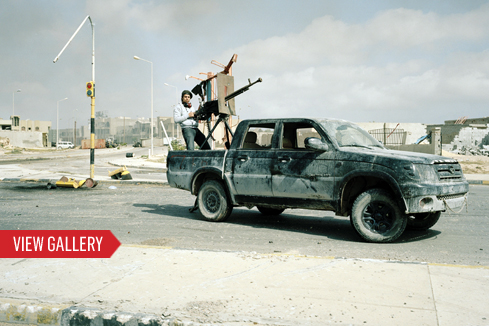 Muammar Gaddafi and Bashar al-Assad agree on at least one point: Spring must be eliminated; the year should have just three seasons. The demand for dignity and freedom by those willing to die for those values—that is what they cannot bear, and strive to curb ruthlessly. Gaddafi and Assad are the same kind of people as Saddam Hussein. Like him, they can't tolerate opposition, and answer it with weapons. Like him, they cling to their positions, which they occupy without legitimacy. Like him, they count on tribalism to fortify their power. Like him, they are afraid of justice. Like him, they are convinced they are right.
Because of these two men, what has been called the Arab Spring is in the process of clouding over and becoming more like an Arab hell.
The Tunisian and Egyptian revolts succeeded because the armies abandoned the heads of state. Without the courage and daring of a few superior officers, both those countries would still be burying their dead.
What happened? Why and how did a dream become reality, even if as I write this reality is riddled with disappointment and impatience? The genius of a people is unpredictable. No one knows why, one day, people took to the streets and courageously confronted the bullets of the police or the army. That remains a mystery. The Arab people are known for their extroverted natures, for their love of peace. The funerals of Nasser and Sadat were spectacular. So were those of Umm Kulthum and Farid al-Atrash, two singers adored by the public. When you see a mass of people mourning the death of a president, you don't imagine them someday coming out and demanding the departure of another president, Mubarak—one who had been in power for 30 years.
Humiliation is a common technique with dictators. Scorning, crushing the citizen is a way to govern and to guarantee the consolidation of power. The raïs—head of state—becomes the father of the nation. He is incontestable, free to do what he likes and to have anything he desires; Arab tradition and mentality teach absolute respect for the father. You never criticize your father, never raise your voice in front of him; you obey him and thank him for being there. That is why not only Mubarak but also Zine al-Abidine Ben Ali, Gaddafi, and Bashar al-Assad blithely confuse their countries and resources with their own property, and present themselves as the fathers of their nations. When they are reproached for this, they appear not to understand what is being demanded of them. This confusion between the money of the state and that of the leader is one consequence of dictatorship. The Mubarak family is said to possess $70 billion, and Ben Ali's $17 billion.
In the West this notion of the omnipotent father does not exist. Why is it so strong in the Arab and Muslim world? In these countries there is one constant: the individual as a unique, singular entity is not recognized; it is the family, the clan, and the tribe that matter. The individual is drowned in this magma, and everything is done to prevent him from emerging from it. The early demonstrations in Tunisia, then Egypt, however, were marked by a new phenomenon: the emergence of the individual. The people in the streets were not calling for an increase in wages, but demanding universal values like freedom, dignity, and respect for human rights. They were asserting themselves as individuals having rights and duties, refusing to be regarded as subjects of the chief of state. This notion of the individual was born with the French Revolution of 1789.
People have often wondered why the novel as a literary genre came to life so late in the Arab world (Zaynab, the first novel, by Muhammad Haykal, appeared in serialized form in 1913 in an Egyptian magazine). The novel is the portrayal of one or several characters who are individuals. The writer bears witness to his time. The delayed birth of the Arabic novel was a direct consequence of the Arab disdain for the individual.
When the young Tunisian Mohamed Bouazizi set himself on fire last Dec. 17, he could not imagine that his fatal, tragic gesture would have historic consequences. How did he come to that point, knowing that Islam forbids suicide and that immolation by fire is alien to Arab and Muslim culture? All the great rebellions in history begin with a symbolic deed that sets off irreversible consequences. Bouazizi's sacrifice was experienced by the entire Arab world as a call for uprising. Everyone said to himself, if he gave his life, the least we can do is take to the streets in protest.
Hamza Ali Al-Khateeb was 13 years old. He was arrested in Daraa, in Syria, on April 29 for chanting "Down with the Syrian regime." He was tortured and given electric shocks; his feet, elbows, and knees were burned; then they slashed his face and cut off his penis. They finished him off with three bullets, one in mid-lung. On May 25, he was returned to his parents; the body was in a state of decomposition. The father was arrested and forced to accuse the Salafi extremists of committing the crime. Like the Tunisian Bouazizi, the Syrian boy Hamza has become the symbol for a revolt in which the blood keeps flowing.
These revolts are not revolutions. They have been spontaneous, without leaders, without ideology, without any political party. They have been driven by a yearning to stop living in submission, to stop being denied human dignity. These obstinate rebellions will stop only with the departure of those who practice—and symbolize—repression, theft, corruption, and the exercise of absolute power.
At present we are in a period of transition. It is a difficult time, marked by the impatience and disappointment of the people in rebellion. How to explain to them that it takes time to rebuild a country and put the state back on its feet when a dictator has pillaged, spoiled, and dishonored it? Despite the present disorder, though, and the more or less fortunate improvisations in Tunisia and Egypt, the wind of this spring continues to blow over all of the Arab world. It so happens that both countries where the battles against dictatorship result daily in the deaths of dozens of unarmed civilians are in the grips of a system whose roots are ancient and organized. Syria has always been a police state with a solid Army capitalizing on the proximity of Israel and Lebanon, a country from which it was chased out in 2005, but which the Syrian regime has sought to keep as a vassal.
As for Libya, Gaddafi has no future. The day his mercenaries grow weary, he will fall. All negotiations for surrender have failed (South African President Jacob Zuma felt that the mediation of the African Union was "undermined" by NATO raids). There have been 10,000 deaths since the beginning of the uprising.
What does that matter, Gaddafi says to himself. He will leave Libya only by divine will, he has reportedly said. But divine will did not tell him to massacre his own people. That is why the U.N. Security Council voted on its "no-fly zone" resolution and why NATO intervenes daily. You don't know Gaddafi if you think he'll give in to international pressure and take the path of a negotiated exile. His pathology didn't just appear today. He is a hunted man who does not understand that his people are clamoring mightily for his departure. He is convinced he is in the right, that he is a victim of the West and of elements of Al Qaeda. When you have been in power for 42 years, you forget what's real; you think normality is whatever you decide it is. At no time has Gaddafi thought he is a dictator, even if he blithely confuses the immense resources of his country with his own wealth. He is not crazy; he is sick, and has been for a long time. As Philippe Gros, a researcher at the Foundation for Strategic Research, stated recently in Le Monde: "Unlike Milosevic, Gaddafi has nothing to negotiate other than his departure, which makes his abdication more uncertain."
The Arab Spring continues even now in midsummer. One of its major victories is the failure of Islamism, the alibi that had allowed Ben Ali and Mubarak to remain in charge and to do business with the West. Now we see that it was an illusion. Islamism was completely eclipsed by these revolts in which it played no part. The Islamists did not merely miss the boat: they didn't even see it arrive. Their software is out of date. Bin Laden is dead, and along with him a whole phantasmagoria that does not correspond to reality. In Egypt the Muslim Brotherhood has formed a political party. It will accept the laws of a democracy that could make it politically redundant. Islamism is one movement among many others. It has the right to exist, but within the rules and laws of democratic respect.
The death of bin Laden is not the end of terrorism. There will always somewhere be a lunatic, a madman, a group of sick people to plant bombs and kill innocent people, as in Marrakech on April 27. Terrorism will experience difficulties simply because the people have become vigilant and the police have made security their priority—unless certain governments decide to manipulate splinter groups in order to thwart democracy in the countries where the revolts took place.
Anything is possible. The Arab world is an entity like no other; there is no unity, no common philosophy. There are Arab states that do not like each other despite their shared conferences, meetings, and protests. Hypocrisy is evident. Morocco and Algeria do not agree with each other. Their borders are closed. Tunisia is afraid of neighboring Libya. Syria is hedging all its bets while consolidating its repressive police regime, and hopes to put Lebanon, a country living under permanent tension about its security, back on its feet. Iraq is bandaging its wounds, and terrorism continues to kill people there. Jordan is calm for now; it has gone through some difficult days. Sudan is in the grip of unrest. Yemen risks getting lost in a civil war. And Israel is watching this upheaval and hardening its colonial policies, refusing integration with the Palestinians and shelving Barack Obama's propositions. Israel mistrusts these revolts; it wants to preserve its monopoly on democracy in the region. But the Tunisian and Egyptian demonstrators did not attack Israel, which turns its back on peace and neurotically refuses any solution. Fortunately, Israelis and Palestinians have demonstrated together to demand peace negotiations. But the present leaders maintain and continue the colonization of Palestinian lands.
This is my survey of a tumultuous landscape, done with all the uncertainty of a cartographer who does not know exactly where the boundaries of revolt begin and end. To be sure, the awakening of the Arab people is not over. But fear has changed sides. The dictators in power, men without legitimacy, are now the fearful ones. They will be tossed out. Sooner or later, the Arab world will rid itself of these furious madmen, who cling to power even if it means multiple massacres. There comes a point where even massacres must die out.
Tahar Ben Jelloun is today's most significant Francophone Moroccan novelist and poet. His work straddles Arab cultures throughout the world, chronicling hopes and impasses, whether through the eyes of desperate immigrants (in his book Leaving Tangiers) or political prisoners (This Blinding Absence of Light).