Has COVID-19 Caused Positive Change for Office Efficiency?
Short of dipping desks, chairs and computer keyboards in boiling water each day while requiring employees to wear space suits, a virus-free work office is impossible.
But designers and health officials have developed ways to limit risk of infection from COVID-19 and other viruses. And even with the development of effective vaccines, the office as we have known is likely never to be the same again.
"We need to see the pandemic as an opportunity to reshape the who, what, where, when and why of work for the betterment of people, the planet and profit," Kate Lister, president of Global Workplace Analytics in San Diego, told Newsweek.
And the structure of the American office is high on the list.
"We're at a pivot point for a lot of things," she said. "Many trends that are already in play will be accelerated by pandemic and transform the office – especially the move to working from home."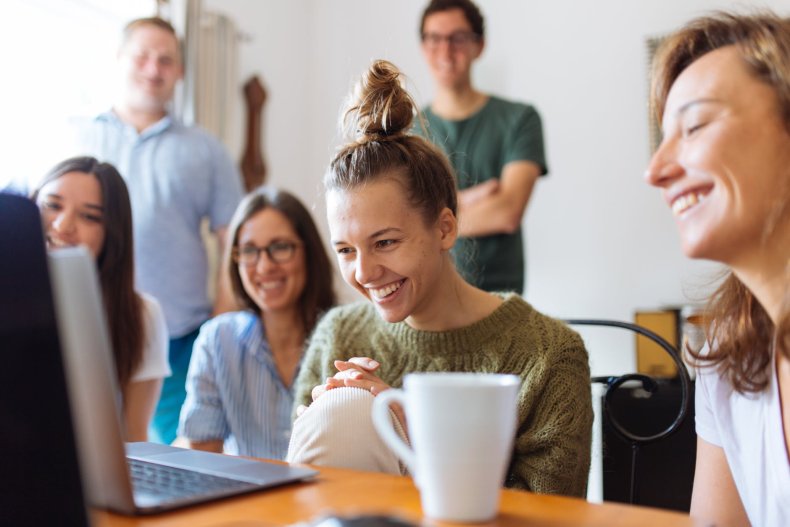 The First Casualty
Famed architect Frank Lloyd Wright embraced the open floor plan in the 1930s as a way to create a collaborative atmosphere, encourage the exchange of ideas and eliminate what had become a stultifying hierarchy. Top executives were ensconced in private offices along the perimeter of a central "boiler room," where the working minions were crammed desk-to-desk and elbow-to-elbow.
The idea worked well in Silicon Valley, Wall Street trading firms and media newsrooms, but fear of contagion is likely to end that configuration. Paradoxically, this may lead to a return of the rigidly defined areas Wright abhorred.
Sneeze guards are almost certain to become ubiquitous. At many supermarkets and stores, a Plexiglas shield now stands between customer and cashier. Similar barriers are likely to be installed between desks throughout the office.
That would mimic the cubicle that boxed in employees on three sides, which fostered a sense of isolation satirized in movies and comic strips such as "Dilbert."
Farewell, Common Areas
Next to go probably will be small meeting rooms, common break rooms and maybe kitchens. Plush, fabric-covered padded chairs may become a relic of the past, as the surfaces are difficult if not impossible to sanitize.
The company gym may be considered too risky and be eliminated.
The American Institute of Architects, a professional organization based in Washington, reviewed research by the U.S. Centers for Disease Control and Prevention and recommends antimicrobial coatings on surfaces routinely touched by workers and increased spacing of desks and partitions to subdivide large working areas.
Hand-sanitizers are likely to sprout like Spring flowers in the post-pandemic office, becoming standard on desks and positioned at key points such as entrances.
Routine cleaning is likely to occur more often and become more intense, including the use of virus killing ultraviolet (UV) light to disinfect surfaces. Touch-free technology such as automatic doors could gradually replace current handles. Where possible, interior hallways are likely to be widened to increase social distancing.
The World Economic Forum said Cushman & Wakefield, an international real estate services company based in Chicago, suggested a simple solution: A disposable paper covering on desks to be tossed out and replaced at the end of each day.
While effective, this could ignite a squabble between environmentalists and health officials.
Arrows on the floor may indicate the direction of foot traffic. The bet: Employees will be willing to trade a little inconvenience and take the long way around to the copy machine to maintain social distancing and reduce the risk of infection.
But that raises another question: Who will solve the dilemma of the print button on the office copy machine?
Siri, anyone?
A Breath of Fresh Air
Writing in the Harvard Business Review, professors Joseph Allen and John Macomber said ventilation and air quality are key components in a healthy office building.
In the past, architects have limited the supply of fresh air in buildings to conserve energy. That reduced the electric bill but often led to a concentration of indoor pollutants and in extreme cases created what health officials called "sick building syndrome."
The post-pandemic goal: Pump in 100% outdoor air through the ventilation system with no re-circulated air, the authors of Healthy Buildings: How Indoor Spaces Drive Performance and Productivity wrote.
Researchers at Lawrence Berkeley National Laboratory in California believe that improving office air quality would reduce illness and could boost U.S. productivity as much as $20 billion a year.
This could mean reviving an old idea that many grandmothers embraced: Windows that open.
That would allow fresh air into the office and reduce the risk of a building's air-conditioning system blowing potentially infected air over workers. But that raises an obvious problem: hot, humid summers and cold winters.
Improved filters in the air ducts of heating and cooling systems may be the answer, but high-efficiency particulate air (HEPA) filters capable of trapping a virus are expensive to buy, install and maintain.
Cutting the risk of contagion probably means the end of traditional staff meetings. If the conference room isn't big enough to permit adequate social distancing and if airflow is inadequate to assure a fresh room, those sessions are likely to be replaced by email, instant messaging or video conferencing.
Moist air may limit spread of a virus, and humidifiers therefore may become a basic fixture in the post-coronavirus office.
But experts warn that no design is foolproof.
"We all have to understand – and communicate to employees – that there is no such thing as zero risk," Allen and Macomber said. "The goal is to minimize risk and we can get there using a layered defense approach by applying what is known in public health as the hierarchy of controls."
Limiting Personal Contact
Minimizing social interaction is the "most effective" step in curbing spread of a virus, the Harvard researchers said.
The basics include social distancing, staggered shifts when possible, staggered arrival and departure times to limit crowding in halls and elevators, and allowing employees to work from home several days a week, the researchers said. If widely adopted, such tactics might reduce crowding on public transit systems during rush hour and further reduce risk of contagion.
But elevators pose a continuing challenge in the post-pandemic office.
"For some companies moving into a new building, a ground floor office is the first choice," Lister of Global Workplace Analytics said. The reason: Few employees will want to stand cheek by jowl in an elevator as they have in the past.
Some offices have marked the floors of elevators with X's to maintain social distancing, but it's unlikely that all workers will self-regulate and wait for the next car when it's time to go home – especially on Friday.
Then there's the problem of call buttons. Voice-activated floor selection would make push-buttons obsolete, but are expensive to install. Will employees simply put on gloves in the lobby each morning? Tap buttons with an elbow, pen or umbrella?
The short answer: No one knows.
Padded chairs may gradually disappear and be replaced by wooden or plastic chairs that can be easily disinfected. In common areas, benches may replace couches. Occupancy of common areas is likely to be limited to maintain social distancing.
Testing the temperature of workers each morning as they come in the door might be an effective way to check the spread of disease. The test could be self-administered and workers could be required to keep a log of their temperature and general health. But making such tests a condition of employment might raise privacy concerns. Sending possibly infected workers home with pay would ease concern about lost pay, but it could be expensive if there are a significant number of false readings.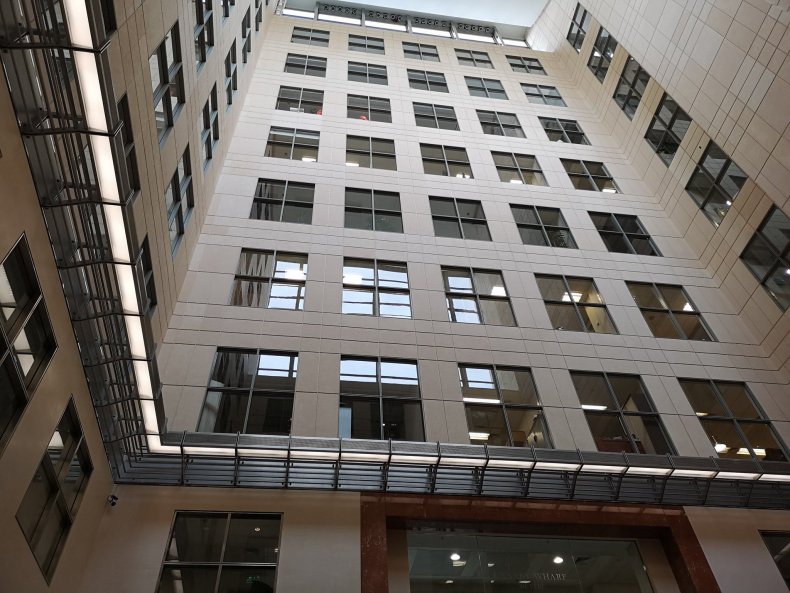 Possible Downsizing
Long-term, Lister said companies must answer a basic question: How much office space is needed in the post-pandemic market?
A need to disperse the workforce during the COVID-19 pandemic to curb spread of the virus and a desire by employers to cut labor costs and employees to cut commuting and related costs (and spend more time at home) may create an irreversible move away from the traditional office – especially in large cities where thousands of workers are dependent on public transit.
New York may be a prime example. CoStar Group, a Washington-based provider of data and analytics in the $17 trillion commercial real estate industry, provided some numbers.
There are about 564 million square feet of office space in Manhattan, including 335 million square feet in Midtown East and West, 106 million square feet in Midtown South, including Chelsea, and 123 million square feet in Lower Manhattan, they reported.
Modest price increases in October helped overcome losses reported in the early days of the pandemic. The U.S. Composite Index, which includes larger asset sales in core markets, rose 1.4% in October. January to October, the index gained 5.3%, CoStar Group said.
The U.S. Bureau of Labor Statistics found that only 7% of employers permitted most of their new hires to work from home prior to the pandemic. With the exception of sales staff, working from home had been generally limited to older, tenured, upper income employees.
Covid-19 appears to have changed that.
The number of people working from home has grown 173% since 2005, or about 11.5 times faster than the number of people joining the labor force, a survey by Global Workplace Analytics found.
Productivity increases at home. Eliminating the stress of the daily commute to the office is only part of the reason. Idle talk and other distractions at the office consume 73 minutes a day, but only 35 minutes at home – a reduction of more than 50%, a survey conducted by Global Workplace Analytics concluded.
The work-from-home trend appeared to be growing prior to the pandemic. A majority – 56% – of workers said at least some of their daily tasks could be completed from home, and 80% of workers said they'd like to work from home at least part-time. Thirty-five percent of workers said they would change jobs for the chance to work at home, including 47% of millennials and 31% of baby boomers.
The desire to work from home is so strong that about 33% of workers said they'd take as much as a 5% pay cut to be able to work remotely at least part-time. A quarter of workers said they'd take as much as a 10% pay cut and 20% said they'd accept a larger cut to work from home.
Larger companies, especially those in the New England and Mid-Atlantic states, are more likely to allow workers to telecommute. Full-time workers are more likely to have the option of working from home than part-timers, Global Workplace Analytics found. About 75% of employees who work from home earn more than $65,000 a year, putting them in the 80th percentile of all workers. Many have college degrees.
Economic Consequences

The ability to work from home has sharpened the split between those who can work from home and those with public-facing jobs in retail, hospitality, restaurants and other sectors who cannot. Unemployment peaked 14.7% in April, but employees who could work from home weren't hit as hard, and they continued as active consumers in the economy, while about 20.5 million people were out of work last Spring.
Many transit agencies have reduced service in response to falling fare box revenue during the coronavirus pandemic, and some cuts may be permanent without Federal aid. But it's too early to say if some transit agencies will be stuck with excess capacity when the pandemic abates.
And there's another thing that companies have to consider before they start bringing worker back into the office – liability.
"I think there was a period when companies were eager to bring people back to the office," Kate Lister of Global Workplace Analytics said. "Some companies may have spent money on things they didn't need to do. But companies are also at risk and could be sued if an employee returns to the office and gets sick."