Has Ivanka Trump Repeatedly Broken Ethics Laws Since Joining the White House?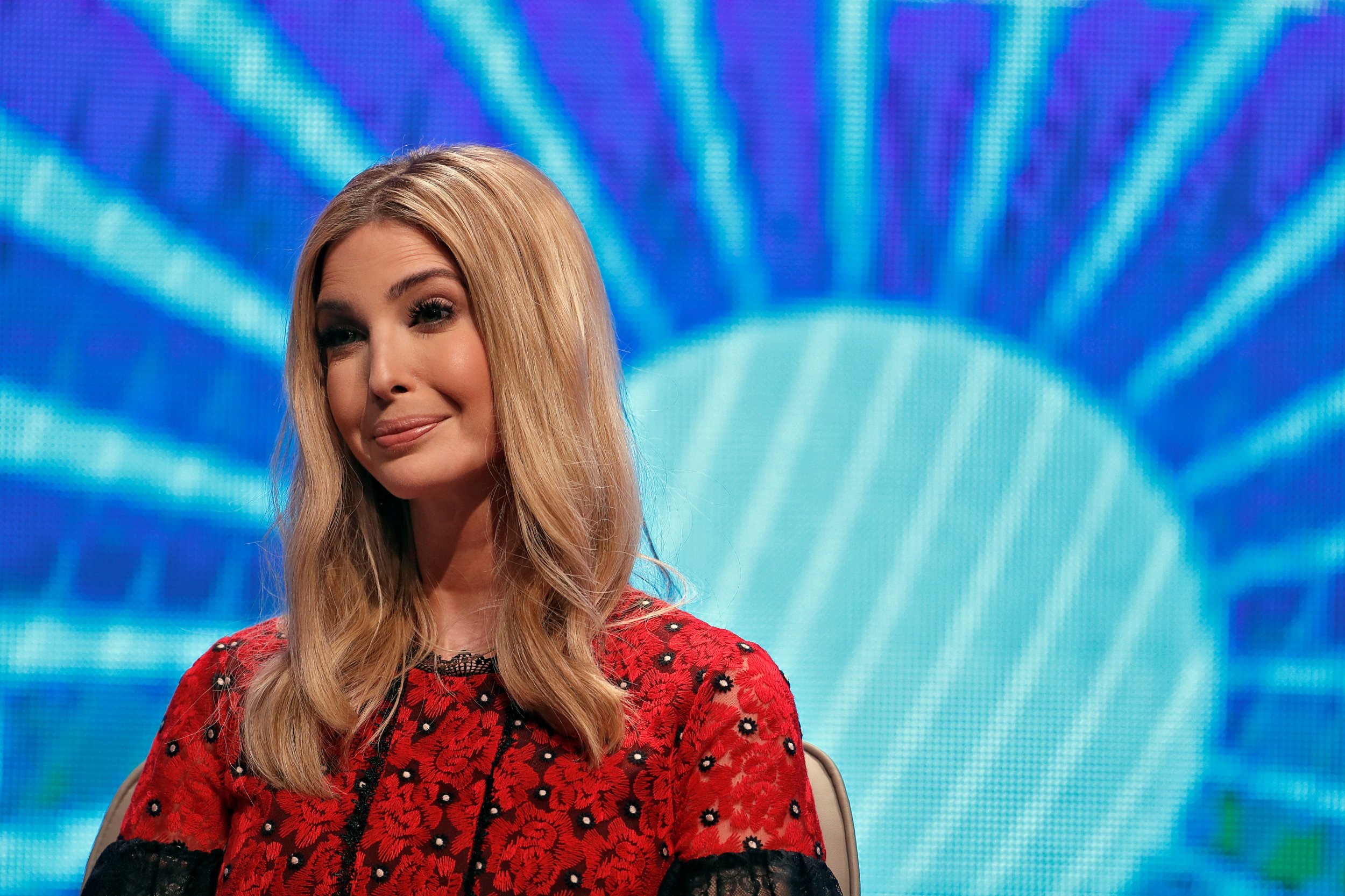 Ivanka Trump's new retail outlet at her father's Trump Tower in New York City could be the latest conflict of interest involving President Donald Trump's oldest daughter and top White House adviser. Ivanka Trump opened the shop selling purses, shoes, candles and jewelry in the Manhattan skyscraper that also houses other Trump businesses, including a restaurant and bar, Bloomberg reported Friday.
"In the ever-changing retail landscape, the Ivanka Trump brand is committed to engaging with the customers directly," Trump's company said in a statement. "Today, the Ivanka Trump brand is evolving in big ways, but the mission remains the same."
But critics have long warned that the first family's business ventures could be in violation of federal laws prohibiting government officials from getting rich off the American public and their ties to Washington.
"This is another in a long line of conflicts of interests," Richard Painter, chief White House ethics lawyer under President George W. Bush, told The Washington Post. "By selling directly to die-hard Trump supporters, who are already hanging out at Trump Tower, she gets to pocket even higher margins."
Ivanka Trump began in March her unpaid position in the White House as a formal adviser to her father. Before that, she was an informal adviser, a role that also caused concern about potential ethics violations.
The Office of Government Ethics urged Ivanka Trump earlier this year to file financial disclosures on her financial interests, the financial interests of her husband, White House adviser Jared Kushner, and those of their children. She was also told to disentangle herself from the Trump businesses. Democratic senators, including Elizabeth Warren of Massachusetts, demanded at the time that the government ethics watchdog keep a close eye on how and whether the first daughter would avoid financial and ethical conflicts of interest.
But several former government officials and watchdog groups have since accused Ivanka Trump, who has an office in the West Wing, of using her White House ties to advance her already sizable fortune. Kushner's financial disclosure report put his family's assets at roughly $760 million for himself, Ivanka Trump and their young children, Politico reported.
The Emoluments Clause of the U.S. Constitution forbids government employees from profiting from other governments, but when the first daughter travels the world to represent her father and the U.S., she is also bolstering her brand's image on the global stage. "While federal law doesn't directly address it, there is an appearance issue when she hobnobs with foreign officials who can help advance her business in their countries," Bloomberg wrote in April.
In one instance, Ivanka Trump dined with Chinese President Xi Jinping in April at her father's Mar-a-Lago resort in Florida on the same day China approved three new trademarks for Ivanka Trump Marks LLC. Chinese officials, however, said the timing was merely a coincidence.
"I think that's wonderful for Ivanka that her businesses are doing well, and, uh, everything would be just fine if she weren't also working in the White House," Painter, a frequent critic of the first family, told CBS News at the time. He warned that Ivanka Trump was possibly breaking the law. "She has to comply with the Criminal Conflict of Interest statute, which will prohibit her from participating in government matters that have a direct or predictable impact on her businesses, and this includes trade with China," Painter said.
Others have warned that neither Ivanka Trump or Jared Kushner have the policy experience necessary to serve as government advisers, meaning Trump family nepotism could undermine important policy decisions and put the U.S. in danger, especially given that Kushner has been tasked with brokering a Middle East peace deal, solving the opioid crisis and reforming veterans care, challenges for any seasoned government leader, let alone a 36-year-old former real-estate developer and newspaper publisher.
"When President Trump appointed his son-in-law Jared Kushner as a senior advisor, the appointment appeared to run afoul of the federal anti-nepotism statute. The statute specifies both that the prohibition against hiring family members applies to the president and that sons-in-law are family members. Given the even closer proximity of their relationship, President Trump's more recent hiring of his daughter Ivanka Trump seems to be an even more apparent violation of the statute," a recent report titled "NEPOTISM AND CONFLICTS OF INTEREST – JARED KUSHNER AND IVANKA TRUMP" from the Citizens for Responsibility and Ethics in Washington explained."Mr. Kushner's and Ms. Trump's appointments as presidential advisors are all the more concerning because of the high risk that they carry their own significant conflicts of interest. Like the president, both have refused to put their assets in a blind trust to be sold – the most effective method to avoid conflicts of interest."
Possible violations could result in criminal prosecution for Ivanka Trump and Kushner, Citizens for Responsibility and Ethics in Washington explained in an op-ed published by USA Today in April.
Another area of concern is Ivanka Trump's reported rental income of up to $5 million from the Trump Old Post Office LLC investment in Washington, D.C., which could also violate the Foreign Emoluments Clause because several diplomats representing foreign governments have attended events at the Trump International Hotel at the site.
More recently, Ivanka Trump was criticized in September for using a personal email address to discuss government matters, according to documents obtained through the Freedom of Information Act by the nonprofit American Oversight and shared exclusively with Newsweek.
Ivanka Trump's fashion brand made an estimated $5 million from January 2016 and March 2017. While she is no longer running the company while serving her father's White House, she maintains control of the business. The president has also been accused of helping his daughter get richer through his position as the so-called leader of the free world. In February, he wrote a rant on Twitter slamming retailer Nordstrom for removing his daughter's Ivanka Trump products from its 350 stores after slumping sales.
"My daughter Ivanka has been treated so unfairly by Nordstrom," he wrote at the time. "She is a great person — always pushing me to do the right thing! Terrible!"