Has LeBron Jr Chosen Duke? James's Son Wears Blue Devils Sweatshirt, Gets NCAA Fans Talking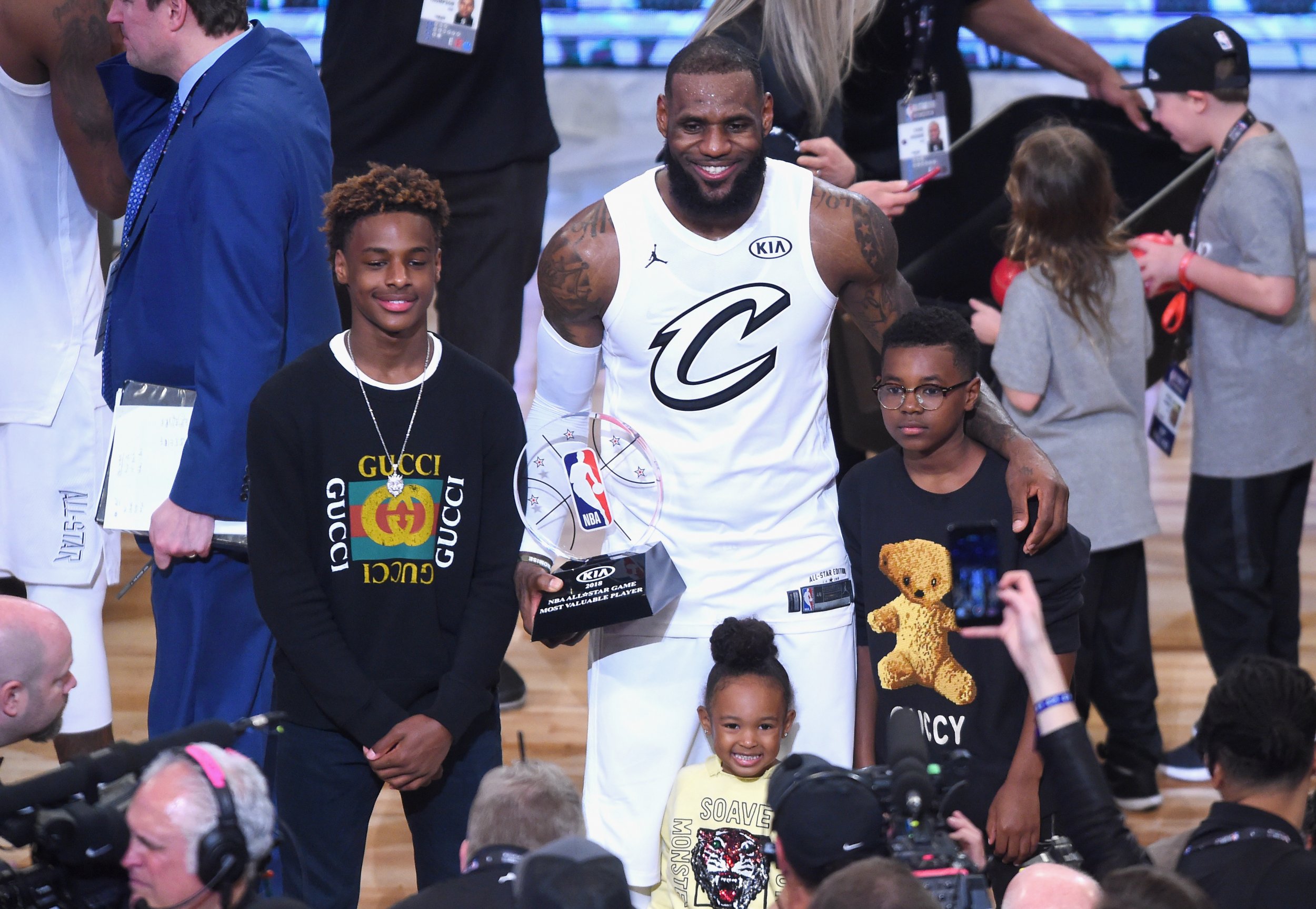 Duke's freshmen have captured the attention of the NCAA world so far this season—and if social media is anything to go by, they could be joined by an illustrious recruit in the near future.
Zion Williamson, Cam Reddish and RJ Barrett have inspired the Blue Devils to a 3-0 start this year and that's clearly made an impression on LeBron James Jr.
The 14-year-old shared a picture on Twitter of himself donning a Duke sweatshirt, which was immediately taken as an endorsement for the Blue Devils.
James Jr., also known as Bronny, is a very promising eighth-grader and has already received scholarship offers from a number of major colleges.
In August, LeBron's son announced he will attend Crossroads School in Santa Monica, California. However, under rules out set out by the California Interscholastic Federation, he will not be allowed to play with the varsity basketball team in the 2018-19 season.
LeBron famously did not attend college and went straight from St. Vincent-St.Mary High School in Akron to the number one overall pick of the NBA draft in 2003.
While it is perfectly plausible his son would follow his path and go straight into the NBA, a number of colleges are expected to fight it out to recruit him.
In July, The Louisville Courier-Journal reported bookmakers had already begun taking bets on which college the Class of 2022 prospect would attend.
According to online sportsbook Bookmaker.eu, Duke were favorites to land Bronny with odds of -150, followed by Kentucky and Kansas at +160 and +900 respectively.
North Carolina and UCLA rounded out the top with odds of +1,000 and +1,200.
In the summer, Bronny took an official visit to Duke with his Amateur Athletic Union team and the campus must have obviously left a lasting impression on the teenager.
The way Duke started the season has surely helped the cause, given the Blue Devils steamrolled opponents in their first three games. In the season opener last week, fourth-ranked Duke beat then-first-ranked Kentucky 118-84, before thrashing Army 94-72 over the weekend and annihilating Eastern Michigan 84-46 on Wednesday.
The performance against Kentucky prompted ESPN draft analyst Mike Schmitz to suggest that Barrett, Williamson and Reddish could potentially be the top three picks of the next NBA draft.
The Blue Devils, now ranked first in the Associated Press poll of college basketball, haven't made the Final Four since becoming national champions in the 2014-15 season and have only reached the final weekend of the tournament another two times in the last 15 years.
However, if the start of the season is anything to go by, Duke coach Mike Krzyzewski and his team could be involved at the business end of March Madness four months from now.