At the top of Google, the "official" website for U.S. Vice President Mike Pence contains a link that directs homosexuals to hell.com and a mailing list that is described as a "reminder to kill all your tiny dogs." It's been the talk of Twitter for days, but all is not what it seems.
At a glance, the parody website looks normal, with standard political branding. But at closer inspection nearly every aspect of the site is doctored with humor in mind. On a huge banner at the top of the page, a slogan declares: "See you tomorrow, for tomorrow is now today."
There is a section dedicated to Pence's daily food intake. A shop advertises briefs, Bibles and a car bumper sticker that states "non-aborted baby on board." The fact page includes "Mike Pence likes to watch movies" and "Mike's favorite part of the American flag is the bars." A lengthy biography ordains Pence as president following the fictitious resignation of Trump.
But it has not been hacked, as a multitude of social media users are suggesting this week. And if it sounds familiar, that's because the story has resurfaced from last year. In reality, it was launched by comedy website FunnyOrDie.com on April 1 last year. At the time, the joke was being framed as "part of Mike Pence's preparations for his rise to the role of president."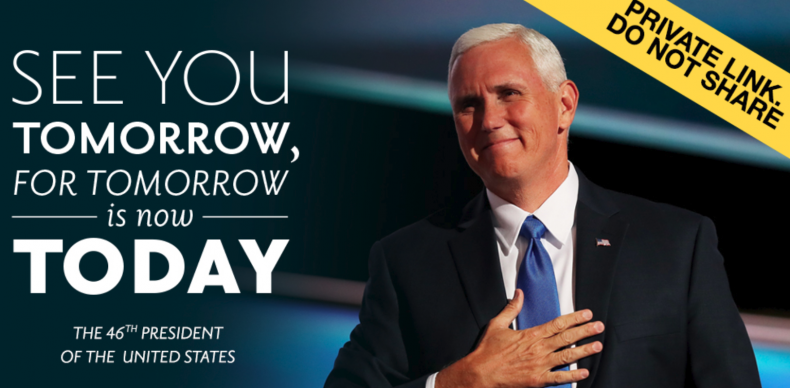 Mike Pence's real website currently re-directs to donaldjtrump.com. The branding is similar to the parody page. As noted by NYMag on August 11 last year, the fake domain spiked in popularity after being tweeted about by journalists and political commentators. At the time, Esquire was forced to issue a correction after initially reporting that the website had been hacked.
But the hack rumors still persist. "Did ya'll see Mike Pence's website got hacked?" one tweet from today read. Another stated: "Someone hacked Mike Pence's website and it is…a masterpiece." A third Twitter user chimed in: "Someone hacked mike pence's website and its comedy gold." The White House email for Mike Pence did not immediately respond to request for comment.
According to Google Trends, over the past seven days breakout search terms have included "mike pence website hacked" and "pence website hacked." Searches peaked on August 15. It remains unclear why it has spiked again, but was shared this week on a forum called BabyCenter.
It is not the first time a fake Pence identity has duped people online.
In July, White House official Kellyanne Conway quoted a fake Pence Twitter account which had criticized a CNN editor. "@VP calls out sexism and shows what it means to be pro-woman," she wrote, before deleting the post. The month prior, social media enjoyed a video that surfaced showing the vice president mimicking the movements of Donald Trump during a meeting.
It remains unclear if Pence really did win 3rd prize in the 1972 Indiana Junior Corn Contest.