Has Shift Away From Mandates Caused Standstill in Vaccination Push?
As COVID-19 cases and hospitalizations decline across the U.S. and an increasing number of states move away from pandemic protocols, is the drive for Americans to get vaccinated grinding to a halt?
In the past week, data from the Centers for Disease Control and Prevention (CDC) has shown that an average of just over 47,000 Americans received their first vaccine dose, the lowest rate since December 2020.
With virus cases largely on the decline and an increasing number of states moving away from mask and vaccine mandates, it appears that those who remain hesitant to get the jab may see less of a reason to change their minds.
The number of overall vaccines administered per day, including first and second doses, as well as booster shots, have also reached their lowest points since the inoculations were first introduced in the U.S. This marks a severe drop from America's vaccine peak in April 2021, when an average of nearly 2 million people a day lined up to receive their first shot.
Dr. Litjen Tan, an infectious disease and immunology expert, and chief strategy officer for the Immunization Action Coalition, explained to Newsweek that it's "natural to see a decline in first-timers" getting vaccinated since most pro-vaccine Americans have already received their shot.
"I think when you're thinking about first-timers, I think what you're dealing with now is that the majority of the population who are very pro-COVID-19 vaccine, the majority of those people – over 70 percent – are fully vaccinated," he said.
When it comes to fully vaccinated Americans who have not yet been boosted, Tan said that falling infection rates may leave people to feel like they don't need to rush.
"If you haven't received your booster, you're not anti-vaccine, but you might say 'I'm looking at infection rates, I'm looking at immunization rates, and I'm thinking I can just hold off,'" he explained. On top of that, Tan added that removing mandates is likely to cause "the incentive to mask and the incentive to get vaccinated to drop."
During the height of the country's vaccine campaign last year, several states advertised financial incentives or cash prizes as a way to increase vaccination rates. Other states pushed to increase vaccination rates with policies requiring vaccines for indoor dining or entertainment venues.
But with cases reaching new lows after a January peak driven by the Omicron variant, states including Utah, West Virginia, New Jersey, Vermont, and Pennsylvania have all begun easing their virus restrictions. Even New York City – once America's hardest-hit city in terms of new cases and hospitalizations – recently announced a plan to drop mask mandates and proof of vaccination in the coming weeks.
"People are just over it. They're tired of it," Judy Smith, administrator for a 12-county public health district in northwestern Alabama told the Associated Press when discussing vaccines this week.
The recent trend in waning vaccine levels has been particularly noticeable in rural and conservative areas. In one health department in Alabama, only 14 people total have showed up to receive a vaccine in the first six weeks of 2022, the Associated Press reported. Meanwhile, the number of people receiving their first shot in Idaho is rarely more than 500 in a given day, while less than 300 people across Wyoming received their first shot last week.
And in the past two weeks, North Carolina set record lows for the number of first and second doses administered, according to data from the state's health department.
"It's true that we definitely have not seen as many people getting their first shots," Dr. Erica Pettigrew, a family practice physician and associate professor at the University of North Carolina School of Medicine told CBS 17 on Tuesday. "And I don't think any of us are surprised by that."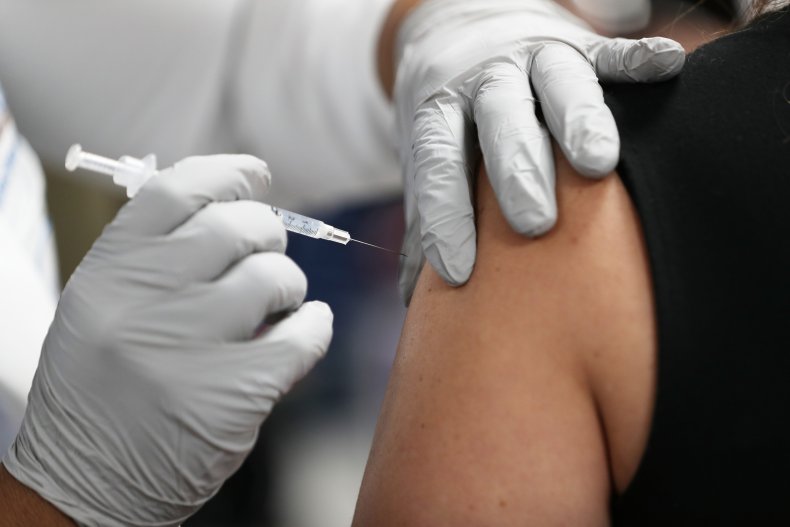 Nonetheless, Tan told Newsweek on Tuesday that the pandemic is still not over, and that vaccines are vital to preventing future infections.
"We need to continue to immunize. It is still a serious illness and the problem with what's happening here is that the people who don't get boosted are more likely to transmit, they are also more likely to get ill, and people who don't get vaccinated are likely to get very ill," he said.
So far, approximately 76 percent of Americans have received at least one dose of the coronavirus vaccine, while just under 65 percent are fully vaccinated, according to the CDC.
A spokesperson for the agency told Newsweek on Tuesday that while the U.S. is now in a stronger position to stave off disease, vaccine hesitancy still remains a critical issue.
"We are aware that COVID-19 vaccine hesitancy remains an issue for some people, and CDC is committed to increasing vaccine confidence in the U.S. and ensuring equitable access to vaccines," the CDC spokesperson said, adding that the agency is working to conduct studies and analyze data to determine why people still feel hesitant about the jab.
"COVID-19 vaccines remain our best protection against serious illness, and continuing to expand vaccine coverage and ensuring people are up to date with vaccination is essential to protecting people against hospitalizations and deaths," the CDC spokesperson added.