Has Syria's Dictator Assad Suffered a Stroke?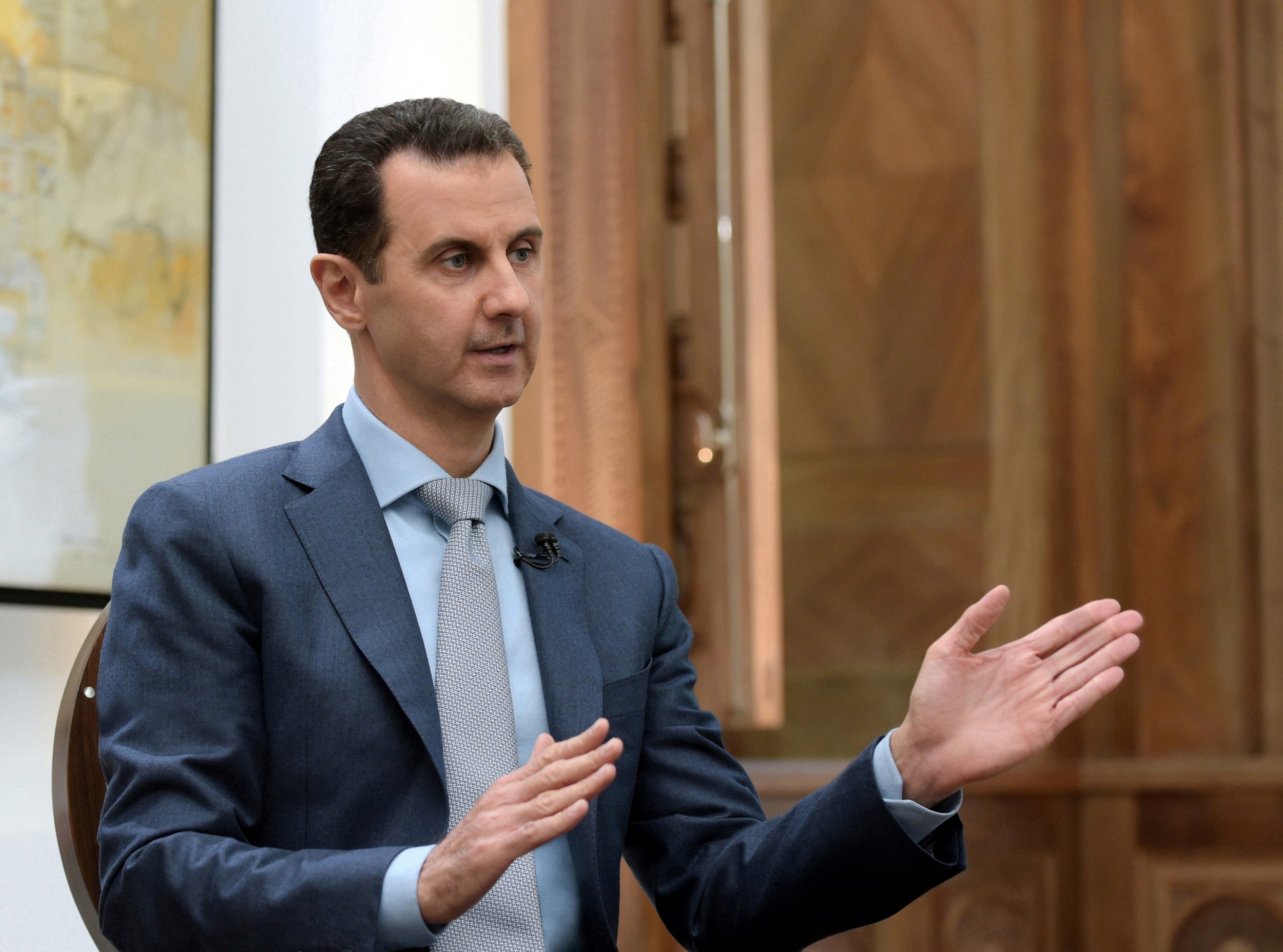 This article first appeared on the Atlantic Council site. Read in Arabic
Bashar al-Assad finally made a public appearance to women from the Alawite religious sect who had been kidnapped.
It was notable that on this occasion Assad spoke for a long time, gesturing with both hands, and denied rumors that he suffered a stroke.
On January 29, the prominent journalist Faisal al-Qassem claimed on his personal website that Assad had suffered a stroke, and challenged Assad to make a television appearance and prove these rumors wrong.
These rumors were furthered by sources in the Russian press, who noted Assad has a nervous twitch in his left eye, and Asharq Al-Awsat newspaper, which published these same claims.
For the first time, the presidential palace responded to this substantial challenge from al-Qassem. It denied the repeated rumors that Assad is ill in a statement it released, which read, "President Assad is in excellent health, and is carrying out his duties perfectly normally."
The statement was followed by a presidential decree on January 1 that promoted the president's brother, Maher al-Assad, to the rank of major general. This increased the public's reservations about Assad's health.
The people most afraid are members of the Alawite sect, who wish "the leader" well and lasting health. The Syrian city of Latakia grew tense for several days after this news broke, when senior politicians in the corridors of power in Syria's capital of Damascus failed to deny that anything was happening in the presidential palace.
Assad responded to the rumors by appearing on SANA, the state's official news channel, to welcome a parliamentary delegation from Belgium headed by Filip Dewinter. Throughout most of the video, Assad's hands did not move, leading some to claim this was due to his having suffered stroke. At the end of the video, he is seen moving his hands somewhat.
Pro-regime Alawites breathed a collective sigh of relief when they saw Assad on television, whereas opposition members focused on his left side, saying that the news about the stroke must have been true because he suffers from a nervous twitch in his left eye.
While these rumors spread, photographs were published of Maher al-Assad in cities along the Syrian coast, coinciding with his promotion to the rank of major general. Bashar al-Assad did not appear in the media during this time. This seemed to point to the sectarian Alawite desire for Maher al-Assad to assume power if the unthinkable happened to Bashar. This, however, has not happened.
Assad's supporters' engagement to the news and rumors came as a reaction to what al-Qassem and Russian sources had published. This was followed by intense worry and fear, which only increased after the president's statement denying this news, to the point that Hussein Murtada, a Lebanese reporter, responded and confirmed that Assad would make an appearance within the next couple of days. Jamil al-Sayyed, former head of the Lebanese General Security, also expressed great concern in this regard.
Of course the Lebanese and Syrian public know that Syria's war has heavy regional interference, and Alawites in particular understand that decision-making in Syria does not depend solely on Assad, but even so, it is essential for them that he remain in power. They are worried, and react to any rumor involving Assad's life or fate.
Most rumors come from opposition sources, and they spread quickly; for example, rumors spread before the Muslim holidays of Eid al-Adha and Eid al-Fitr. One claimed that Assad would not attend any prayers because he had suffered a stroke. It had reached the point where rumors were passed along sarcastically or in jest, and yet Assad's supporters responded to them with intense fear.
"For Alawites, Assad is a safety valve," said an Alawite woman from Latakia, who preferred to remain anonymous in a private Skype call.
"This won't make anyone happy, and the opposition is negotiating everywhere, making concessions everywhere, but everyone here in Latakia is sure that Assad will stay for good.
"Any rumor that he's injured or sick makes all Alawites frustrated and afraid until he appears on the media. Not even Maher al-Assad can abandon him, he's the commander of the strongest division in Syria, and the rumors that he was recently injured in Damascus in an opposition assault were false. Alawites and his supporters don't want either of the two Assad brothers to come to any harm."
"His supporters know that the opposition started these rumors. They won't hurt our morale," she added. "Syria will soon be under Assad's control. Our allies won't abandon us, they will fight with us and fight until the end, but the West has abandoned the opposition, so they need to accept Assad or flee forever."
On February 5, Lattakia News Network (LNN) published a photograph showing Assad and his wife in the city of Qardaha. In response came more than a thousand comments, wishing Assad and his wife well and good health. One commenter called Assad "their leader," and another commented, "May God not deprive us of him."
Meanwhile, the rumors still continue, particularly around important occasions. It is interesting that the challenge between Faisal al-Qassem, one of the most well-known journalists in the Middle East, and Bashar al-Assad, has turned into a personal one. Whenever al-Qassem publishes a rumor, a day or two later Assad appears and greets or bid farewell to a European delegation.
Al-Qassem's prominence helps rumors spread rapidly, since he has over 11 million followers on Facebook and more than 4 million followers on Twitter. The rumors echo on pages from the regime's supporters, such as Damascus Today and SANA, the state's official news channel, which is watched by hundreds of thousands of supporters.
This began over four years ago, and the recent intervention of Russian sources has only increased the speed that rumors spread, which in turn forces Assad to appear in the media. Furthermore, rumors from al-Qassem's Facebook page are published by the regional media.
These include Al-Araby, one of the largest websites affiliated with the Muslim Brotherhood, and local papers that care about the opposition's opinion, along with the website Balad News. Consumers are also responsible for the spreading of these rumors.
Rumors spread quickly, but the fear of pro-regime supporters is notable, showing that Assad as a figurehead remains important to them, and that they continue to feel concerned about their future should something happen to him. The Alawites' strong defense of the Syrian president in particular shows their ever-present fear for the future of their sect.
Saleem al-Omar is a freelance journalist.