News broke Saturday afternoon that legendary NFL quarterback Tom Brady was set to announce his retirement. It took very little time for those reports to be refuted.
ESPN broke the story around 2:30 p.m. on Saturday with a tweet, and the cable network basketball announcers talked about Brady quite often during their broadcast of college games.
Around 4:30 p.m., ESPN reporters began tweeting that Brady hasn't announced that he'll retire.
Longtime Tampa Bay Buccaneers beat reporter Greg Auman said the Buccaneers front office hasn't spoken with Brady
"Just to confirm @MikeSilver's reporting, Tom Brady has told Bucs GM Jason Licht since ESPN's report this afternoon that he has not made a decision about retirement. Doesn't mean he won't, but he hasn't yet, by any normal standards for letting an employer know," Auman tweeted.
NFL Network reporter Tom Pelissero said Brady's father and agent also deny the superstar's retirement.
"Tom Brady's father, agent and team have now denied that Brady has decided to retire, and his company deleted a tweet. That doesn't mean Brady won't retire soon; he's 44 and acknowledged after last week's game he will evaluate his future," Pelissero wrote.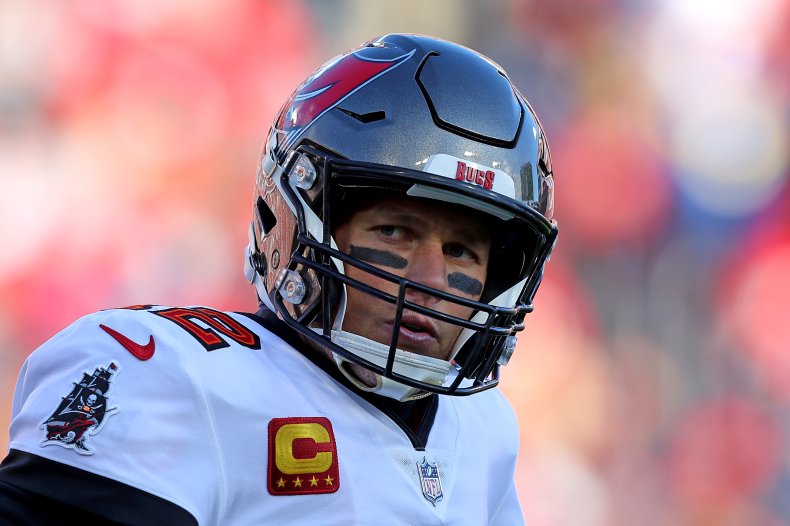 Jenna Laine, who covers the Buccaneers for ESPN, said Buccaneers coach Bruce Arians told her Brady is "not even close" to deciding on whether to retire.
"Tom Brady hasn't informed the Bucs that he's retiring. Bruce Arians told me, "He hasn't. Not even close to making up his mind yet. He told us," Laine tweeted.
Here's what Brady's agent stated on Saturday.
Brady, 44, has played 22 professional seasons, won seven Super Bowls and holds pretty much every passing record for both regular season and the playoffs.
Brady spent 20 seasons with the New England Patriots, where he won nine AFC titles and six Super Bowls. He spent his final two seasons with the Tampa Bay Buccaneers, where he won the NFC championship and Super Bowl for the 2020 season. The Buccaneers lost to the Los Angeles Rams in this year's divisional round despite Brady bringing his team back from a 27-3 deficit.
After the last-second loss to the Rams, Brady didn't decisively answer whether or not he would retire once his offseason starts.
Brady earlier this week said he wants to take time to reflect upon his career and spend time with his family.
"There's some uncertainty about whether or not he'll be back with the Buccaneers in 2022," NFL Network's Ian Rapoport said last Sunday. "From what I understand he has not told the Bucs that he will be back. He's expected to take some time away following the season, whatever happens, and consider retirement. Is it time for him to step away from the game, take some time with his family and focus on some of the other things he's doing."
Brady had one of the best seasons in his career during 2021. He led the league with 5,316 passing yards (a career high and third-most all-time in NFL history). He had 43 passing touchdowns, and his 485 completions is a single-season record in league history.
Brady also became the third quarterback since 1991 to lead the NFL in attempts, completions, passing yards and passing touchdowns in the same season. He's the only quarterback besides Drew Brees with 5,000-plus yards in multiple seasons, and he joins Aaron Rodgers as the only quarterbacks with 40 or more touchdowns in three or more seasons.
Brady has won five Super Bowl MVP awards—the most all-time. He's projected to finish in the top three in this season's regular-season MVP voting.
CORRECTION: This report originally stated the Buccaneers lost to the 49ers in the divisional round. It has been corrected to state Tampa Bay lost to Los Angeles.
About the writer
Scott McDonald is a Newsweek deputy night editor based in Cape Coral, Florida. His focus is assigning and writing stories across all topics, from news to politics, business, weather, sports and international news. Scott joined Newsweek in 2018 after a lengthy career of print journalism in Texas, including The Dallas Morning News, where he was a sportswriter, and he's a voter for the Heisman Trophy. He has been a newspaper editor-in-chief and also a newspaper publisher. He is a graduate of The University of Texas at Austin. You can get in touch with Scott by emailing s.mcdonald@newsweek.com. Languages: English