Has a Tornado Warning Been Issued Today? Storm Warnings Issued for Chicago and Seattle
Two storm systems, which are expected to meet in the Midwest by Wednesday, are causing Americans to expect and search for tornado warnings.
Residents of Idaho and Washington have been taking to Google in the past 24 hours to confirm whether tornado warnings have been issued in their states, as the west coast storm system brings gale force winds and rainfall.
However according to the National Weather Service (NWS)—at the time of reporting—there are no tornado warnings or watches in effect.
Gale warnings for northwest America
Gale force winds, reaching up to 45 knots, have ravaged the west coast overnight, with a warning in effect until 6:00 a.m. PST today.
Affecting the East Entrance of U.S. Waters Strait Of Juan De Fuca and the Central U.S. Waters Strait Of Juan De Fuca, strong winds are expected to cause hazardous sea conditions, which could capsize or damage vessels as well as reduce visibility.
According to the NWS, a "gale warning" means winds of 34 to 47 knots are imminent or occurring.
Winter storm warnings in effect
The NWS has issued winter storm warnings for South Dakota and Washington, as the storm systems dominate most of the U.S. According to the warning, heavy snow and strong winds are expected today into tomorrow for South Dakota, with the weather service describing the event as a "strong upper level disturbance."
It is forecast that an initial band of snow will cross the area this morning, bringing minor snow accumulations to portions of the plains, with heavy upslope snow expected in the northern Black Hills to begin over the course of the morning and into tomorrow. Snow accumulations of eight to 20 inches are forecast.
Meanwhile, snow showers and bands will gradually move from northeast to southwest across the area later this morning through early tomorrow, with wind gusts up to 45 miles per hour over the hills and up to 55 miles per hour over the plains.
The heavy snow is expected to affect the Northern Black Hills and Wyoming Black Hills. This warning will remain in effect until 2:00 p.m. MST tomorrow, with NWS predicting travel will be difficult to impossible due to blowing snow and reduced visibility.
In Washington, specifically the Cascades of Whatcom, Skagit, Snohomish, King, Pierce and Lewis Counties, a winter storm warning is currently in effect and is expected to lift by 4:00 a.m. PST this morning.
Mainly affecting areas above 2,500 feet, NWS forecasts that heavy snow accumulations will range between one to six inches. As the temperature warms slightly, slippery road conditions are expected.
Windy conditions are also producing areas of blowing snow and reduced visibilities, with the NWS predicting that dangerous avalanche conditions are also likely.
For the latest road updates dial 5-1-1 or visit the state's department for transport website.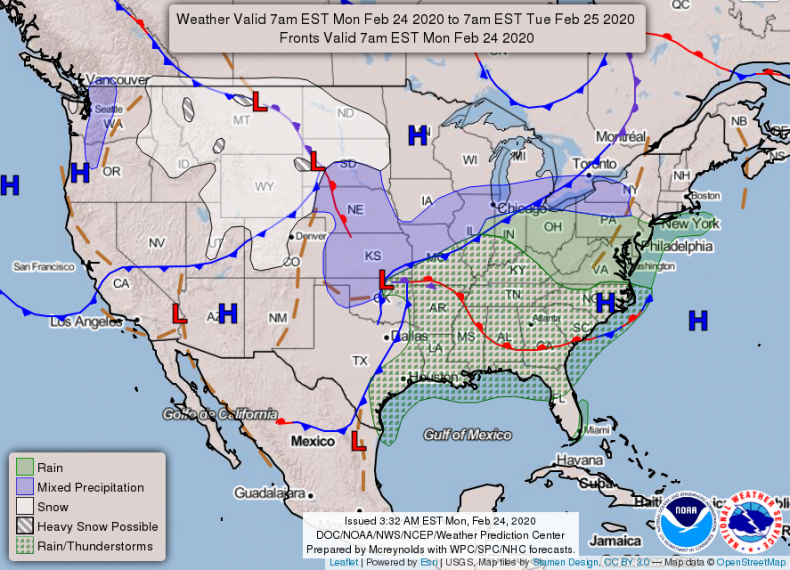 Chicago prepares for storm
From this evening, heavy snow is expected for eastern Iowa and northwest Illinois, according to NWS, and forecast to last until Wednesday.
The slow moving winter storm system, moving out of the southern Plains, is expected to bring precipitation. This will start out as rain during today and change to moderate to heavy snow this evening through to Tuesday. Increasing north to northwest winds may cause blowing and drifting snow tomorrow night into Wednesday morning.
According to NWS, this storm has the potential to be one of the stronger winter storms of the season so far, with the weather service saying it has "above average confidence" that this system will produce heavy snowfall amounts over portions of the watch area. At the time of reporting, total snow accumulations of six to 12 inches were forecast.
Chicago and the surrounding areas are also expecting to see heavy snowfall with totals in excess of six inches, from tomorrow morning through Wednesday morning. According to NWS, travel could be very difficult, with hazardous conditions impacting the commutes tomorrow afternoon and Wednesday morning.
Wisconsin will also see the impact of the storm system tomorrow and Wednesday, with heavy snow occuring during the daytime hours. NWS predicts that there will be a mix with some rain, especially in the warmer valleys, but that snow is expected to be the main precipitation type.
Total snow accumulations of four to eight inches possible in Grant Count, Wisconsin, and Clayton County, Iowa. In other parts of Wisconsin, such as Millwaakii, accumulations could reach 10 inches with wind gusts as high as 35 miles per hour.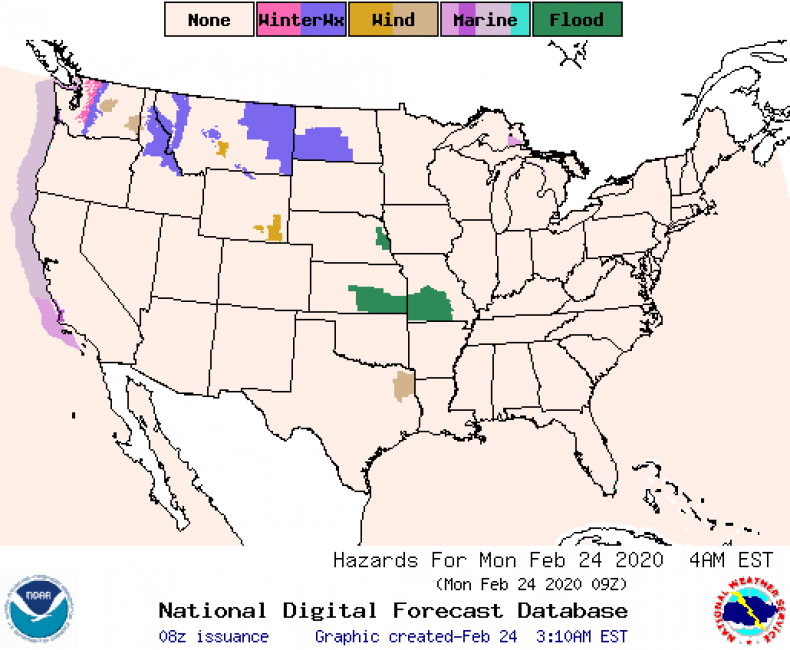 Flood watch in place in Midwest
Portions of central Kansas, south central Kansas, and southeast Kansas, including Barton, Chase, Marion, McPherson and Montgomery, are under a flood watch until 3:00 p.m. CST this afternoon.
According to NWS, areas of moderate to locally heavy rainfall will continue to affect these areas over the course of the morning, with rain decreasing in coverage and intensity by early this afternoon. Overnight, rainfall amounts have ranged from one inch to just over two inches.
A risk for lowland flooding will continue this morning into the early afternoon, warns NWS, as rises on area rivers and creeks are expected. Minor river flooding is also possible in the next day.
Missouri is also under flood watch, with flooding likely overnight and this morning. According to NWS, wet soil conditions, elevated streamflows and lack of vegetation in the winter is aiding flooding of small streams, creeks, and rivers in the region.
Widespread rainfall amounts will range from one to two inches with locally higher amounts, especially northwest of Interstate 44. NWS warns that several county and state highways will likely become impassable in spots.
East central Nebraska, northeast Nebraska, and southeast Nebraska is forecast for flooding today due to warmer temperatures leading to ice movement. According to NWS, the highest concentration of ice along the Platte River was from the railroad bridge near Fremont to County Road 11 just downstream of North Bend.
In addition, the NWS warns that a significant amount of ice remains along the Elkhorn River near Scribner. Residents near and downstream of these areas should remain alert to possible ice jam flooding.
A flood watch means there is a potential for flooding based on current forecasts. Residents should monitor later forecasts and be alert for possible flood warnings. Those living in flood prone areas should be prepared to take action should flooding develop.
Check out these safety tips for getting caught in winter weather.