Has Trump Turned America Into a South American style Kleptocracy?
Our constitution is clear that presidents of the United States must be able to act free of the conflicts of interests that are created if they —or their family— are set to benefit by the decisions they're making in office.
It must be the interests of the people that are paramount —and seen to be paramount— rather than any financial prizes that could be accrued during an individual's time in office.
Honoring the spirit of this, President Jimmy Carter sold his family peanut farm before entering office.
President Trump, however, has chosen a different course, passing his main business assets to his family, rather than offloading them.
And, as evidence mounts up of profound influence being peddled by those individuals, business, governments and other entities with ties to Trump's fortune, there are serious concerns that our Constitution, which was designed to build an America that is free and fair, is being stretched to its limits.
This is particularly true when it comes to the provisions intended to root out —and guard the Presidential office from— possible sources of corruption.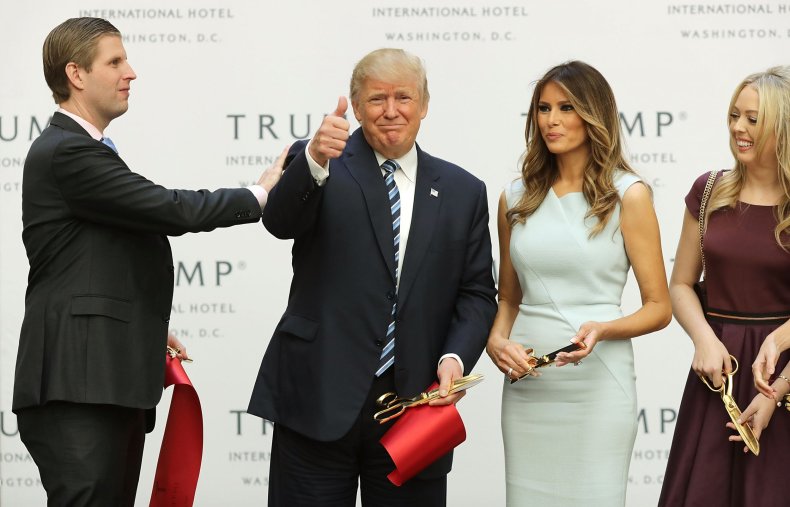 Global Witness, an organization established over two decades ago to expose and challenge corrupt practices across the world, has noted with alarm the increasing parallels between some of the actions of the president and his aides and those of kleptocracies (defined as rule by thieves) like Angola, Equatorial Guinea and Cambodia, where we have been working for years to investigate corruption that benefits those in power, rather than the people they claim to lead.
First, there is evidence to suggest President Trump is using his office to enrich himself and his family.
The Trump International Hotel in Washington, D.C., which opened its doors shortly before the 2016 election, has become a firm favorite for foreign governments —including officials, diplomats and lobbyists linked to Saudi Arabia, Bahrain, Kuwait and Azerbaijan.
Similarly, industry groups like the American Petroleum Institute have chosen to stay at the Trump hotel. It isn't for the bathrobes, it's for a special type of access which shouldn't be given out as freely as a room key. But, it's hard to ignore the $19.7 million that President Trump made from the hotel between from September 2016 through April 2017.
And it's not just foreign interests or major corporates who have been enticed into Trump hotels hoping to curry favor with those who have the President's ear. Government agencies have also been drawn in.
The National Security Council and US State Department have used taxpayers' money to pay lavish sums for their staff to stay at Trump hotels and resorts.
Second, it seems that each week more revelations come out linking President Trump to corrupt and illegal activity. A Global Witness investigation published this month showed how Trump made millions from a luxury hotel development in Panama that was used by Latin American drug cartels to launder money.
Third, it is clear in our years of working in this field that corruption blossoms when mechanisms for accountability are lost and those in power stop trying to even pretend they are striving for greater transparency.
We have seen these breakdowns occur time and again as powerful dictators repeal or ignore domestic or international laws , allowing their actions to go unchecked and their regimes to act against their own people with impunity.
In 2017, Trump took the first steps towards dismantling our hard fought for transparency measures that aim to help combat natural resource corruption in the US and globally.
One of the first pieces of legislation introduced by House Republicans once he took office was an effort to derail Dodd-Frank section 1504, a bi-partisan anti-corruption and transparency law that requires US-listed oil, gas, and mining companies to disclose the hundreds of billions of dollars' worth of payments they make to the U.S. and foreign governments.
While serving as head of Exxon, a company currently under investigation for a deal potentially defrauding the Nigerian people of billions of dollars, US Secretary of State Rex Tillerson himself lobbied against this payment disclosure rule.
Similarly, the Trump administration and House Republicans have attacked the conflict minerals provision of Dodd-Frank, Section 1502. This law requires that U.S. companies carry out due diligence on their mineral supply chains to ensure that the tin, tantalum, tungsten or gold in their products originating from the Democratic Republic of Congo and neighboring countries have not contributed to armed groups or human rights abuses.
Lastly, in November the US withdrew from implementing the Extractive Industries Transparency Initiative (EITI), a multi-stakeholder global anti-corruption program for the oil, gas and mining sector. It was a clear win for companies like Exxon and Chevron.
We should not be alarmist. The United States is not turning into Angola, Equatorial Guinea or Cambodia, where corruption is rife throughout government.
However, we should be concerned about the signs our President is turning away from the principles of openness, transparency and accountability on which our country was founded on.
Is it possible for a man who owns more than 500 companies, whose corporate interests extend to over a dozen countries, and whose family occupy key roles in both his business and his political team, to reconcile their presidency with the spirit of the emoluments clauses enshrined into our constitution?
The short answer is no, and in the case of Donald J. Trump he rejects the mere notion of doing so.
Corinna Gilfillan is Head of the US Office for Global Witness. She has worked for the United Nations Environment Program (UNEP) and was Director of Friends of the Earth U.S.'s Ozone Protection Program.