Has the West Guaranteed Higher Energy Prices this Winter? | Opinion
The world's supply of oil is beginning to catch up with demand. At around $90, the price of a barrel of Brent Crude has decreased by almost 30 percent from a high of $127 on March 8. The shift is translating into lower gas prices for the American consumer, a welcome relief after inflation in the U.S. clocked in at a higher-than-expected 8.3 percent. At the time of writing, the national average for a gallon of regular has dropped from $5.02 to $3.67.
Nobody, however, should be popping the champagne just yet. The global oil market is prone to fluctuation and can puncture optimistic projections in a matter of days. In fact, there's a better-than-even chance the West will again feel the pinch toward the end of this year—and ironically, the higher gas prices will have come courtesy of Washington's closest allies in Europe.
On May 31, weeks of intense negotiations culminated in a European Union import ban on seaborne Russian crude over the next six months. But a more significant item in the EU's sixth sanctions package against Moscow was a prohibition on EU insurance for vessels carrying Russian crude anywhere in the world. In other words, not only was the EU (and the U.K.) drastically cutting its own supplies of Russian crude—it was also leveraging control over the maritime insurance industry to frustrate Russia's attempts to reach markets in Asia. By taking Russian barrels off the market, the logic went, Moscow could no longer entice other oil buyers, like China and India, with deep discounts. All of a sudden, transporting the oil would be a whole lot riskier for insurers (and therefore, more expensive for the Russians).
Yet these same sanctions could turn out to be extraordinarily costly for Europe, the U.S., and the rest of the world. As with all commodities, the benchmark price of oil depends on basic supply and demand dynamics. The less oil there is on the market, the more demand there will be. In other words, by punishing Russia for its barbaric invasion of Ukraine, the West is also inadvertently punishing itself.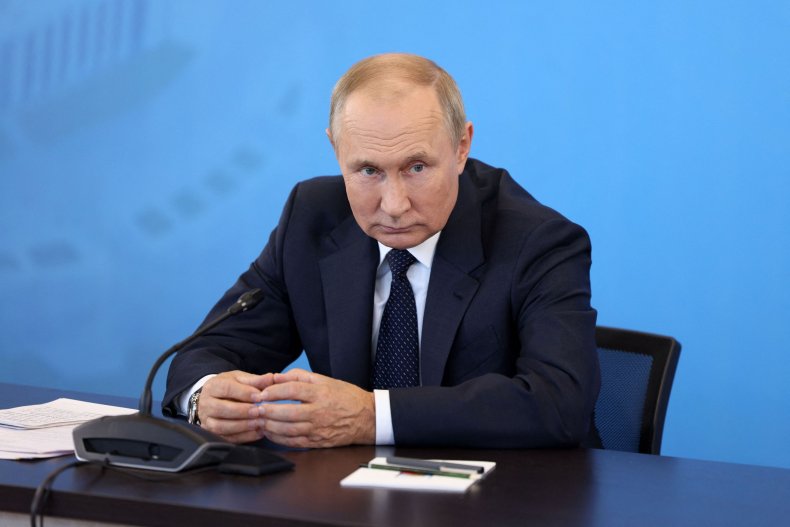 Russia exported more than 6 million barrels a day of oil and oil-related products in the first half of August. The EU and U.K. insurance ban, if implemented with precision, has the potential to take almost half of that supply off the market. Russia is one of many countries which rely on the EU and U.K. for tanker insurance; indeed, the two cover 90 percent of the world's tanker fleet. With this insurance no longer available, the Russians would either have to utilize their own tankers to fulfill their contracts or search for alternative insurance providers, possibly from India.
As one would expect, complicating Russia's ability to export its oil would cause Putin to feel the fiscal pain he has so far avoided. But it would also result in booming crude prices across the board. While Russia would be able to redirect a portion of the oil to new buyers, it's highly unlikely alternative crude producers have the capacity to replace whatever Russian barrels are lost after the EU and U.K. insurance limitations kick in. Even Saudi Arabia, the world's top crude producer, doesn't have the short-term spare capacity to keep supply from plummeting—and even if Riyadh did possess such capacity, it's an open question whether the kingdom would actually use it (given Aramco's revenue windfall this year, the Saudis don't have much of an incentive to cooperate anyway).
For all these reasons, energy analysts are projecting oil prices to rise to $200 a barrel once Europe's insurance ban comes into effect. Such a substantial price hike is the last thing U.S. officials want heading into an election year. Washington is trying to mitigate turbulence in energy markets by adopting a price cap on Russian crude, which would keep Russian oil on the market but limit the amount of revenue Moscow receives. The G7 major economies officially endorsed the plan on September 2, and participating nations hope to implement it by the end of the year.
But the fact that so many issues remain unaddressed doesn't inspire much confidence in the scheme. First, slapping a quota on a global commodity is bound to ruffle feathers in China, India, and much of the so-called Global South, which are historically opposed to Western-imposed sanctions measures. There will inevitably be different opinions on how low the cap should go and how the West might respond to those who don't support it. Putin, who has already exploited Russia's status as a major natural gas producer to inflict economic pain on Europe, would also be sure to retaliate. The Russian leader has already stated that Moscow would no longer supply oil, gas, and coal to states involved in what he considers aggression against Russian interests.
The U.S. and its European allies have backed themselves into a corner. We can only hope establishing a buyers' cartel on Russian crude works as intended. Because if it doesn't, the West will be setting itself up for a deeper energy crisis as EU and U.K. insurers are forced to turn away from the Russian oil sector. The experience at the gas pump could get a lot more painful in the winter months.
Daniel R. DePetris is a fellow at Defense Priorities and a foreign affairs columnist at Newsweek and the Chicago Tribune.
The views expressed in this article are the writer's own.