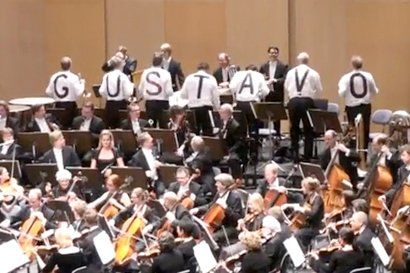 As Flavor Flav once noted, it is not always strictly advisable to believe the hype. A less blanket maxim would hold that we should at least be on guard for hype to be proven insufficient. In the case of Gustavo Dudamel—the 29-year-old Venezuelan wunderkind who took over the Los Angeles Philharmonic this season—it appears that Flav's lesson (and its corollary) have been forgotten by some in the classical-music community. Little else can explain the intense backlash the young conductor has experienced of late, or the reflexive rear-guard defense mounted by his supporters. When negative reactions to Dudamel's recent East Coast tour started pouring in—with performances being reportedly "half-formed" and "a disappointment"—NPR's Web site jumped in to tell everyone to cut it out, while the conductor's hometown paper wondered if it was just an East Coast case of everyone being insufferably bitter and East Coast–ish.
A look back at Dudamel's short tenure in the U.S. is instructive. In 2008, when Dudamel was named the L.A. Phil's next music director, the publicity bonanza was swiftly harvested. 60 Minutes profiled him in a piece called "Gustavo the Great," which opened with the line "Who's the world's greatest conductor?" (Remember, The Dude was 28 at the time.) For its part, the L.A. Phil (understandably) declined to look a gift horse in the mouth and played the hype for all it was worth. (That means gala premieres at the Hollywood Bowl with Tom Hanks and Quincy Jones in the audience-cutaway shots.) Meanwhile, the fact that the New York Philharmonic was also preparing for the arrival of an exciting, though slightly older (and less photogenic) conductor, Alan Gilbert, was not as breathlessly reported. This same lookism persists, still—two years later. Even last month's fall-preview issue of (shhh) Time admitted that while both Dudamel and Gilbert are exciting, the magazine's editors were going to focus on Dudamel because he has "the more fabulous hair." In addition to being all kinds of morally and critically wrong, this is exactly how overheated takedown pieces get inspired, in case anyone was wondering.
So, for the most part, The Washington Post's Anne Midgette is correct: a lot of people in the media have their heads screwed on oddly here. And in short: no, Dudamel isn't all of a sudden a bad conductor (even if I personally find his forthcoming recording of Stravinsky's Rite of Spring to be a dramatic misfire). But he probably shouldn't have been confirmed by the media as the Pope of Classical Music, either. While we're at it, I'll propose that we all stop talking about his frizzy hair, and his "energy," and his "passion." Many conductors have two out of three of these traits. (Those would be the two that count, musically.) Worse, these kinds of descriptions are all terribly boring, since we've read them over and over again.
I didn't catch Dudamel on his East Coast swing. I was listening to my hometown orchestra's Stravinsky festival, conducted by the Russian master Valery Gergiev. (He's balding, but great, FYI.) And last week I took in Gilbert's ambitious—and stunning—production of the György Ligeti opera Le Grand Macabre, which was as good as everyone has been saying it was. Next, I checked in with a source at the New York Philharmonic. Earlier this year, under Gilbert's direction, it became the first American orchestra to serve iTunes with a comprehensive (if not complete) series of recordings from its season in progress. At $150, it's a steep ticket, but you get the equivalent of 30 CDs of music to download at a high bit rate (think of it as $5 per album). I've been enjoying the series and asked the Philharmonic whether it broke even on the deal. The answer: around 500 people have paid for the full service. (Some of the albums are also available individually.) The source said that the gross of $75,000, while not Justin Bieber-level money, covered the costs of recording and licensing, and that the N.Y. Phil plans to do it all again next season. Dudamel and the L.A. Phil, for their part, have put up two different iTunes-only albums this season, both from its inaugural concert. The Mahler one is good, though of greater note is the fact that the orchestra's satisfying premiere of John Adams's City Noir has been turned around so quickly, and at the can't-go-wrong price of $3.99. (Usually modern premieres languish for years before being recorded.)
Finally, to review. Dudamel: still good, if uneven (and still young). Only going to get stronger as he ages. Alan Gilbert: less attractive than Dudamel, but actually doing more concrete things at the moment to revolutionize what an American orchestra performs and how it gets that music out to the wider public. And since we're lucky to have both of them contributing to America's musical culture right now, please try to play nice, everyone.