Xi Jinping sure can bring down the house.
Before an adoring crowd at the Boao Forum for Asia—China's version of Davos—Xi outlined a new world order without a single dominant power, but centered around the United Nations and other multilateral institutions. While Washington grapples with upholding the "rules-based order," Xi signals his plans to advance Beijing's incremental takeover of the UN, a feat considered improbable just a few months ago. But, having avoided consequences for Beijing's COVID-19 cover-up, Xi now believes that China's malign behavior has become so normalized that it is nearly indiscernible from that of the international order.
Which raises the question, has Xi's multilateral moment finally arrived?
Previously, the leaders of the Chinese Communist Party (CCP) chafed at American suggestions that Beijing ought to become a responsible international stakeholder. These suggestions implied China was operating out of bounds, and that Beijing could only gain acceptance by adjusting to rules that Washington and its partners had manipulated to dictate China's development and meddle in its internal affairs.
Xi found such lecturing intolerable, and often waxed philosophical about China's unstoppable ascent to the top of the international pecking order. In speech after speech, Xi articulated the CCP's aim of developing China into the world's "leading power," at the "center of the world stage." China's "great rejuvenation," he argued, was inextricably tied to the country reattaining its great-power status by 2049, if not sooner. Not satisfied with simply achieving parity with the United States, Xi's goal has always been to surpass it.
However, in light of COVID-19 and "profound changes unforeseen in a century," Xi realized that China need not choose between overthrowing the international order and becoming a part of it. In his mind, the multilateral system can now serve as both a sword and shield for China's interests—capable of providing cover for Beijing's illiberal behavior while hemming in the U.S. and its allies.
In describing his new vision, Xi opined that "however strong it may grow, China will never seek hegemony, expansion, or a sphere of influence" and that China would "preserve" and "safeguard" the multilateral trading system, with "the World Trade Organization at its core." What's more, he asserted that "mutual trust must be put front and center" in state-to-state relations, and "bossing others around or meddling in others' internal affairs would not get one any support." This, from a country which routinely intimidates its neighbors and uses forced labor.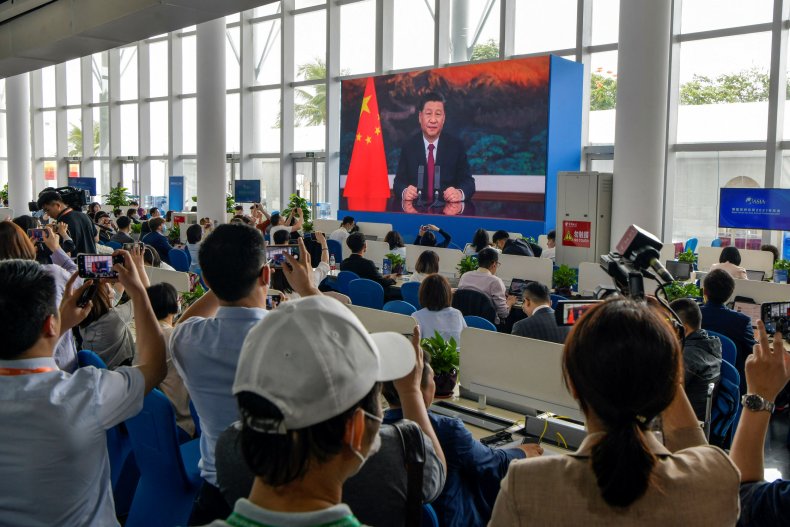 Xi has always viewed harmony and peace as byproducts of a more integrated world, just not on the terms envisioned by the U.S. and its allies. In previously describing the contours of a "new era" defined by a "community of common destiny," Xi hoped that China's values would be become so accepted that it would be nearly impossible to envision a world without them. Xi's post-COVID recalibration, which downplays great-power bombast in favor of a UN-centered paradigm, suggests that Xi sees his vision approaching much sooner than he anticipated. It is a messaging shift made all the more notable by China's aggressive defense of its pandemic response, which was so acerbic that international criticism of China reached new heights.
Xi's shifting calculus stems from several significant international developments over the last year. China's refusal to comply with the COVID-19 origins investigation shows no signs of abating. What's more, European-led efforts to strengthen the world's pandemic surveillance system, including new mandates that countries immediately report outbreak data, have already hit major bureaucratic stumbling blocks at the World Health Organization (WHO).
Beijing's distinctive mercantilist economic model has proved resilient in the pandemic. Its robust recovery will likely pick up additional steam as the U.S. rebounds. Beijing's hostile takeover of Hong Kong and its arrest of democracy activists yielded only low-level sanctions against a small number of Chinese officials. To make matters worse, the world's major powers will likely not boycott next year's Beijing Olympics despite China's documented genocidal persecution of Uighur Muslims.
Xi's latest ideological pronouncement has made inevitable a near-term clash with the Biden administration, whose interim national security guidance doubles down on a version of multilateralism which "reflects the universal values, aspirations, and norms" codified at the UN's founding, rather than an "authoritarian agenda." What's more, renewed bilateral collaboration on issues like climate change and public health have the potential to play right into Beijing's revisionist hands, reinforcing Xi's narrative that China is, indeed, a sensible global stakeholder.
These competing ideological frameworks pose major quandaries for U.S. policymakers, even if Xi's new multilateral vision still remains more theory than practice.
How can future U.S. contributions to the UN be structured to enhance transparency, expose China's multilateral malfeasance and undermine Xi's benevolent messaging? Will the U.S. and its partners effectively contest upcoming UN elections to unseat Chinese candidates who currently oversee influential standards-setting bodies? Can the U.S., Europe and Japan put aside their parochial differences to address China's reliance on forced labor?
And, perhaps most importantly, can the U.S. exploit existing cleavages around global health, technology and trade to punch holes in Beijing's vision and sow doubt about a world order made in China's image?
The WHO's upcoming annual World Health Assembly meeting provides the Biden administration with its first major multilateral opportunity to challenge Beijing's pandemic deceptions, as well as its undue influence over the beleaguered global health body. It also serves as a critical gathering to outline much-needed changes to the WHO to prevent the next pandemic, all the while reestablishing U.S. leadership at the UN. Anything less would be diplomatic malpractice, potentially setting the stage for Xi's revisionist dreams to come true.
Craig Singleton, a national security expert and former U.S. diplomat, is an adjunct China fellow at the Foundation for the Defense of Democracies, a non-partisan think tank focused on national security and foreign policy issues.
The views expressed in this article are the writer's own.