What Hasan Minhaj Said About Dax Shepard in Viral Vanity Fair Interview
Hasan Minhaj is going viral again for an interview in which he discussed his attractiveness compared to actor Dax Shephard's in relation to Hollywood standards for white actors and brown actors.
The comedian of Patriot Act fame began trending on Twitter Monday (November 23) over an interview he filmed with Vanity Fair back in December 2013.
It began circulating on Twitter again today with a tweet that has garnered more than 1.3 million views.
The video is titled "Hasan Minhaj Takes a Lie Detector Test" and shows the 35-year-old being quizzed over he would rate Shephard's looks out of 10.
Shephard had previously rated Minhaj a nine on his podcast "Armchair Expert."
However, when Minhaj was asked what he would give the Without A Paddle star in return, he hesitated.
"I would give Dax—I have to give a number?—6.5, seven," he said.
After being told his rating was "harsh" Minhaj explained his reasoning, and it is to do with how beauty standards for men of color are higher than for white men in Hollywood.
"Okay Dax is part of a thing where, in show business, there's this whole movement of approachable white dudes, whereas like, with men of color, it's like Idris Elba, Henry Golding, Zayn Malik or—you work in IT," he explained. "There is no middle."
"You know how there's a whole class of white dudes, like just schlubby white dues who went to high school with me but now made it in showbiz? There's no that [for men of color.]"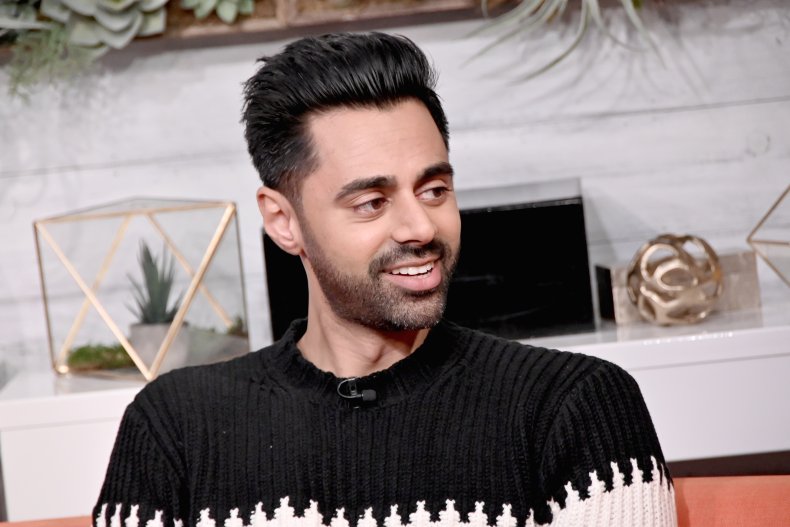 Minhaj explained that in order for non-white actors to be considered attractive enough for certain roles, they have to have that "v taper and abs if you're going to be Asian... you've got to be like Daniel Dae Kim and be able to hold a pencil with your pecs.
"You gotta be Daniel Dae Kim ripped. You can't ever have bread or cereal," he added.
Minhaj was then asked straight out if he thinks he is better looking than Shepard.
"Do I think?" he hesitated, before giving a confident: "Yes." He added: "But I will not get the same opportunities that Dax does. I'm so sorry Dax, I'm really sorry."
The clip started doing the rounds on Twitter again today, despite being a year old, as fans are praising his summation of beauty standards for men in Hollywood.
"Yoooooo @hasanminhaj for the win! He just broke down the careers of Seth Rogen, Danny McBride, and 80% of white TV/Movie actors in the last 20 years," one tweet reads.
While another added: "Y'all want me to accept the idea that Ad*m D*iver is fine but Hasan Minhaj is unattractive?"