Hasan Minhaj, the host of Netflix's Patriot Act, is quarantining like the rest of us, but that didn't stop the Daily Show alum from putting out a new episode of his streaming series—or from participating in a Reddit Ask Me Anything to promote the special installment.
During the May 18 AMA, Minhaj talked to fans about a number of topics, including working with Jon Stewart and what it's like interviewing influential leaders, such as Justin Trudeau. He also answered questions about food preferences and which topics he's been pressured to stay away from on his show. Below is a rundown of some of the most interesting things we learned from Minhaj's Reddit AMA.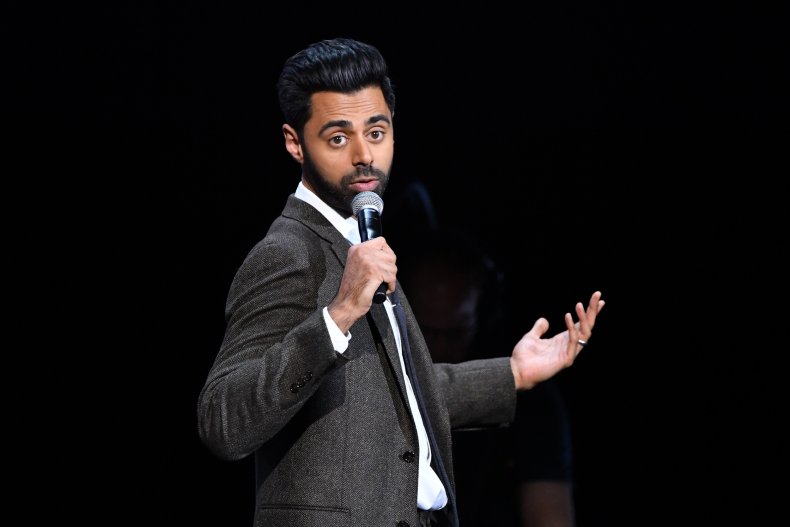 The Peabody Award winner detailed the way he prepares for each episode of Patriot Act, and how long it can take. "Depending on the episode, we research them for at least a month, but sometimes a lot longer. Our episode on Indian elections and the BJP was in the works for over six months while we worked on getting the right angle and the right information. And we choose episodes based on pitches we get from our news team and writers, and based on topics that I think are really crucial but haven't been covered deeply enough."
Minhaj also called out a specific student loan provider. "Realizing how loan servicers like Navient make it impossible for people to pay back their loans was crazy," he admitted. "There's one strategy Navient has where they convince people to go for something called loan forbearance, where you put off paying the loan but have to deal with huge interest rates later, instead of something called an income-based repayment plan, which lets you have smaller monthly payments if you make less money. Basically, they actively convince people to make really bad financial decisions. It's horrible."
One Reddit user asked Minhaj what it was like interviewing Justin Trudeau while being a comedian, noting that he pushed hard questions to the world leader. "We did a lot of research and watched a lot of his old interviews. So we were pretty confident what his stance was on these topics, and how he would answer basic questions," he explained. "But instead of trying to pitch him curveballs or changeups like a normal interviewer, we threw a couple of fastballs at his head. Metaphorically, obviously."
"Is Jon Stewart as funny as I want him to be?" one fan asked. Minhaj, who previously worked with Stewart on The Daily Show, confirmed that he is. "Especially when it comes to talking about lunch. I remember one time on the way to rehearsal he stopped to talk to one of our camera guys about the size, temperature, and texture of the perfect pastrami sandwich," he recalled. "I really think TDS should have been more food oriented. He has so many strong opinions about food. This was one of my all time favorite J. Stew moments on the show."
The comedian admitted that he would be a roller coaster designer if things in the entertainment industry didn't work out for him. Even though he admitted that he never rode one before, he is passionate about physics and design.
When asked if he's ever been pressured by politicians, lobbyists or companies to not discuss a particular subject, Minhaj offered an unexpected answer. "The Dairy Farmers of America pressured me not to do an episode about how oat milk is better than regular milk," he quipped.
"If you had to choose one meal to eat every day for the rest of your life, what would you pick?" one curious fan asked. His answer? "I'd probably just keep going with what I'm eating every day now: a can of beans, a spoonful of peanut butter, and Gatorade Frost. The perfect meal."
The Webby award winner also said that his favorite kind of soup depends on the day. "Whatever kind is given to me as a Costco sample," he chided. "I remember during the fall of 2005 they had an amazing tomato bisque and grilled cheese set up that my Dad and I went to town on."
And Minhaj gave some helpful advice to those graduating in 2020 amid the coronavirus pandemic. "Stay true to yourself, don't let anybody talk you out of your dreams," he said. "And do not, under any circumstances, enter the illegal wildlife trade."
Check out Patriot Act with Hasan Minhaj on Netflix.