Hasan Minhaj on Being Called 'the Color of Poop' and Other Stories About Growing Up Muslim Indian-American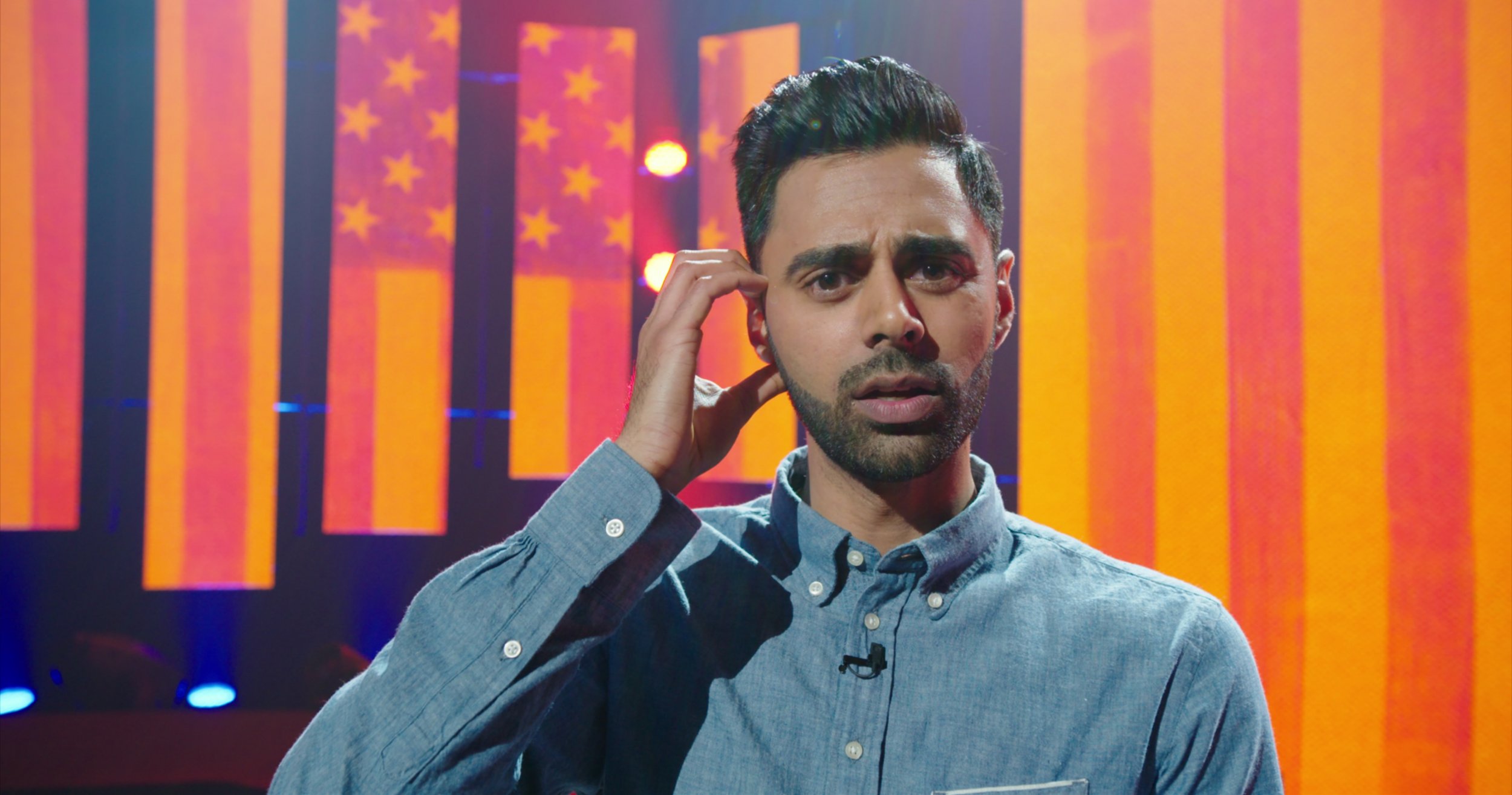 Hasan Minhaj's new Netflix special can be traced to a car ride in Los Angeles. Before he became a Daily Show correspondent and a name recognizable to late-night television viewers everywhere, he was en route to a story slam hosted by The Moth and racking his brain for a narrative to share. He couldn't fall back on his stand-up comedy set. The popular storytelling nonprofit demands that any anecdotes recounted on its stages must be true. That basic mandate, plus that particular show's theme of love and heartbreak, inspired Minhaj to revisit his prom, as well as the scars it left and the lessons it imparted.
Related: Have We Got a Story for You: 18 Years of Storytelling at the Moth
He's told many audiences since then about Bethany Reed, the girl with curly red hair from his AP Calculus class. Minhaj and Reed become friends, studying together at her home to avoid his parents' scrutiny and at one point sharing a brief kiss. When their math teacher made prom attendance mandatory, the teenagers decided to go together. Minhaj's father—whose rules Minhaj says were "no fun, no friends and especially no girlfriends"—forbade it, but he snuck out anyway, riding his bike over to her house in his JC Penney suit. When he arrived at her door, corsage in hand, he found the captain of the water polo team was already there, slipping a different corsage onto Bethany's wrist.
"Oh my god, honey, I'm so sorry. Did Bethany not tell you?" her mother said. "See, we have a lot of family back in Ohio, and we're going to be taking a lot of pictures tonight, and they're going to see them. And we don't know if it would be a good fit for us."
Minhaj's story about the crushing prejudice he felt on prom night would become the nucleus of his one-man show. Homecoming King opened off-Broadway in October 2015 and later went on tour across the country. It was filmed for Netflix at a tour stop in Davis, California, where he was born and raised. The smart, relatable, often funny and sometimes solemn meditation on growing up different in America premieres on the streaming platform on Tuesday, just a few weeks after Minhaj hosted the White House Correspondents Dinner.
"I'm trying to understand my Indian-American identity, and I'm living in this hyphen, like am I more this or am I more that?" Minhaj tells Newsweek. "Through the course of the show and through the course of the stories and the events and the things that happen to me I come to realize that I can be both of those things."
In Homecoming King, Minhaj navigates adeptly between humorous and heartfelt, playful and poignant. He reaches back to his parents' marriage and immigration stories and examines his childhood. He talks about spending the first eight years of his life in the U.S. with his father while his mother finished medical school in India and waited for her visa. He likens the animosity between Muslims and Hindus to a Montague-Capulet feud—making a chart on the screen behind him listing differences between the groups—and recounts telling his parents he wanted to marry a girl from a Hindu family. He'd almost convinced them to approve when his father uttered the dreaded words, Log kya kahenge, or "What will people think?"
He later shares the instructions his father gave after 9/11, when Minhaj was a sophomore in high school, not to tell people they were Muslims and not to discuss politics. One day, the family got a terrifying phone call with a voice on the other end threatening to kill them. After hanging up, they heard noises outside and found the windows of their car smashed in. Minhaj's father began calmly sweeping up the broken glass, "like he works at like a hate crime barber shop," and said, "These things happen, and these things will continue to happen. That's the price we pay for being here," Minhaj says in Homecoming King.
"We really are from two different generations," Minhaj tells the audience, fleshing out one of the central themes of the show. "My dad's from that generation, like a lot of immigrants, where he feels like if you come to this country you pay this thing like the American dream tax—like you're going to endure some racism and if it doesn't cost you your life well, hey, you lucked out, pay it, there you go Uncle Sam." But Minhaj refuses to accept a second-class role. "I was born here, so I actually had the audacity of equality," he says.
Minhaj chose to do his show at a theatrical performance art space with the idea of mixing comedy with storytelling. "I could do, you know, set-up punch jokes," he tells Newsweek. "But I could also have longer chunks of time in the show where I am just telling a personal story, and it doesn't have to have a huge laugh. The theater allows you to play both of those notes."
Getting hired by Jon Stewart, who he calls "Jewish yoda," changed his life, Minhaj says. (He recalls in Homecoming King how he almost choked at his audition, but in the end, "I stuck my landing like a motherfucking Russian gymnast.") At the same time, he wanted to find an outlet for material that didn't drop out of the news cycle the next day, "something that feels a bit more evergreen, which doesn't have to have the shelf-life of bread the way sometimes a political news headline does."
His experiences with girls and racism—including the time he told a girl in the sandbox he loved her and she responded by saying, "You're the color of poop,"— are all fair game in Homecoming King. The blow of being turned down on prom night by the girl he called his "white princess" is a story Minhaj has chosen to keep coming back to.
"It's not like they were a bunch of toothless yokels yelling 'sand nigger' from the back of the truck," Minhaj recalls at one point during the show. "I'd eaten off their plates, I'd kissed their daughter. I didn't know that people could be bigoted even as they were smiling at you. It's hard to understand when you see people saying that they love you but they're afraid of you at the same time."
As Minhaj was developing Homecoming King, the Bethany Reed story started building itself out in real time. "Sometimes life writes better punchlines than you can," he says. Like when he had his first chance to headline a show at the Gotham Comedy Club and Bethany reached out on Facebook to ask if she and her friends might come. Like when he appeared in a Pizza Hut commercial and she tweeted about seeing her "prom date" on TV. Like when Minhaj discovered that Bethany had gotten engaged to one Rajesh Rengatramanajananam, and challenged her parents to accept the fact rather than caving to their discomfort over what their family would think. Or, as Minhaj's family would say, Log kya kahenge?
"To me the bigger message of the story isn't the whodunit, who is Bethany Reed? The bigger message is that generational change is really possible through one choice," Minhaj tells Newsweek. "Given everything that's going on in the country right now, you start to feel kind of hopeless." But "if you just look at her story alone, given the circumstances she grew up in, she was able to change things a lot through love. Love is one of those few things where we can overcome a lot of societal fears and tribalism."
"Despite whatever is going on in the White House, these are things that are happening in our local neighborhoods and communities to this day," he says. "There is possibility for change, which I think is awesome."