In 2011, Hasan Minhaj was parked in a strip mall parking lot, crying on the phone. "Just bawling," Minhaj remembers. "I was in my Camry, and people probably thought I was crazy. I was there for hours."
His dad had called while the young comedian—then 26—was driving to an open mic in Los Angeles. Thinking it was a family emergency, Minhaj pulled over. Instead, his father wanted to talk about law school. The two had a deal: Minhaj would take the LSAT after college, and if, after five years, he hadn't "made it" in comedy, he would apply to law school.
Minhaj's comedy résumé was pretty thin: a few minor TV roles and a finalist in NBC's Stand-Up for Diversity, a competition that puts comics in front of agents and managers. His father was not impressed. "Sleeping on an air mattress in Pasadena in someone's attic," he told Minhaj, "is not something I would like to see my capable son doing." His time was up.
But Minhaj kept going. In 2014, Jon Stewart, in his last act before leaving The Daily Show, hired him as a correspondent. Three years later, Minhaj was the featured comedian at the White House Correspondents' Dinner, and in 2018 he nabbed a Peabody Award for the stand-up special Homecoming King. And now, his own weekly comedy news show, Patriot Act, premieres on Sunday, October 28. (In the trailer, Minhaj, now 33, fields a text from his dad asking if he needs money now that he's been "fired" from The Daily Show.) But his father's worries in 2011 were well-founded: At the time—before the mainstream successes of Mindy Kaling, Aziz Ansari and Kumail Nanjiani—American mainstream comedy was a desert for South Asian-American comics.
Homecoming King reveals Minhaj's great strength; the hilarity comes via enthralling storytelling rather than punch lines. The special, which centers on a disastrous, racist prom date, also lays out his childhood—the tension between a strict, immigrant father and the entitled freedom of his white, privileged classmates, "a bunch of Ryan Lochtes." After marrying in Aligarh, India, his parents moved to Davis, California. His mother returned to India for medical school, while his father, a chemist, remained in America to raise their son. Growing up without cable, Minhaj's only perception of stand-up comedy, he says now, was the first 30 seconds of Seinfeld. "Jerry standing in front of the brick wall saying, 'What is the deal with laundry?' I was like, 'Just skip to the episode!'"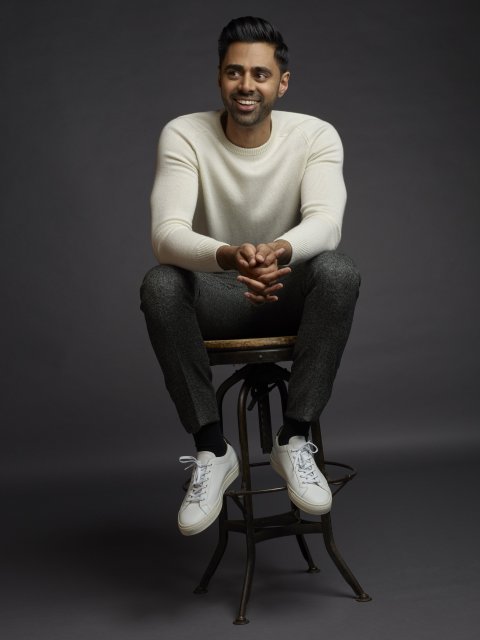 Chris Rock crystallized the idea of a stand-up career. Someone passed along his Never Scared special during Minhaj's freshman year at the University of California, Davis. Struck by Rock's "honesty and candor around politics and race in America," he literally Googled "how to be a stand-up comedian." Step one: Phone your local comedy club, the Sacramento Punch Line. Minhaj relays the conversation: "Hi, uh, my name is Hasan, I was looking on the website and it says Dave Chap-pily is performing this weekend? Can I open for Dave Chap-pily?" Minhaj didn't open for Chappelle, but he was invited to the next open mic.
This was 2004, the Bush-era comedy scene, when terrorist jokes were status quo. "I thought offensive was just normal," says Minhaj. He was repeatedly told a person "like him" would never draw. "'People can't say your name.'" (His name, for the record, is correctly pronounced Ha-sun Mi-nuj.) But he had the drive of the child of immigrants: "The attitude is, 'I'm going to make it whether you like it or not,'" says Minhaj, who describes his early routines as "assimilation comedy." One bit, about imitating his dad messing up English on the phone, still makes him cringe. "It was tacky," he says, "but I was also 19, I was living at home, and that was an experience I had. I try not to beat myself up."
Patriot Act co-creator Prashanth Venkataramanujam, friends with Minhaj for 10 years, remembers the grueling comedy circuit. Yet despite the terrible odds, the boyishly handsome Minhaj always had the swagger now familiar to his fans (what AV Club once described as "a baller's persona"). "We'd go to depressing open mics with 100 comics, wait to do three minutes of material, and he would still come to the stage as if it was the Apollo," says Venkataramanujam.
The acting auditions were worse.,"I'd come in for whatever pilot and play the nonsexual beta Indian dude," says Minhaj. One example: a cameo on the rebooted Arrested Development: "Indian Medical Student #2."
He changed course in 2012, after a humiliating audition for a workplace sitcom that, fortunately, never made it past the pilot episode. The setting was an Office Max–style supply store, and Minhaj recalls the introduction of his character. "The employees are opening some crates, and out of one pops…the Indian guy! He literally comes out of a box." He remembers the director saying, "'Hey, get in the crate! Get in the crate! Squat down!' I was like, I can't do this to myself anymore. I'm not going to write a Facebook rant about it, I'm just not going to do it. I'm not asking for my dignity. I'm taking it on my terms.'"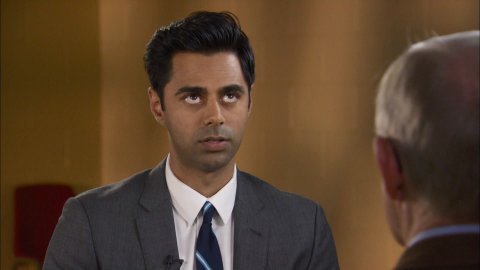 Shortly after, Minhaj and some friends—Asif Ali, Fahim Anwar and Aristotle Athiras—created a sketch group called Goatface and filmed a 2012 YouTube series, The Truth. (The comedy quartet is reuniting for its first one-hour special on Comedy Central on November 27.) In the most popular episode of The Truth, Minhaj blasts actor Ashton Kutcher for his "brownface" Popchips commercial, which later got pulled. "I didn't realize that basically what I was doing was preparing myself for The Daily Show," says Minhaj.
His audition for Jon Stewart was a piece called "Batman vs. Bill Maher," inspired by an episode of Real Time With Bill Maher, in which Ben Affleck took issue with the way the host was generalizing Islam. ("Affleck might not be the hero the Muslim world wants, but he's the hero we need. I was so happy.… I forgave him for Gigli.") He got the job on the spot, and shortly after, his career exploded thanks to another gig—one that other high-profile comedians (including late-night host James Corden) had rejected: The first White House Correspondents' Dinner speech after the election of Donald Trump. With 19 days to prepare, Minhaj and head writer Venkataramanujam came up with a closing thesis for the speech: Journalists under Trump were now honorary minorities, "because if one of you messes up, he blames your entire group."
The full speech has more than 2 million views on YouTube. Less than a month later, Homecoming King dropped on Netflix to rave reviews. Suddenly, the self-described "third most popular Daily Show correspondent" had offers from multiple networks to pitch his own show.
Patriot Act, which tackles weekly news as well as broader issues, combines the long-form storytelling of Homecoming King with the biting political commentary of his correspondents' dinner speech. He's also drawing from King's inventive, multimedia graphics, in which Facebook comments zoom around like an extension of his body. "It's a visual investigative comedy podcast," says Minhaj. The first episode features the comedian alone on a bare stage—no chair, no desk, no couch, no band—surrounded by screens. His first monologue: a funny deconstruction of the Harvard affirmative action lawsuit over restrictive quotas for Asian-American students.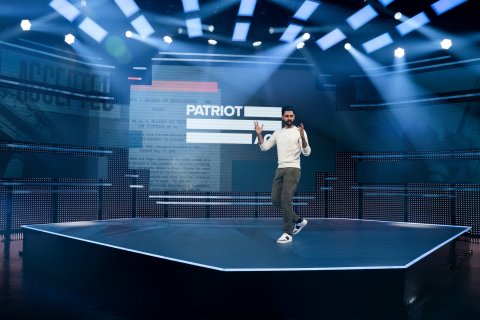 Minhaj's last appearance on The Daily Show, on August 16, was "really emotional." In Homecoming King, Minhaj had described the moment he was hired by Stewart. He recalls stammering, "Jon, my dad knows you." The host was confused, but, as Minhaj explains in in his special, what he was trying to say was, "'Jon, this is one of the only things that I've gotten in my career that my dad actually knows, so thank you.'"
After that gut-wrenching phone call with his dad in 2011, Minhaj did apply to law school. He was wait-listed at UCLA and USC. "My parents were really happy," says Minhaj. "I was dreading it." Now that he has a 6-month-old daughter, he understands his dad's anxiety about his son's future, but still, "I couldn't go to school for the next three years, accumulate debt and have a job that I hate. I just couldn't do it."
Luckily for him, two rejection letters arrived in the mail.
Patriot Act will air on Sundays on Netflix, beginning October 28.