What is Hash Oil? Cannabis Extract Explosion in L.A. Injures 11 Firefighters, 3 Critically
An explosion at a hash oil supplier in Los Angeles has left 11 firefighters injured, three of them critically, authorities said.
Firefighters had responded to a structure fire at 327 East Boyd Street in the city's Toy District at around 6:30 p.m. local time on Saturday, the Los Angeles Fire Department said.
Eric Scott, a spokesman for the LAFD, told The Los Angeles Times that "a significant explosion" occurred as firefighters were inside looking to find the source of the blaze.
A number of firefighters had been inside the building and on the roof when the explosion occurred, Scott said. Responding crews described the sound like a "freight train or jet engine."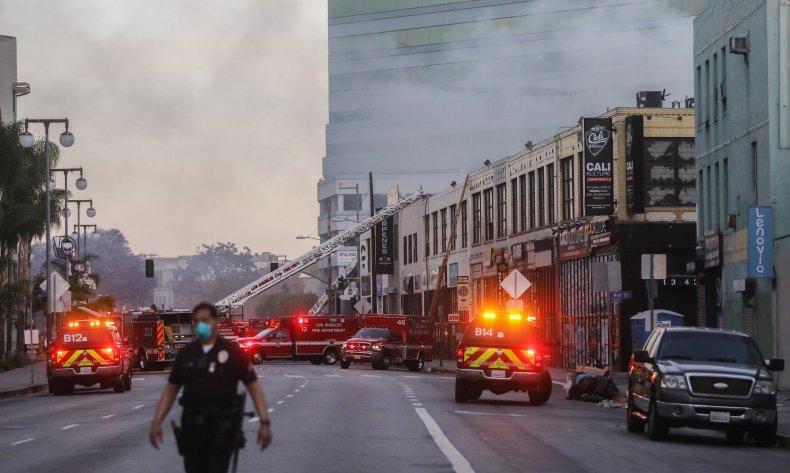 A massive ball of flame spewed out of the building and firefighters who were inside ran "straight through that ball of flame to get to safety across the street," Scott told The Times.
He said 11 firefighters were transported to County-USC Medical Center for treatment for burn injuries. More than 240 firefighters responded to the fire, which had spread to several nearby buildings before it was extinguished at around 8 p.m., Scott added.
At a news conference outside County-USC Medical Center late on Saturday night, Los Angeles Fire Chief Ralph Terrazas said one of the firefighters inside the building had thought that "things didn't seem right" as the smoke pressure and heat inside was increasing.
He directed everyone to immediately get out and as they were exiting the building, it was rocked by the explosion.
The business operating at the building was identified by the LAFD as Smoke Tokes, a wholesale supplier of butane honey oil, also known as hash oil, a concentrated form of marijuana.
Butane, a highly flammable solvent, is used in the process to extract the high-inducing chemical THC to produce hash oil, which is used in vape pens, edibles and other products.
The Drug Enforcement Administration has said the process is dangerous due to the "extremely volatile" nature of butane and has resulted in explosions.
On its website, Smoke Tokes describes itself as "an international distributor and wholesaler of smoking and vaping products" and advertises a variety of products including puff bars, dab tools, vaporizers, torches and butane.
The company says it offers discounts to "loyal customers, fast shipping, a huge catalog of products and customer service that is untouched." Terrazas said canisters of butane were found at the scene, but said the cause of the fire has yet to be determined and remains under investigation.
Terrazas added that "a lot" of firefighters who were at the scene had been left traumatized after their colleagues were transported to hospital.
"They're holding up, but when one of your own is injured, and at the time I was talking to them, we didn't know the extent of the injuries... You can imagine the amount of emotional stress," he said.
Los Angeles Mayor Eric Garcetti said three firefighters had been critically injured in the fire.
"The good news is everybody's going to make it," he said. "We were all, I think, frightened when we heard the initial news and raced here as quickly as possible. We've got a lot of firefighters that are shaken up."
LAFD Medical Director Dr. Marc Eckstein, who works at the hospital, said four of the injured firefighters would be going to the burn intensive care unit and two of them were on ventilators.
"Things could have been so much worse," he said.