A dog wearing a party hat while it was applauded out from a veterinarian's office has melted hearts online.
In a viral TikTok video uploaded on August 5, user kfoxaz00 explained the dog in the clip had needed treatment but did not expand on what had been wrong with the pooch.
The video, which has been seen 10.5 million times, started with vets and employees at the office standing in two rows along a corridor clapping.
As the clip played, another staff member walked down the corridor, seemingly beckoning something to come with her.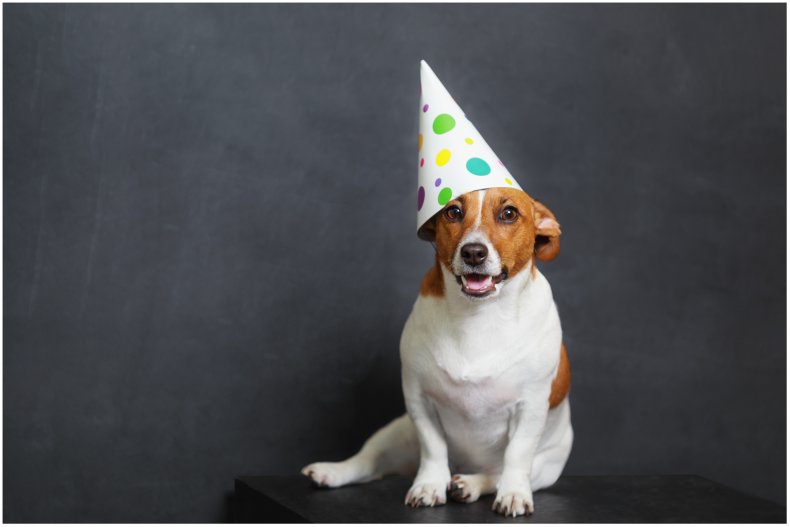 Moments later an adorable pooch appeared wearing a party hat and being led along by another woman.
Unsurprisingly, the heartwarming moment was filmed on their phones by many of the staff members who could look back at the clip with joy.
The clip was simply captioned: "Little man gets to go home after being hospitalized for two weeks."
Since being shared, the clip has managed to attract some two million likes and 7,390 comments.
It should not come as a surprise that content featuring dogs resonates with people, as millions of Americans live in a home with at least one pooch.
According to the American Veterinary Medical Association (AVMA), in 2018 there were an estimated 48,255,413 homes in the U.S. where there was at least one dog.
It also found that the total number of pet dogs in the U.S. was estimated to be in excess of 76.8 million that year.
The AVMA also found that the mean veterinary expenditure for dogs in 2018 was $410.
With so many Americans being invested in their pets, it did not come as any surprise that many would have something to say about the clip.
One TikTok user said: "I am heavily sobbing. God, I love dogs. So happy, no matter what happens to them."
Another added: "Aww, he deserves all the praise that's so cute I'm crying OMG (oh my God) my heart."
While a third posted: "Getting all the applause and pats he deserves as he should."
Other commenters, who claimed to be vets, said the video was not only heartwarming but also inspiring for them.
One said: "Coming back to this anytime I have a rough shift to remind me why we do what we do."
A second commented: "As a vet tech I can only imagine how happy you guys are to see him recover."
Newsweek has contacted kfoxaz00 for comment.
Do you have funny and adorable videos or pictures of your pet you want to share? We want to see the best ones, and they might even make it into our Pet of the Week! Send them in to life@newsweek.com and they could appear on our site.