Republicans Appear to Not Understand the Hatch Act in Defending Kellyanne Conway
Confusion around a federal ethics law appeared to consume House Republicans Wednesday as they grilled a former GOP staffer-turned-Trump-appointee over allegations that Counselor to the President Kellyanne Conway repeatedly violated the Hatch Act and should be removed from her White House post.
Conway's absence—the result of a White House executive privilege claim—during a hearing before the House Oversight Committee prompted the panel of lawmakers to vote mostly along partisan lines to authorize the issuance of a subpoena to compel her future testimony. Representative Justin Amash, the lone Republican to support impeachment proceedings against President Donald Trump, sided with Democrats.
Republicans appeared to repeatedly misinterpret or misunderstand the law in which Conway is accused of continuously violating when questioning Henry Kerner, head of the Office of Special Counsel (OSC) and the Trump-appointee who issued a recent Hatch Act violation report and suggested that she be fired.
"Ms. Conway's egregious and repeated Hatch Act violations, combined with her unrepentant attitude, are unacceptable from any federal employee, let alone one in such a prominent position," Kerner told lawmakers. "Her conduct hurts both federal employees, who may believe that senior officials can act with complete disregard for the Hatch Act, and the American people, who may question the nonpartisan operation of their government."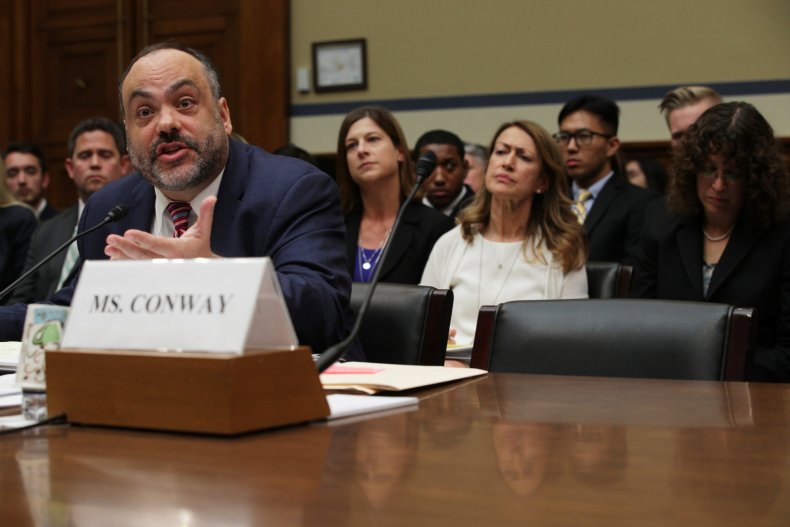 The Hatch Act bars federal employees, such as Conway, from engaging in "political activity" while "on duty," on federal property or while "wearing a uniform," in addition to prohibiting remarks about campaigns in her official role as White House counselor.
But Kerner, who worked as an Oversight Committee staffer under former GOP Chairmen Darrell Issa and Jason Chaffetz, determined that Conway "repeatedly violated" the 1939 law by discussing the success of Trump's re-election campaign or the failure of Democratic opponents' campaigns, which he stated in a June 13 letter to the president. Due to her repeated violations from an earlier warning in 2018 and because of her ignoring requests for compliance by OSC, Kerner recommended that Conway be terminated.
"Let me know when the jail sentence starts," Conway mocked of the 2018 report last month when speaking with reporters.
Several GOP members during Wednesday's hearing drew false parallels to other situations that they believed would also amount to Hatch Act violations. However, they did not, according to OSC guidelines and Kerner.
"If we're going to have the same standard, then let me tell you, there are ethical complaints about every single member of Congress that does some kind of TV hit here in the Capitol where they start to talk about [politics]—Mr. Swalwell, Mr. Schiff—If we're going to use the same standard, they are violating the very rules of this House," said Republican Mark Meadows.
The Hatch Act applies to federal employees and not to members of Congress or elected officials.
"As we start to look at this subpoena, we have one standard for Kellyanne Conway and another standard for everybody else," the North Carolina lawmaker added.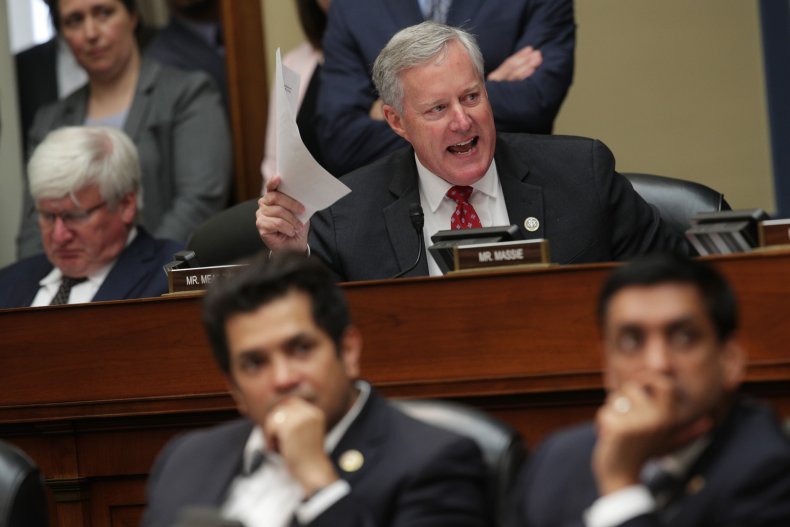 Republicans argued that federal employees appointed under Democratic presidents have also violated the Hatch Act, which Kerner confirmed, therefore constituting an overreaction by Democrats to subpoena Conway and for Kerner to advocate for her termination.
However, Kerner believed that Conway's refusal to eradicate her political actions and statements to the press that were violating the law was unprecedented, telling lawmakers that OSC "never had a repeat offender" such as Conway. Kerner said she ignored the independent agency's requests for her to comply with the ethics law.
Representative Thomas Massie, another Republican member of the Oversight Committee, suggested that because some of the interviews Conway gave and OSC cited as Hatch Act violations did not take place at the White House or during normal business hours, that she was a private citizen simply expressing her opinion.
"In the first three examples you gave, two of them were not on government property," Massie said. "And, in fact, all three of them were outside of the window of 9 a.m. to 5 p.m."
Kerner said that a Hatch Act violation was not restricted to certain times or certain places, but that it applies anytime Conway would be acting in her "official capacity."
"The issue isn't time. It all depends whether she's speaking on her own behalf or in her official capacity," Kerner explained. "The issue is, is she talking about official administration matters? If she's representing what the president thinks, what the official position is, then she's bound by not getting involved in campaigns."
Representative Carol Miller, a freshman Republican, asked if an executive branch employee, such as Conway, was allowed to "state the truth."
Kerner responded yes, so long as they do not "use their official authority to influence an election or to talk about partisan politics. They have to pivot away from that."
Miller also questioned whether Conway is allowed to describe former Vice President Joe Biden as "creepy," like Conway, Trump and many Republicans have done with the now-presidential candidate.
"In your letter to Mr. Trump, you said that Ms. Conway is not allowed to state that. However, I think we have all seen pictures where Joe Biden has acted inappropriately," Miller said. "Can she express her opinion about a formal elected official?"
Kerner responded: "It's her opinion. I think the argument that was made was that she was just stating facts. Whether a former vice president is creepy or not is not a fact. It's an opinion by Ms. Conway."
Republicans and Democrats did have a shimmering moment of bipartisanship, when Meadows expressed willingness to work with Democratic Representatives Jamie Raskin and Ro Khanna to reform the Hatch Act in a way that "hopefully will stop this from being an ambiguous point going forward."
Kerner recommended Conway's dismissal because it would be consistent with enforcing the Hatch Act for non-political appointees under the Merit Systems Protection Board. However, Conway is a political appointee, rendering her exempt from such enforcement.
The Democrats articulated an inclination to make reforms in some fashion but made clear they still viewed Conway's repeated violations as wholly inappropriate.
Oversight Chairman Elijah Cummings, a Democrat, lamented his Republican colleagues' defense of Conway throughout the hearing, ending the session on a somber note.
"I've listened to all this, and I gotta tell you. It concerns me that we've gotten so far from the basic principles of obedience of the law," he said. "We've gotten to a point where it feels like it's normal, like it's okay. Well, it's not okay. We do not teach our children to lie and to disobey the law."