Muslim Girl Attacked By Man Who Cut Off Her Hijab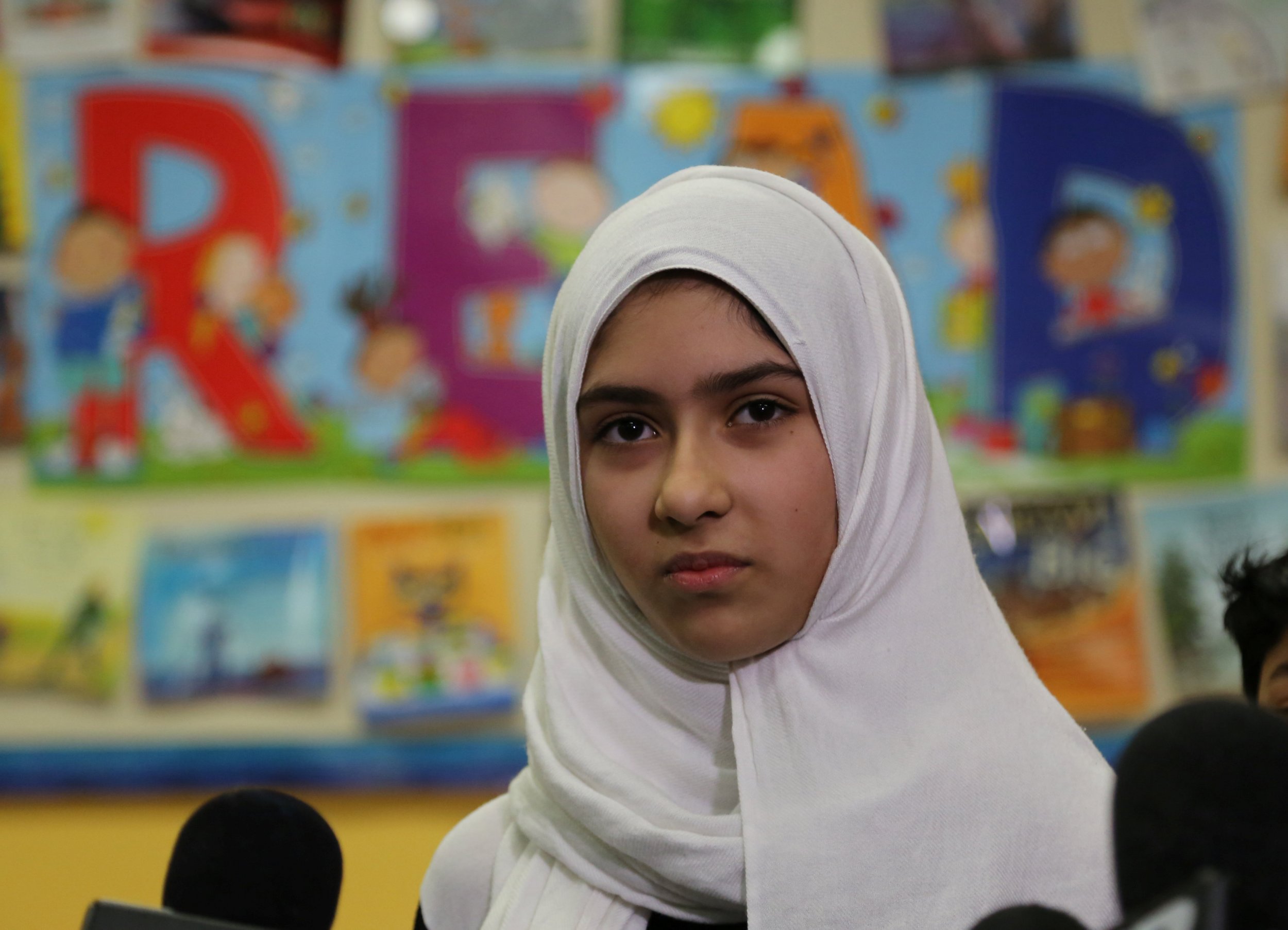 Update: Toronto police said days after this report that an investigation revealed this incident did not happen. See our latest story about the case here.
An 11-year-old girl from Toronto said a man came up being her with a pair of scissors and cut her hijab while she was walking home from school on Friday with her brother.
Khawlah Noman, a sixth grader at Pauline Johnson Junior Public School in Toronto, Canada was walking with her younger brother to school when a man came up behind her, pulled off her jacket hood, and started cutting the bottom of her hijab, the Toronto Star reported. She looked at him and screamed while the attacker ran away.
"I felt really scared and confused," she said during a press conference on Friday at the school. "I didn't feel comfortable about what was going on."
A short time later, he returned to assault her again and ended up cutting 11 inches (30 centimeters) from her hijab, she said.
Authorities are investigating this as a hate crime. Police describe the attacker as Asian, 20-30 years old, between 5ft 7in and 5ft 8in, with a thin build. The siblings said he had black hair with straight bangs to the eyebrows, a thin mustache and black prescription glasses. He was also described as wearing a black hooded sweater with the hood up, black pants and brown gloves.
The incident has inspired an outpouring of support, including from Prime Minister Justin Trudeau.
"My heart goes out to Khawlah Noman following this morning's cowardly attack on her in Toronto. Canada is an open and welcoming country, and incidents like this cannot be tolerated," tweeted Trudeau on Friday.
Toronto mayor John Tory said he was "shocked and appalled" by the incident, stating, "No child should ever be afraid walking to school in Toronto because of what they are wearing" in a statement.
Khawlah said she is now afraid to walk to school, but was comforted by the support of her school and family. During the press conference, she had a left a message for her attacker.
"What you're doing is very wrong, you should stop doing this," she said. "I'm just a kid."