Hate Crimes Increase 17 Percent in 2017, Rising for Third Straight Year: Anti-Semitism, Anti-Black Bias Prevalent
Hate crimes rose for a third straight year, increasing 17 percent in 2017, according to FBI data released Tuesday.
Law enforcement found 7,175 hate crimes involving 8,437 offenses last year, a significant rise from the 6,121 recorded in 2016. The percent increase was the largest in 10 years and the third-largest proportional rise since the FBI began collecting robust data on hate crimes in the early 1990s, Brian Levin, the director of the Center for the Study of Hate and Extremism at California State University, San Bernardino, told Newsweek.
Levin said the figures represented a "historic increase" and represented a "raft of bad news."
Incidents targeting people for race, ethnicity or ancestry comprised the largest proportion of crimes, making up 59.6 percent of single-bias events. Religion-motivated attacks accounted for 20.6 percent of recorded incidents and events motivated by sexual-orientation making up 15.8 percent. Bias incidents motivated by disability and gender identity were also recorded.
Nearly 49 percent of race-based incidents were "motivated by anti-Black or African American bias," while 17.5 targeted white individuals. Over 58 percent of religiously motivated attacks targeted Jewish individuals. Anti-Muslim incidents accounted for 18.7 percent of religion-motivated crimes.
"We're now seeing increases that are significant with respect to anti-black and anti-Semitic" incidents, Levin said.
Whites committed 50.7 percent of hate crimes for which a perpetrator was identified, while African Americans carried out 21.3 percent of said crimes. In 2016, whites perpetrated 46.3 percent of the incidents in which an offender was identified, and African Americans executed 26.1 percent of them. Eight percent of crimes with a known perpetrator were committed by individuals with Hispanic or Latino ethnicity, a broader identifier distinct from race.
Of the nearly 5,100 crimes committed against people, almost 45 percent were intimidation, while more than 34 percent were simple assault and 19.5 percent were aggravated assault. Almost 75 percent of the 3,115 crimes against property involved destruction, damage or vandalism, with the rest being robbery, burglary and other crimes.
While approximately 1,000 more law enforcement agencies contributed statistics to the FBI report, Levin said this did not entirely account for the higher figures reported.
"This is an inflection point that cannot simply be explained away on the increase in agencies," he said.
Still, he noted that the number of recorded incidents was lower than that documented in earlier years. "Even with this increase, we're still significantly below where we were in the '90s and 2001. We had a plateau, a slight downward plateau, last decade. In these three years, we've turned a corner."
In 2001, 9,730 bias-motivated incidents took place, according to FBI statistics.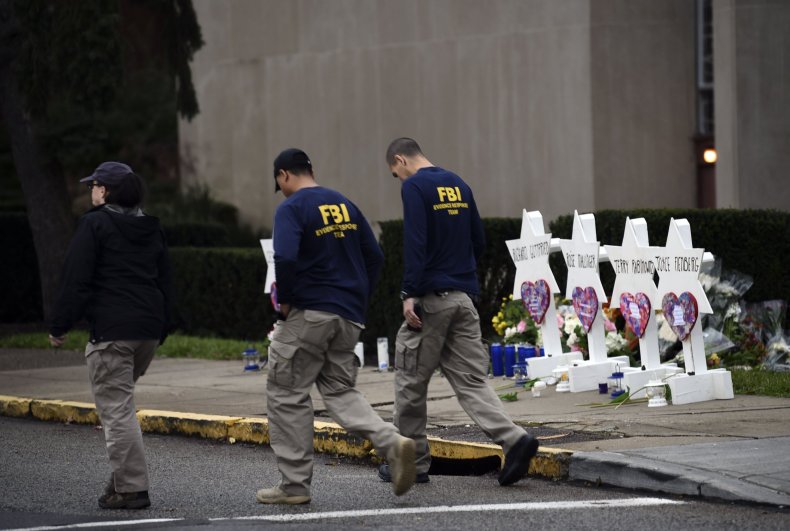 Levin was not optimistic that last year's rises would be reversed this year. He noted 2018 data from some of the nation's largest cities, including Los Angeles and New York, showed increases in the number of hate crimes recorded.