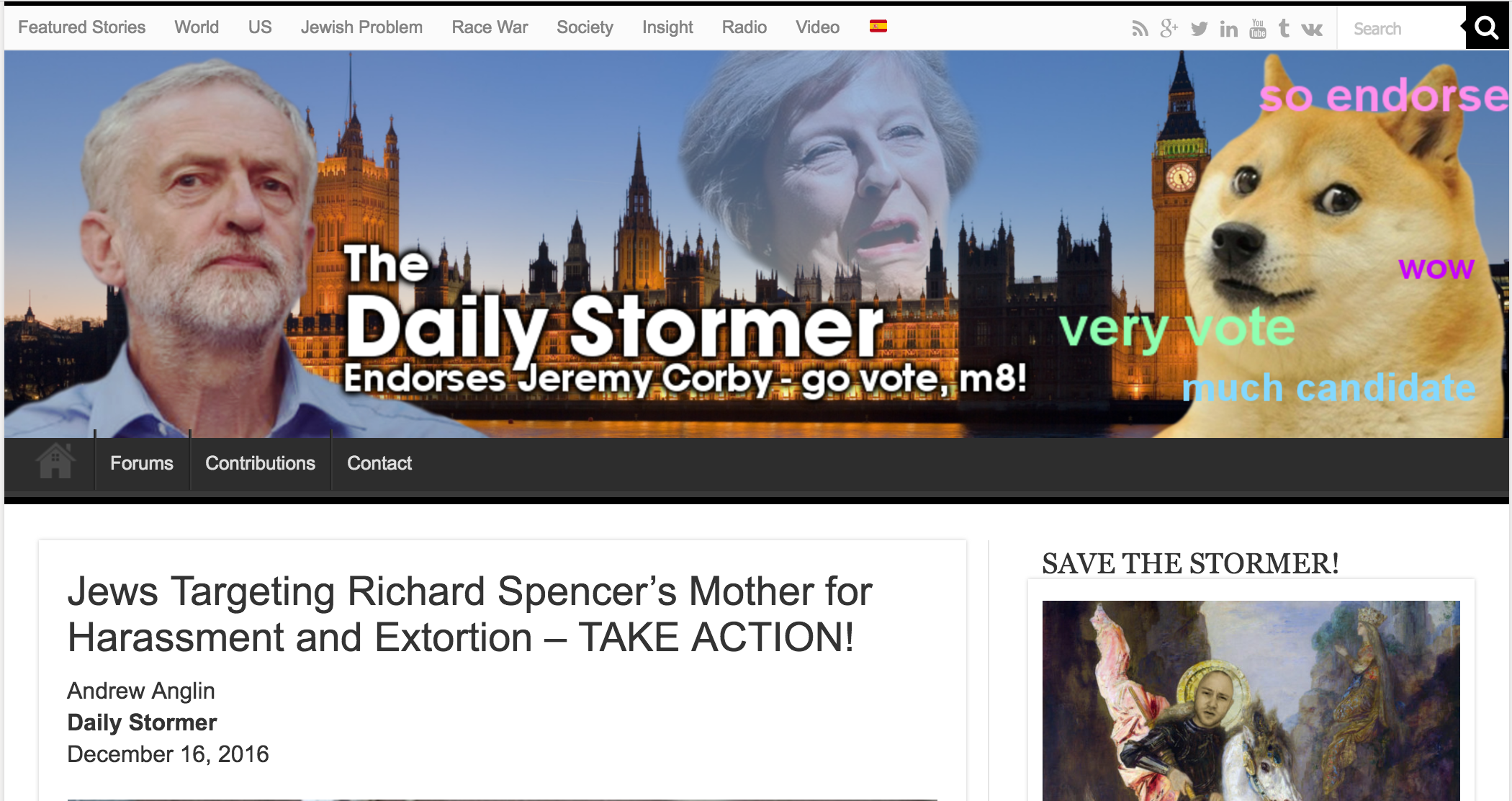 An online campaign launched to help raise funds for the legal defense of the editor of The Daily Stormer has exceeded $150,000, with 25 days still left to go. Andrew Anglin, who serves as editor for one of the so-called alt-right's most popular web publications, was sued in April by a Jewish woman for orchestrating a "troll storm" against her and her family.
Tanya Gersh, a real estate agent in Whitefish, Montana, sued Anglin for "invasion of privacy, intentional infliction of emotional distress, and violations of Montana's Anti-Intimidation Act arising out of a coordinated, repulsive, threatening campaign of anti-Semitic harassment," according to a complaint filed on her behalf on April 18 by the Southern Poverty Law Center and its Montana co-counsel. The SPLC describes The Daily Stormer—which is named after Der Stürmer, the anti-Semitic Nazi tabloid newspaper—as a "major neo-Nazi website" and refers to Anglin as "a well-known neo-Nazi."
As of press time, the fundraiser for Anglin's legal defense had brought in $152,267 from 1,924 contributors. It was initiated by a user named "weev," which is the nickname of Andrew Auernheimer, a troll and hacker who reportedly helps sites including The Daily Stormer with tech support. The fundraiser's goal is to "stop SPLC's perfidious perjurers from destroying the alt-right's biggest website!" The Stormer appears to have a link to the fundraiser on the right rail of every page on its site.
The fundraiser is posted on a crowdsourcing site called WeSearchr, run by blogger Chuck C. Johnson (who was permanently banned from Twitter in May 2015 after asking for support to help "take out" Deray McKesson). "All are welcome to fundraise on my properties," he told the Los Angeles Times. The more mainstream platform Kickstarter does not allow "offensive material (e.g., hate speech, encouraging violence against others, etc)." Anglin has been banned from most mainstream fundraising and ad revenue platforms, according to the SPLC.
It was December when Anglin published an article urging his readers, "Let's Hit Em Up. Are y'all ready for an old fashioned Troll Storm? Because AYO—it's that time, fam." The article includes an accusation that Gersh was trying to extort Sherry Spencer, the mother of white nationalist Richard Spencer. A video of Richard Spencer, who heads the National Policy Institute, went viral a few days after the 2016 election. It showed Spencer giving a racist, anti-Semitic speech at an NPI conference and being met with cheers and Nazi salutes. His mother published a Medium post the day before Anglin's article in which she described what she called "threats" from Gersh regarding a commercial building she owns in Whitefish. Gersh says Spencer reached out to her for advice on what to do about the property amid the turmoil surrounding her son.
"Just make your opinions known. Tell them you are sickened by their Jew agenda to attack and harm the mother of someone whom they disagree with," Anglin wrote in his December post, which the lawsuit says was the first of 30 articles about Gersh and Whitefish. He warned, "As always: NO VIOLENCE OR THREATS OF VIOLENCE OR ANYTHING EVEN CLOSE TO THAT." However, his post included email addresses, phone numbers, street addresses and social media accounts for Gersh, her husband and her 12-year-old son. Anglin asked his readers to call Gersh, leave reviews of her business or even show up at her home. "There hasn't ever been a more important campaign than this. So do it!"
According to the lawsuit, Gersh and her family received more than 700 harassing messages via mail, email, social media, phone and voicemail. Gersh was called an "[O]ven-dodging Christ killer," "Worthless fuckin kike" and "slimy jewess." She and her family received messages such as, "We are going to ruin you, you Kike PoS [piece of shit].... You will be driven to the brink of suicide. & We will be there to take pleasure in your pain & eventual end," and, "Thanks for demonstrating why your race needs to be collectively ovened," and, "You have no idea what you are doing, six million are only the beginning."
The fundraising campaign claims that the lawsuit is "a flagrant violation of the rights of the whole Internet to criticize public figures." Though it has surpassed its initial six-figure goal, it calls for supporters to continue to donate. "If this is not fought, a major alt-right press outlet will die," the campaign's description insists.
Anglin himself has yet to respond to the lawsuit or have a lawyer respond on his behalf, according to the SPLC, which says he "remains in hiding, penning petulant articles for the Stormer and counting the proceeds generated from his personal victim narrative."