Hatoyama Was Doomed by Tokyo's Hostile Press Corps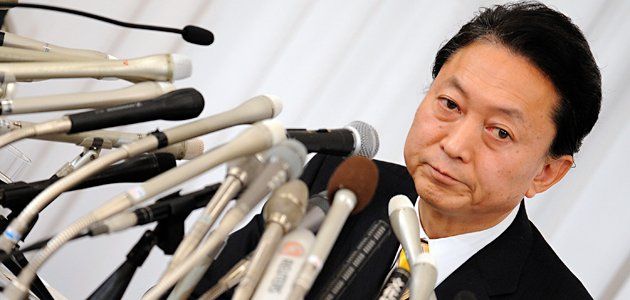 Just eight and a half months after sweeping into office promising changes of historic proportions, Japanese Prime Minister Yukio Hatoyama announced Wednesday he's throwing in the towel, becoming the fourth leader in the past four years to call it quits in less than a year. The reasons cited by a teary Hatoyama: causing "concern" among the public for reportedly receiving $12 million from his mother (and failing to pay taxes for the money) and, most of all, breaking with a leftist coalition partner after failing to relocate a small U.S. Marine airfield off of Okinawa. He had suggested in his campaign that he'd try to move the controversial Marine base off the island, but the deal he brokered with Washington last Friday will allow it to stay there. It seemed rather like he'd cast aside his mandate, and members of Hatoyama's party began openly calling for him to step down last weekend.
But Okinawa isn't the only thing that did in the premier. Hatoyama may have been a little "loopy," as a Washington Post columnist once put it, but Japan's hostile press corps played an instrumental role in his demise, and he's not the only one. Since 2006, the press has been unwilling to give prime ministers more than a few months, if not weeks, before newspapers and television stations begin to denounce them for failing to enact their platforms. With prime ministers expected to give two press conferences a day (President Obama has given just a few since January 2009), accountability has taken on a vicious new cast. In Japan, there is no such thing as a honeymoon period.
This all began with the popular former prime minister Junichiro Koizumi, whose term ended in 2006. He and his allies were outnumbered within the party, so to keep the wind at his sails, he began organizing formal, twice-a-day press conferences. It worked because Koizumi was savvy, telegenic, and experienced; he wasn't especially gaffe-prone.
But after him, politicians with less media wherewithal came to power. And with so much time spent before reporters, it was inevitable they'd stumble under the pressure. Soon, any minor discrepancies in prime ministerial remarks were slammed as "backtracking" and "vacillating" on policy, and any slip of the tongue instantly became a gaffe. The mainstream media began pillorying leaders over relatively minor issues, whipping up support for their resignations. And when they quit midstream—Koizumi's successors Shinzo Abe and Yasuo Fukuda threw in the towel after media firestorms over petty scandals (Abe's agriculture minister ran up tens of thousands of dollars in water bills) and parliamentary deadlock—several Tokyo newspapers slammed them for "copping out" and being "irresponsible."
The pattern continued when Hatoyama took office last September and showed himself not to be as masterful as Koizumi. He was constantly hounded by junior scribes about how and when he'd resolve Okinawa. True, he was anything but decisive or charismatic: Okinawans were infuriated by his betrayal of their hope that the noisy airfield might be moved off of the island. And while trying to come up with alternative relocation sites for the base, Hatoyama displayed poor leadership and ignorance of defense policy. The opposition slammed him for undermining relations with Washington, Tokyo's principal ally, and called him a "liar" for refusing to come clean about his money.
But the Japanese press sealed his fate by making major scandals out of relatively small problems like Okinawa and the $12 million gift from his mother, giving little credit to the achievements of his administration—including slashing wasteful spending projects and beginning the transformation of Japan's notorious bureaucracy-led government. To start with, the Okinawa problem wasn't exactly an official campaign promise per se—his party didn't explicitly mention the Marine base relocation in its campaign manifesto last year. But it was made into one after Hatoyama, in a slip of the tongue, heightened expectations during the election by saying his government "must work toward moving the base off the island, at the very least."
As the media latched on to the soundbite, the issue became crucial for Hatoyama, pushing him to tell Parliament he'd stake his job on it. It's a pity, because under normal circumstances the fate of a small airfield shouldn't be a tenure-ending issue for any leader. A former U.S. negotiator on the matter says the Marine base issue is "peanuts" compared with the bigger challenges facing the alliance between Tokyo and Washington.
Hatoyama's replacement will be chosen this Friday—among the possible candidates is Finance Minister Naoto Kan, who's had his share of scandals in the past as well as a reputation for being cranky—and there's no reason to think things will be any different for him. The constant news conferences ruining Japan's political system aren't required by law, but the press has come to expect—even demand—them; rumors that they might end prompted complaints from the mainstream press that the prime minister lacks transparency. ("Leaders have a habit of avoiding the media when they're in a slump," wrote a veteran political reporter for the newspaper Mainichi Shimbun.) Unfortunately, until a leader stands up to the press, his leadership will have a short shelf life.