'Haunted' Historic 1920s Jail For Sale With 'Ghost Inhabitants'
A historic 1920s jail facility is for sale — but only the brave need apply.
The haunted Old Gilchrist County Jail, located in Trenton, Florida, is on the market. For $140,000, the 2,000 square foot property includes eight jail cells, eight restrooms and an attached jailer's house, which was added in 1965.
Arlene Hale, who has owned the property for 12 years, received the deed to the spooky land as a birthday gift from her husband. He bought it from a mutual friend of the couple for $30,000.
"I was just interested in the architecture," Hale told The Gainesville Sun. "I didn't even know my friend owned it until she told me about it at a yard sale. But when she told me that she was going to sell it, I told her I was already sold."
According to the official Old Gilchrist County Jail website, it was built in 1928 and was operational for 40 years before it closed. While there is a lack of historical records with concrete information about the jail, the website claims that at least two sheriffs were "killed in the line of duty."
They also claim the ghosts of former inmates haunt the property. The jail is open to investigators and visitors who want to interact with the ghosts on site.
Chiefland Paranormal Investigations & Research Investigator Will Davis told The Gainesville Sun that in the five visits he has paid the jail over the last few years, he has found evidence of unexplained shadows and sounds.
"We had a group where somebody said they saw something behind them, then a woman had a barrette pulled from her hair," he claimed.
He also told the outlet that he had documented evidence of interactions with at least three former inmates, a dog and a man named William James Ellison, who allegedly died in 2008 in a failed drug deal.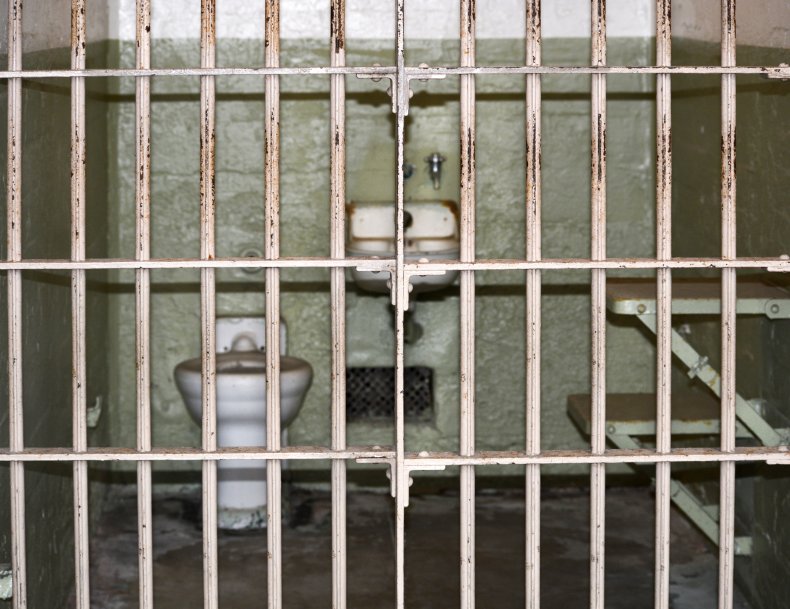 Hale recounted on the Classified History Podcast a time when a spirit told her and her group to "get out" that was caught on a recording device. "I have recordings of growls, 'get out,' all kinds of stuff like that," she said. "So there's a lot of activity in there."
But she also warned skeptical listeners: "Just because you didn't see anything doesn't mean it isn't haunted."
Hale explained that now, at 73 years old, she can no longer keep up with property maintenance, hence the overgrown vines and trees.
"It'll be hard to let go when this sells," she told The Gainesville Sun. "But it's time for someone who's younger and has more energy to maintain it to take over."
Hale noted that though the outside detailing needs work, she has kept the interior well-preserved. She boasted that the jail still has its original cell doors and bath fixtures as well as running water.
According to her real estate agent Matthew Perry, there has been great interest in the property from historical preservationists, business owners and even people with "paranormal Hollywood."
"The draw is using it as a tourist-related business opportunity," Perry told The Gainesville Sun.
The Old Gilchrist County Jail isn't the only haunted property catching the eye of ghost enthusiasts as of late. Last month, one of the owners of the home that inspired the horror movie The Conjuring went viral for her basement tour on TikTok.