Haunted House Apologizes For Hosting 'Swastika Saturday' On Day of Pittsburgh Synagogue Shooting
A haunted house in Ohio was forced to apologize after it came under fire for hosting a "Swastika Saturday" promotion on the day of the synagogue shooting in Pittsburgh.
Haunted Hoochie has held the unofficial event for the last 28 years, but this year it landed on the same day that 11 people were killed. A suspected gunman, identified as Robert Bowers, allegedly opened fire at the Tree of Life Synagogue and yelled "all Jews must die" during the attack, officials said.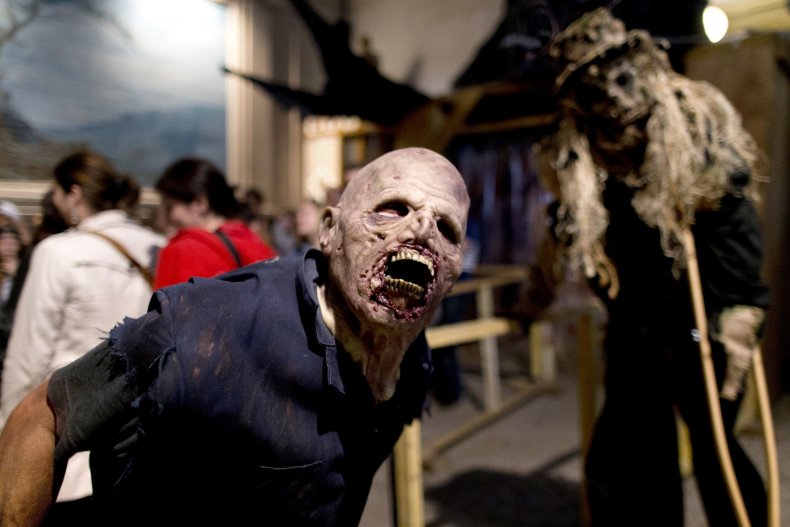 Hours after the deadly rampage, Haunted Hoochie invited patrons to "git in free if ur sporting a hoochie tattoo" during its Swastika Saturday promotion. The haunted house was quickly met by condemnation by people on social media, who called the event "insensitive" and "deplorable."
Following the backlash, a local band announced it had cancelled its performance at the event. "We do not condone or promote hate speech or racism in any way and cannot be associated with a place that promotes a 'swastica [sic] saturday.'"
Former U.S. Rep. Mary Jo Kilroy, who represented Ohio's 15th District, condemned the event on Facebook, according to WCMH-TV. "They never should have held a Swastika Saturday, and should clearly not have done so today," Kilroy wrote.
In a Facebook post on Sunday, the company apologized for "any insensitivity on our part" and maintained that it did not support Nazis. "Its a haunted house, its all about the horrors we face here on earth. We also don't condone murder, torture, suicide by shotgun, or birth by sledge hammer," the post said.
The company followed up with a second apology that acknowledged it had "screwed up big time."
"On behalf of the entire Haunted Hoochie staff, we first and foremost extend our sincerest condolences to the families affected by the tragedy in Pittsburgh, and the Jewish communities in the area," the company said in the message. "Second, we will in no way tolerate any form of hatred on our grounds, from our staff, or from our guests."
Haunted Hoochie continued: "We are working with community leaders to med fences, and pledge our support to the victims with a fifty thousand dollar donation to the tree of life synagogue."
Despite the apology, many people on Facebook said it was "too late," while others defended the haunted house and decried any boycott.