The Haunting Artifacts of the National September 11 Memorial & Museum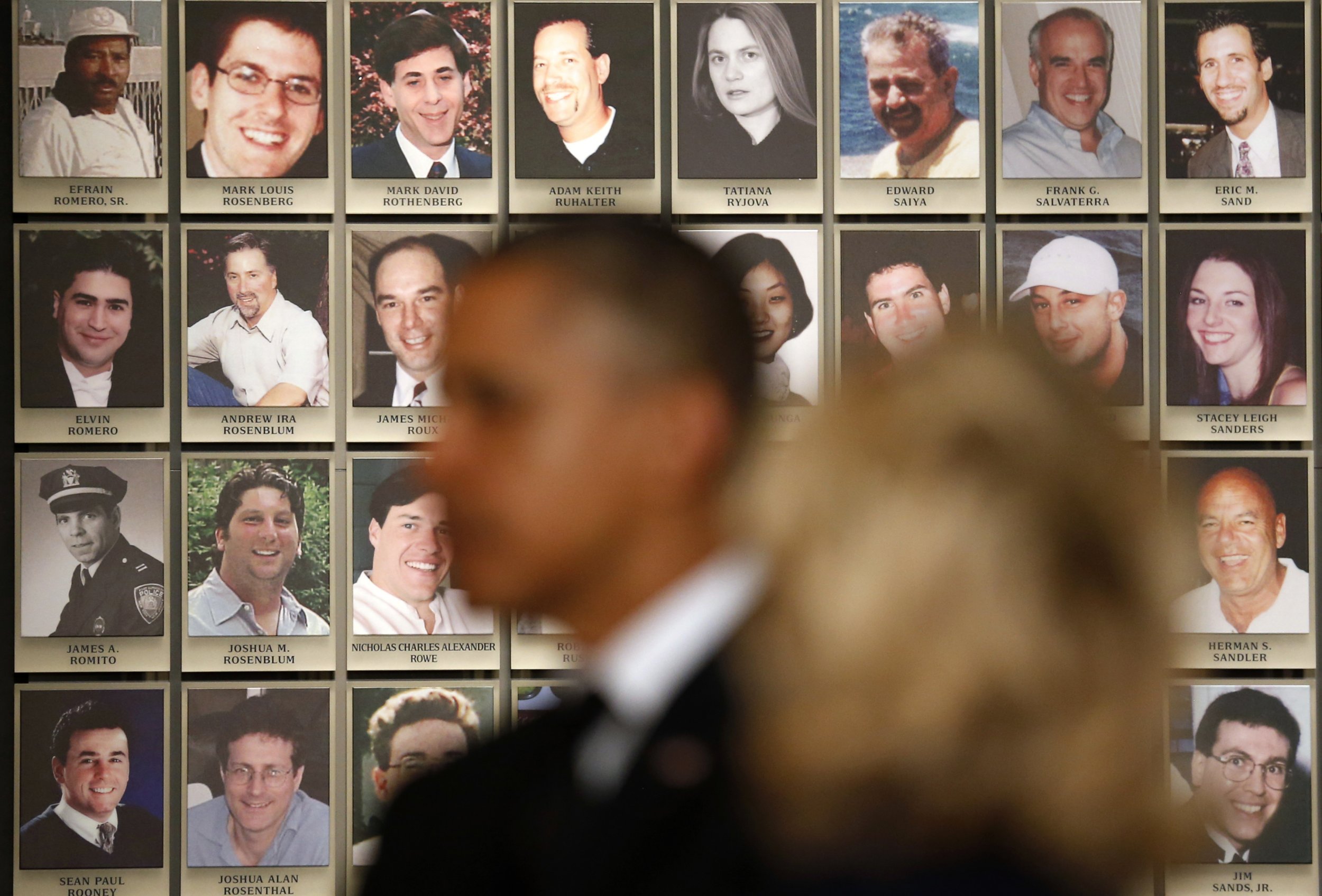 In a vast hall seven stories beneath Ground Zero, survivors and family of those who perished on September 11 gathered Thursday morning for the long-awaited dedication of the National September 11 Memorial & Museum.
They sat surrounded by the massive Slurry Wall, the concrete monolith that held back the Hudson River when the towers collapsed, as well as the Last Column, a 36-foot steel pillar that was the last to be removed from the site.
But the speakers who took the stage at the ceremony, including President Barack Obama and an array of those who led the city through 9/11 and its aftermath, focused on objects seemingly trivial and impossibly small.
The shoes that Florence Jones wore and then carried down 77 flights of stairs as she escaped from her office in the South Tower, for instance. (The smell they carried from "that day" was almost too toxic to hold on to, she recalled near tears at the ceremony.) The wristwatch that belonged to Todd Beamer, the software salesman believed to have led efforts to reclaim Flight 93 from hijackers. The red handkerchief worn by Welles Crowther, an equities trader who perished after saving more than a dozen lives in evacuation efforts.
That last item figured prominently in remarks by President Obama, who movingly described meeting Crowther's mother three years prior.
"Today, as we saw on our tour, one of his red handkerchiefs is on display in this museum," Obama said. "And from this day forward, all those who come here will have a chance to know the sacrifice of a young man who—like so many—gave his life so others might live."
It was a fitting testament to the hole that the 9/11 Memorial & Museum fills, literally, as a fraught seven-year building and financing process culminates with its opening next week.
The events of September 11 have been memorialized in every conceivable way in the years since then—books, films, speeches, benefit concerts, moments of silence, photography and motivational speaking tours.
And now, the ephemera that survived are encased behind glass in a $700 million museum, where visitors—whether family of victims or passing tourists—can come and catch a haunting glimpse of the intimate physical realities of that day. Some are small and fleeting; others, like a crushed fire truck or seven-story steel trident, large and hulking.
More than 10,000 such artifacts are present in the museum, placed alongside massive exterior samples from the towers, video recollections and audio recordings.
They are "unlikely but powerful keepsakes that help us understand the events of that day in human terms," Mayor Bill de Blasio said at Thursday's ceremony. "Each piece carries with it another story, one that might have been our own."
He and the president were joined by speakers, including New York Governor Andrew Cuomo, New Jersey Governor Chris Christie, former New York Governor George Pataki, and former New York City mayors Rudy Giuliani and Michael Bloomberg, who is chairman of the board of the museum. Their remarks were brief, to keep the entire program an hour in length and to save room for appearances by survivors and rescue responders, including former FDNY Lieutenant Mickey Kross and 11 of his firefighters.
Former President George W. Bush was notably absent, though he issued a statement praising the museum on Wednesday. "It will help ensure that our nation remembers the lessons of September 11th," Bush writes, among them the reminder "that courage and love triumph over terror and hate."
Those tropes—of resilience and healing and unity—appeared again and again in Thursday's ceremony, as they did in those stumbling weeks and months in the fall of 2001.
"This museum is a testament to the resilience, the courage, and the compassion of the human spirit," Bloomberg said as he closed the ceremony.
Streaming out of the cool, underground space and into the rainy din of the Financial District, where the bustling banalities of daily Manhattan life carry on 13 years later, that message registered.