'The Haunting of Hill House' Netflix Release Time: When Will Episodes Premiere?
The new Netflix Original Series The Haunting of Hill House is almost upon us. The 10-episode horror series premieres Oct. 12, which means it will be available for streaming beginning early Friday morning, at 3:01 a.m. EDT.
The Haunting of Hill House is a new horror series created by Netflix's secret weapon: Mike Flanagan, who directed and co-wrote two previous horror originals for Netflix, horror Hush and Gerald's Game, based on the Stephen King novel of the same name. Flanagan's newest project is substantially more ambitious, not only loosely adapting Shirley Jackson's landmark 1959 novel, but expanding it into a sprawling family epic with a deadly house right at the center of all their traumas.
The Haunting of Hill House follows the five Crain children, whose parents moved them into Hill House when they were young, hoping to fix up and resell the gothic monstrosity. The series bounces back and forth between their experiences in the house as children and their shattered adult lives.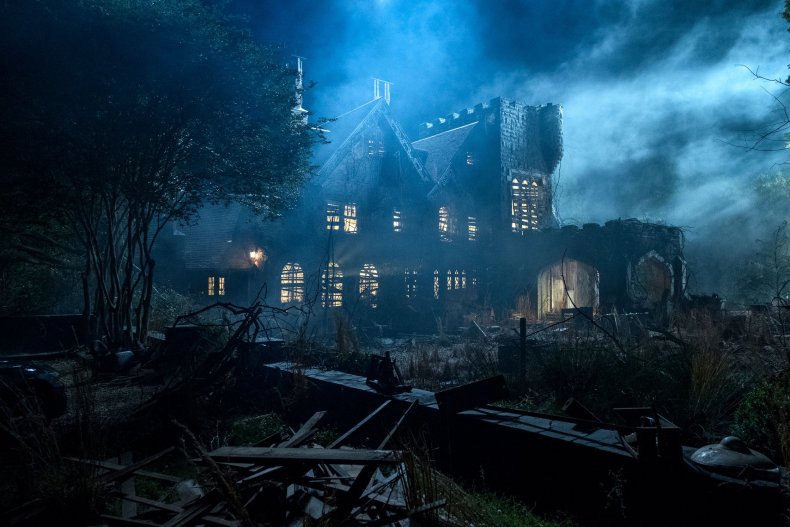 The oldest brother, Steven (Michiel Huisman), sold out the family trauma in a tell-all book and lives in terror that the same "mental illness" that overtook his ghost-haunted parents will begin to affect him. Shirley (Elizabeth Reaser), haunted by death, becomes a mortician. Theo (Kate Siegel), whose psychic sensitivity made her especially vulnerable to the ghosts of Hill House, now analyzes trauma in children, but struggles to open up to her family. Nell suffers from traumatic sleep paralysis, haunted by the specter of a "Bent-Necked Woman." And then there's poor Luke, the youngest, who saw the most ghosts, was never believed and retreated into heroin abuse.
Like in It, where the childhood friends must reunite to face Pennywise as adults, the Crain family finds circumstances pushing them back towards Hill House, which has sat abandoned for all the many years since the family first fled the house in terror.
The Haunting of Hill House is a new high watermark for episodic horror, not just standing up to past adaptations of The Haunting of Hill House, like 1963's horror classic The Haunting, but demonstrating that a show can be both dramatically complex and relentlessly scary. As much as I want to gush about specific ghosts and moments from the new show, it's best experienced as unspoiled as possible.
Should you be prepared to stay up late Thursday, The Haunting of Hill House will begin streaming on Netflix at 3:01 a.m. EDT.