Haunting Image of Syrian Boy Pulled From Rubble Is Stark Reminder of Reality in Aleppo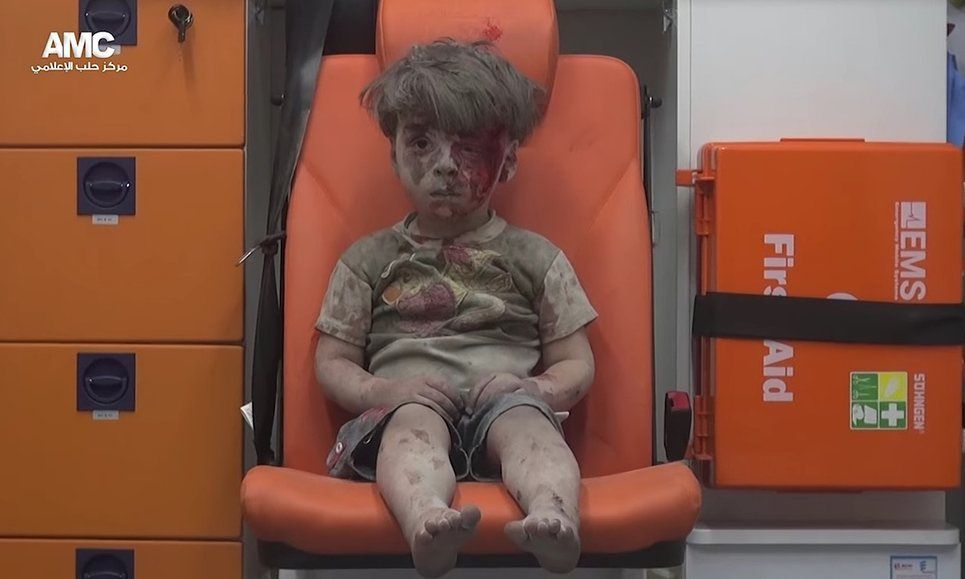 The image of Omran Daqneesh sitting in the back of an ambulance bloodied and stunned is another in a growing collection that highlights the horrors of the Syrian civil war and its dramatic affect on the country's children.
The small boy is covered head to toe in dust and blood has dried on his face after it poured from his forehead following an airstrike on a building in the northern Syrian city of Aleppo. He was reportedly injured in the blast along with four other children, two men and a woman.
A cartoon emblazoned on his dust-covered T-shirt is unrecognizable as he sits with his hands in his lap and his feet dangling over the end of the seat.
The image comes from a video released by the Aleppo Media Center, an activist group opposed to the regime of Syrian President Bashar al-Assad, on Wednesday. It shows Daqneesh, reported to be five years old, amid rubble before a civil defense worker pulls him out and transfers him to an ambulance He was then taken to a hospital known as "M10."
The still image has now being shared thousands of times on social media and opposition activists are now saying that Daqneesh is the new representative for the Syrian opposition and their public face to the world.
Aleppo has served as the heart of the revolution against Assad's rule and has been besieged by his forces for almost the entirety of the conflict that is stretching into its sixth year.
Assad's air force and the Russian air force are conducting airstrikes on rebel-held areas of the city, with hundreds of civilians collateral damage of the strikes. Assad sees the recapture of Aleppo as the major strategic victory he needs as the conflict's stalemate continues.
Daqneesh was saved by The White Helmets, the neutral volunteer force operating in Syria to save civilian lives from the horrors of the conflict. The force has just been nominated for the Nobel Peace Prize. Doctors with the Syrian American Medical Society treated him after his rescue.
Elsewhere, the United Nations' Syria envoy De Mistura said on Thursday that no humanitarian convoys with aid deliveries have reached people in Syria in the last week, announcing that he has suspended the global body's humanitarian task force.
The conflict has left more than 300,000 people dead across the country and displaced millions internally and externally.
Haunting Image of Syrian Boy Pulled From Rubble Is Stark Reminder of Reality in Aleppo | World