An image of a snake entwined with a tree as a forest fire burns in the background has won first place in the British Ecological Society photography competition.
The picture was taken in a forest close to a human settlement on the East African island of Madagascar, where snakes are threatened by poaching and fires.
Other photos—including one showing a sloth navigating a rain-soaked road and another a sea of birch trees—came top of the other categories in the contest.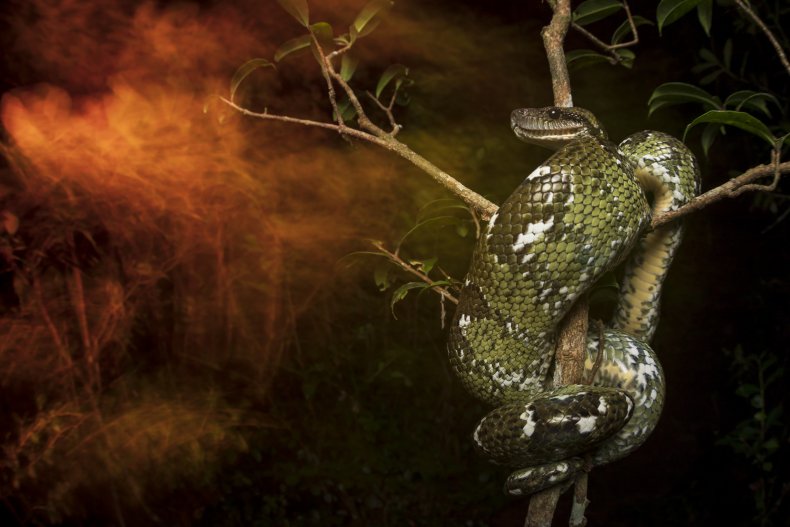 In Focus
Red night by Roberto García Roa, the winning photo of the British Ecological Society photography competition. It shows a Malagasy tree boa perched in a tree.
Launch Slideshow

15 PHOTOS
Competition winner Roberto Garcia-Roa, a postdoctoral researcher at the University of Valencia, told Newsweek of his photo: "With the red light and blurring background I wanted to offer a dramatic effect that framed the snake in a striking context as a way to reflect the uncertain fate of these snakes in areas where humans are present."
Recalling the process involved in taking the image, he said: "When I saw this individual I remembered the multiple threats these snakes must face, e.g. poaching, fires, roads, etc., so I played with an external red light as a source of light and a severe blurring to capture the environment in a different way."
Matt Doggett, judge of the British Ecological Society photography competition and professional wildlife photographer, told Newsweek photography has its place as a tool for spreading messages about the importance of ecology to the average person.
"We do need beautiful images to engender a love and understanding of nature throughout our society. In the dire environmental crisis in which we find ourselves, however, images need to increasingly drive the message home that humans need to radically change our culture and lifestyles," he said.
"Perhaps one way of doing this is to get more images out there of how people are being affected by the degradation of our natural systems. It might just make a few more people sit up and take action. Some of this year's winning and highly commended images do take this approach, but we need more."
Laura Dyer, also a competition judge and professional wildlife photographer, told Newsweek: "The beautiful colors, the vibrancy and tension created in the scene by the juxtaposition of the snake with the fire, and the movement captured in the smoke all combine to make a unique image, expertly exposed. The story and conservation message add to the value created, covering the threat so many species face in today's changing landscape."
Professor Richard Bardgett, president of the British Ecological Society, said in a statement: "This stunning image not only captures the beauty of the Malagasy tree boa, which is endemic to the island of Madagascar, but also its vulnerability, especially to hunting and fire. A remarkable image and deserving winner."