Haunting Photographs of Nature Reclaiming Abandoned Towns Ten Years After 2008 Sichuan Earthquake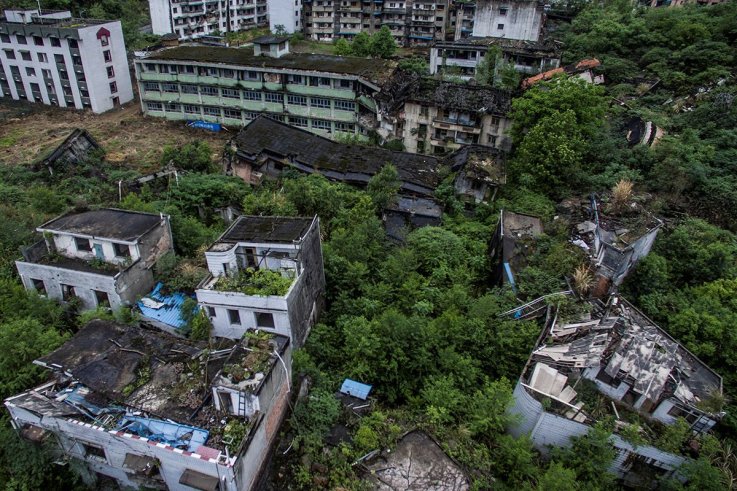 A decade after a massive earthquake rocked China's southwestern province of Sichuan, killing almost 70,000 people, haunting photographs show how nature is reclaiming abandoned and shattered homes and schools.
Many of the houses that collapsed during the 7.9 magnitude quake on May 12, 2008 remain buried under the earth and are covered by overgrown bushes and weeds.
A former school in the city of Beichuan, near the quake's epicenter, has been preserved as an open air memorial to the dead. More than 1,000 people were killed at Beichuan High School when it collapsed in the massive quake.
Damaged classrooms remain a mess, with books on the dusty desks turning black with rot. In some houses wedding photos can be seen hanging on the walls. Images of Chairman Mao Zedong lie abandoned in the rubble.
The local government is supporting villagers to develop leisure and tourism industries after the quake, and many quake survivors have turned their newly-built houses into inns. Signs in Chinese, English, Japanese, Korean and French urge visitors to be careful where they tread to let the dead rest in peace.
Sichuan remains seismically active. Last August, a 7.0-magnitude quake in a mountainous part of Sichuan popular with tourists killed 20 and injured around 500.
– Reuters contributed to this report.